As nice as a heatsink equipped with a big 140mm fan is, sometimes big CPU coolers just won't fit. I'm thinking of the Gigabyte GA-Z79-UD5 motherboard and its flanking memory slots in particular; you can try rotating a heatsink like the Noctua NH-U14S 90 degrees, but that inevitably places metal fins dangerously close to a rather expensive videocard. Sooner or later, heatsink metal will make contact with live electrical components on the back of the videocard and....ZAP! For unyielding clearance issues like his, Noctua released the more modestly sized, 120mm fan equipped, NH-U12S tower heatsink which Frostytech is testing in this review.
Standing 158mm tall with a footprint of 125x72mm, the Noctua NH-U12S heatsink ships with single NF-F12 PWM fan that rotates at 1500RPM. The NH-U12S is built much like the NH-U14S, but is a better fit for cloistered motherboard processor sockets. As with its brethren, Noctua's NH-U12S heatsink supports a rear mounted fan if you want to run two low speed fans (for the sake of quiet), or a pair of fans at full tick for the best cooling performance possible. With that in mind, we'll test the NH-U12S heatsink in single and dual fan configurations. A second NF-F12 fan will run about $23.
The Noctua NH-U12S heatsink is built around five 6mm diameter copper heatpipes and a 108mm tall aluminum fin stack. Where the heatsink interfaces with the processor, we find a beautifully machined nickel plated copper heat spreader. Every component, from the fins to the heatpipes to the copper and aluminum base plates are nickel plated for oxidation resistance and the joints soldered to lower thermal joint resistance. As is tradition for Noctua, fit and finish is top notch.
Weighing 755 grams, the Noctua NH-U12S heatsink is compatible Intel socket LGA2011/1366/1150/1155/1156 and AMD socket FM1/FM2/AM2/AM3 processors. It does not support Intel LGA775 processors. Retail price for the Noctua NH-U12S heatsink is about $50CDN ($50USD) online.
Noctua NH-U12S Heatsink

---

heatsink specsheet
manufacturer: noctua
model no.: nh-u12s
materials: nickel plated aluminum fins, copper heatpipes, copper/aluminum base.
fan mfg: noctua nf-f12

fan spec: 1500rpm, 12v, 0.05a

fan dim: 25x120x120mm

heatsink & fan dim: 158x125x72mm
(158x125x102mm dual fans)
weight: 755 grams
includes: multi-socket mounting hardware, thermal compound, fan speed adaptor, fan clips, screwdriver, instructions

---

Compatible with Sockets:
AMD: AM2/AM3/FM1/FM2
Intel: LGA2011/1366/1150/1155/1156
(not LGA775)
Est. Pricing: $50USD ($50CDN)
MOUNTING KIT UPGRADEABLE TO SUPPORT AMD SOCKET AM4?

Manufacturer Provided Mounting Kit Required to Support AMD Socket AM4 Motherboards? YES

Manufacturer AM4 Kit Request Form Link:
https://noctua.at/en/nm-am4-mounting-kit-order-form

Noctua state: "Owners of Noctua CPU coolers can obtain the Noctua NM-AM4 SecuFirm2 Mounting-Kit free of charge via this form. A proof of purchase (electronic version, photo or scan of the invoice) of both a Noctua CPU cooler and either a socket AM4 mainboard or socket AM4 CPU are required. There is a dedicated upgrade kit (NM-AM4-UxS) available for NH-U14S, NH-U12S and NH-U9S"

For more details, heatsink exceptions and a complete list of incompatible coolers, see here.


Noctua NM-AM4 SecuFirm2 Mounting-Kit supported on following Noctua heatsinks Frostytech has tested: NH-C12P , NH-C14 , NH-D14 , NH-D15 , NH-D9L, NH-L12, NH-L9x65, NH-U12 , NH-U12P , NH-U9, NH-U9B . Noctua NM-AM4-UxS Mounting-Kit: NH-U14S, NH-U12S and NH-U9S.
Fans, whether it be one or two, are held in place with easy to attach wire fan clips. To decrease annoying vibrational noises, brown rubber spacers wrap around the fan frame and "insulate" it from direct contact with the metal fins. The heatsink is designed to work with 120mm sized fans.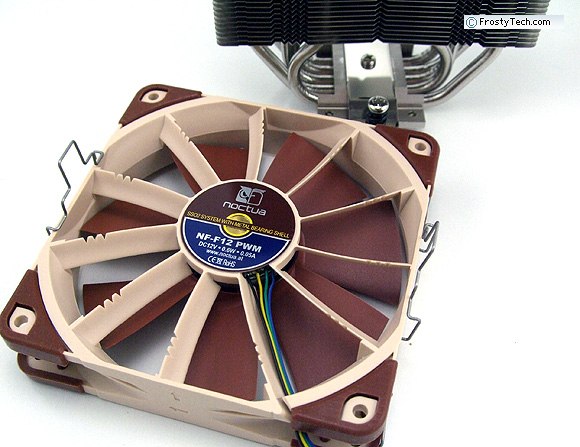 Noctua's NF-F12 PWM fan operates at 1500RPM and features a long list of features designed to enhance airflow, cut down noise and prevent bearings from seizing up after years of use. There are 'Focused Flow' stator guide vanes you see in the photo above (connecting the motor hub to the outside frame), the SSO2 Bearing and metal Bearing Shell, inner surface microstructures which alleviate suction induced 'blade passing noise', and so on and so forth.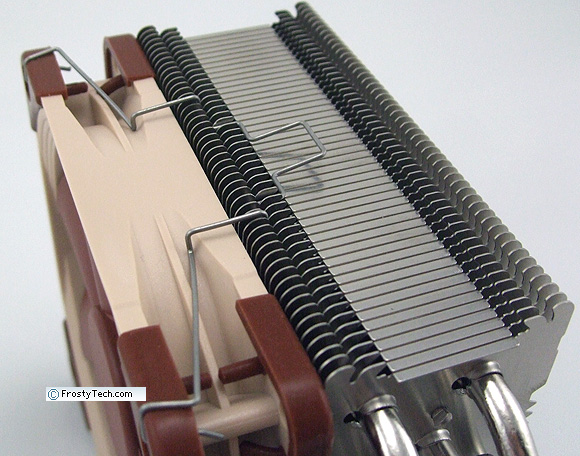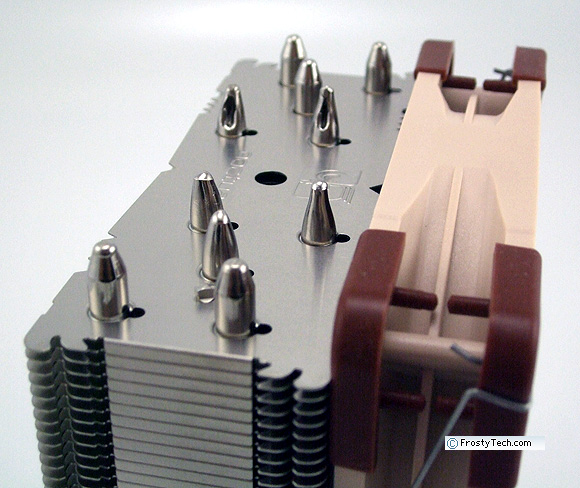 To ensure good thermal conductivity between the different components, the five nickel plated copper heatpipes and aluminum fins of the NH-U12S heatsink soldered together. Soldering decrease thermal joint resistance between the two components and helps to ensure daily heating and cooling cycles don't loosen connections months down the road.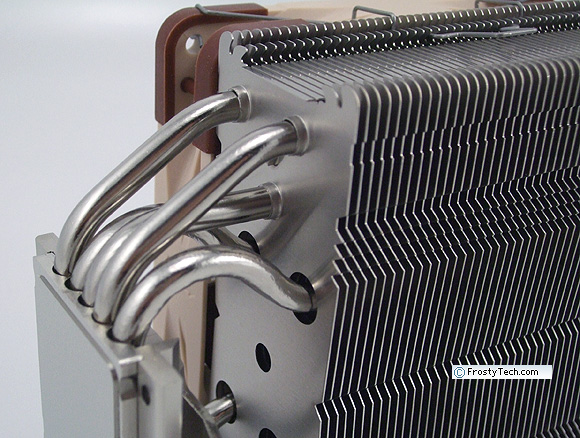 Installation Hardware
Noctua's NH-U12S heatsink is compatible with Intel socket LGA2011/1366/1150/1155/1156 and AMD socket FM1/FM2/AM2/AM3 processors. The CPU cooler ships with a variety of brackets, separated into several packages for AMD and Intel processors. For each CPU socket, small metal tabs are attached to the motherboard and a backplate positioned behind the motherboard, then everything fixed in place with spring-tensioned screws.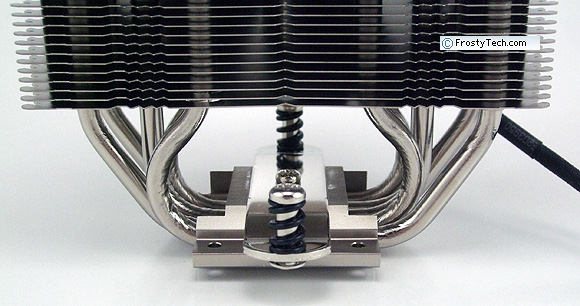 The multi-language manual makes installation straightforward. Fans may need to be removed for the installation procedure, but this is relatively painless as Noctua have designed the wire fan retention clips with hand holds and included a screwdriver.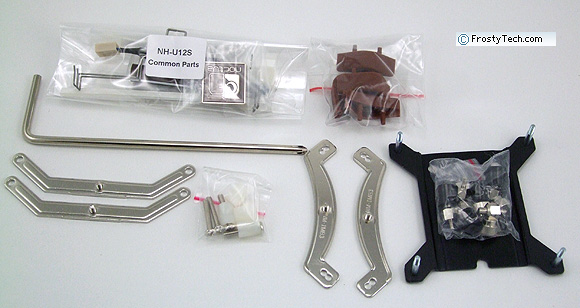 A small syringe of thermal compound is included, along with an in-line fan speed resistor which can be added to lower the speed of the NF-F12 fan.
FrostyTech's Test Methodologies are outlined in detail here if you care to know what equipment is used, and the parameters under which the tests are conducted. Now let's move forward and take a closer look at this heatsink, its acoustic characteristics, and of course its performance in the thermal tests!