This little heatsink from Zalman is called the CNPS2X and it looks like it should be found on an entry level videocard, motherboard chipset or possibly a miniITX motherboard. It is small. To give an idea of how small, the impeller from a 120mm fan is larger than this entire heatsink.
Never the less, Zalman have made the low profile CNPS2X heatsink for Intel socket LGA115x and AMD socket FM2/FM1/AM2/AM3 processors. Low profile heatsinks are vastly under served by heatsink manufacturers so we're happy to see more options becoming available to consumers.
The Zalman CNPS2X heatsink stands a mere 28mm high and is 85mm in diameter. These compact dimensions will allow the Zalman CNPS2X to be used in 1U server chassis, though the CNPS2X is not intended as thermal solution for servers. Weighing just 83 grams, the CNPS2X is cooled by a single 80mm PWM fan that spins at 1500-2600RPM and produces little if any audible noise.
The heatsink itself looks like it's entirely made of copper, but this isn't quite so. A single 6mm diameter copper heatpipe is exposed at the base plate where it makes direct contact with the CPU, that heat pipe then loops around the body of the fan-shaped heatsink to conduct heat energy out to the fins. The cooling fins and plate, however, are both made from aluminum which has been copper plated. The only copper in the CNPS2X heatsink is the heatpipe and the thin surface plating.
Zalman CNPS2X Low Profile Heatsink

---

heatsink specsheet
manufacturer: zalman
model no.: cnps2x
materials: copper plated aluminum fins and aluminum base plate, heatpipe
fan mfg: zalman
fan spec: n/a
fan dim: 80x80x15m
heatsink & fan dim: 28x85x85mm
weight: 83 grams
includes: multi-socket mounting hardware, thermal compound, instructions

---

Compatible with Sockets:
AMD: AM2/AM3/FM1/FM2
Intel: LGA115x/775
Est. Pricing: $19USD ($19CDN)
If you're building a small form factor home theatre PC, or working with a rack mount 1U chassis that is severely height restricted, Zalman's CNPS2X heatsink might be just up your alley. Based on Frostytech's thermal test results we'd recommend limiting it to use on sub 95W TDP processors though.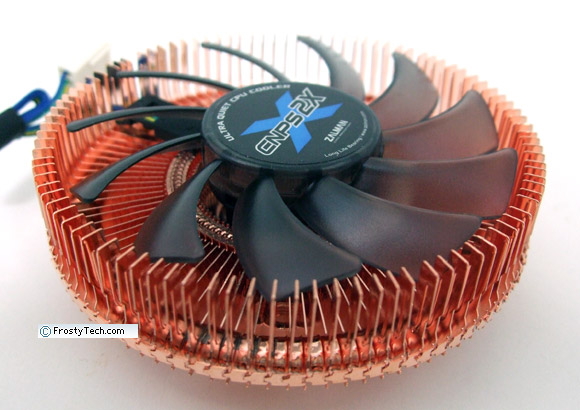 Heat transfer from the lone heatpipe is exceptionally important for this small cooler. Zalman have added a ring of solder around the circumference of the cooling fins to solder the heatpipe and ensure a good thermal joint for heat energy to conduct across.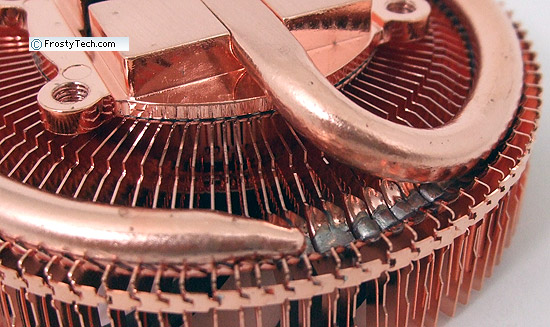 Soldered joint between heatpipes and copper base plate.
Heatsink Installation and Hardware
Zalman's CNPS2X heatsink ships with two sets of metal brackets that screw onto the bottom of the heatsink and a metal plate that mounts behind the motherboard to apply clamping force. A screwdriver will be required to install or remove this CPU cooler.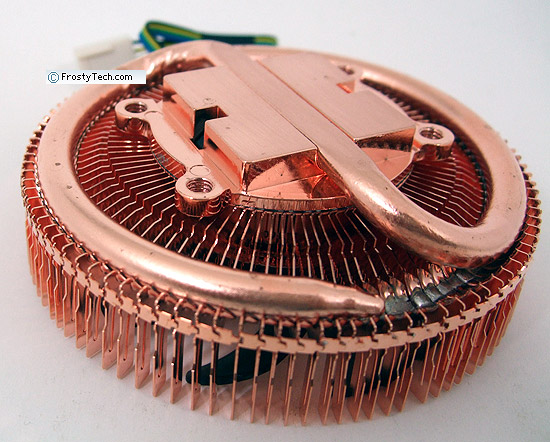 The CNPS2X heatsink installs onto AMD socket FM2/FM1/AM3/AM2 and Intel socket LGA115x/775 processors. Supplied with the heatsink is a pack of mounting screws, thermal grease, and printed instructions.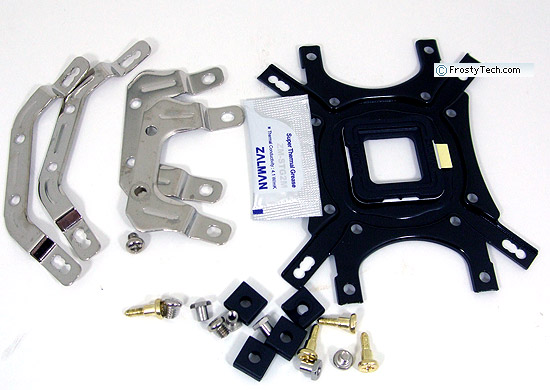 FrostyTech's Test Methodologies are outlined in detail here if you care to know what equipment is used, and the parameters under which the tests are conducted. Now let's move forward and take a closer look at this heatsink, its acoustic characteristics, and of course its performance in the thermal tests!