360° View - Zalman CNPS2X Heatsink

---

Information on Frostytech's test methodology is available here.

Zalman's CNPS2X heatsink is 85mm in diameter and incorporates one 6mm heatpipe that crosses the base plate and twists around to meet the fan-shaped fins. Each copper-plated aluminum fin measures 0.4mm thick and is spaced ~2.5mm from the next at the outer edges. The copper-plated aluminum base measures 30x30mm in size - a little small for a 37.5x37.5mm AMD integrated heatspreader but ideal for Intel CPUs which are 30x30mm. Everything is copper plated to permit easy soldering and to reduce oxidation down the road.

From top to bottom the heatsink stands 28mm. One of the nice aspects of this style heatsink is that the exhaust airflow helps cool adjacent motherboard components.
Base Finish and Flatness
Flipping a heatsink over to inspect the business end is often a simple indicator of overall cooler quality. More practically speaking, a heatsink is in many ways only as effective as the contact it makes with the processor - the flatter and smoother the better. Base finish is one of the criteria that Frostytech measure in the course of evaluating heatsinks, and it involves two distinct aspects. Surface Finish is the first; this is calculated with the aid of Surface Roughness Comparator that has a cross section of common machine surface finishes and their numerical surface roughness equivalents in microinches. The second is Surface Flatness. This is tested with an engineer's straight edge or proven flat surface, in two axes.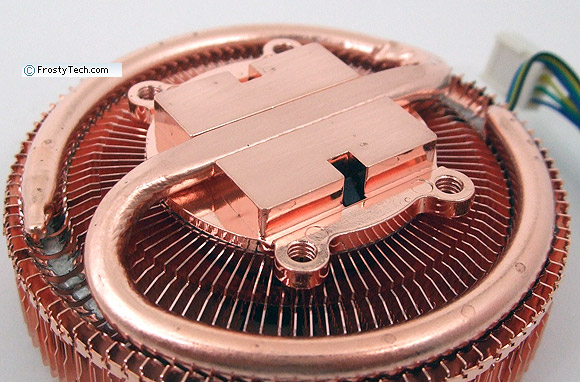 The base of the Zalman CNPS2X heatsink is a bit of a catastrophe where CPU cooling is concerned. The injection molded aluminum base plate has a surface roughness of approximately ~32 microinches. By the looks of it, after the heat pipe is seated a cursory sanding is done to flatten the surface, but generally speaking the base is flat in one axis and wavy in the opposite.
Next, heatsink sound level comparisons.