Silverstone's NT01-Pro is a heatsink designed for small form factor cases or finicky situations where a standard tower heatsink just won't fit. Really though, if you've got a SFF chassis, HTPC or a height restricted 4U rack mount case, the Silverstone NT01-Pro heatsink is going to be of particular interest.
The NT01-Pro heatsink ships without fans, though it is not meant to be run as a passive CPU cooler - the wide aluminum cooling fins are designed for a pair of 80mm or 70mm fans to be mounted to them. For the purposes of this Frostytech review we'll be using two Silverstone Suscool 81 fans. The Suscool 81's are 80x80x25mm fans, each comes with a thermistor that automatically regulates the impeller speed from a quiet 900RPM to 1750RPM depending on the sensed temperature (31°C to 60°C). These fans are rated for 28CFM airflow at full speed. Since the fans aren't included with the NT01-Pro heatsink, we'll leave it at that.
What makes the Silverstone NT01-Pro heatsink stand out from the crowd is its relatively low stature; the whole heatsink is under ~111mm tall and weighs a modest 470 grams. The aluminum cooling fins are 162mm at the widest point and about 70mm tall by 52mm deep.
Built around six 6mm diameter copper heatpipes, the Silverstone NT01-Pro incorporates a copper heatspreader and heatpipes which are soldered to nickel plated aluminum cooling fins to assure low thermal joint resistance. The heatsink is compatible with Intel socket LGA2011/1366/115x/775 processors and AMD socket AM2/AM3/FM1/FM2 CPUs.
Silverstone NT01-Pro Heatsink

---

heatsink specsheet
manufacturer: silverstone
model no.: nt01-pro (op105255)
materials: aluminum fins, copper heatpipes, copper base plate
fan mfg: none
fan spec: none
fan dim: supports (2) 80x80x25m
heatsink & fan dim: 111x162x78mm
weight: 470 grams
includes: multi-socket mounting hardware, thermal compound, instructions

---

Compatible with Sockets:
AMD: AM2/AM3/FM1/FM2
Intel: LGA2011/1366/115x/775
Est. Pricing: $34USD ($34CDN)
The fan mounting system is different than any other heatsink Frostytech has tested as well. Rather than wire clips or rubber posts, the two 80mm fans are mounted to a metal bracket which is in turn attached to a sliding rail at the front of the aluminum fins. What this rail does is make the fan position some what adjustable - either squeezed tight together in the center or extended past the edges of the fins by 22mm.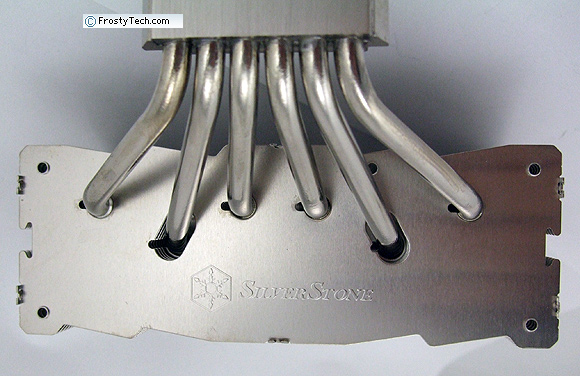 In short, the Silverstone NT01-Pro is a novel heatsink that seems like it was designed for a specific SFF chassis, rather than for after market cooling. For the segment of users struggling to keep processors cool with a poor quality Shuttle SFF PC heatsink, or unable to fit a heatsink in 4U chassis, the Silverstone NT01-Pro is a potential god send.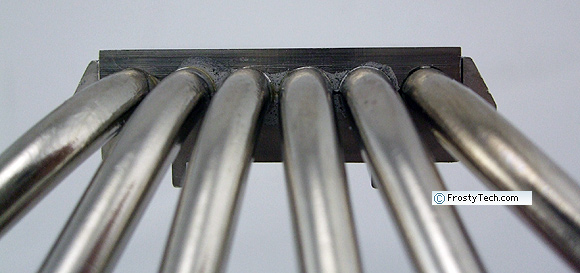 Soldered joint between heatpipes and copper base plate.
Heatsink Installation and Hardware
The Silverstone NT01-Pro heatsink ships with two sets of metal brackets that screw onto the motherboard and a metal plate that rests a top the heatsink base to apply clamping force. A screwdriver may be required to install or remove this CPU cooler.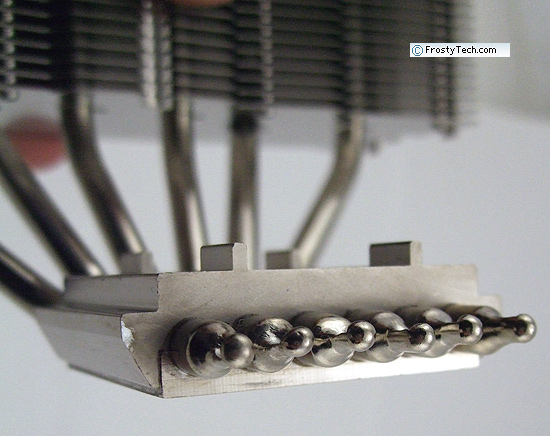 The Silverstone NT01-Pro heatsink installs onto AMD socket FM2/FM1/AM3/AM2 and Intel socket LGA115x/775/1366/2011 processors. Supplied with the heatsink are a jumble of mounting screws, a small pack of thermal grease, a fan Y-splitter and set of printed instructions.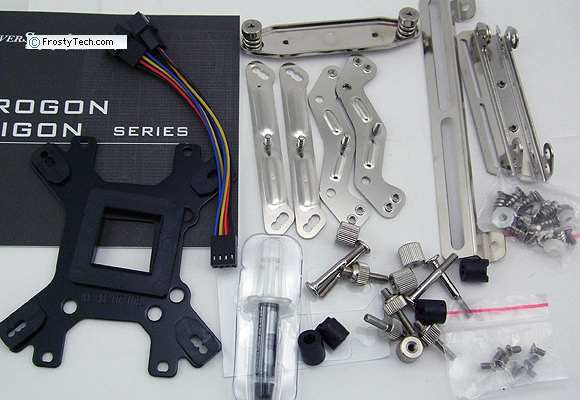 FrostyTech's Test Methodologies are outlined in detail here if you care to know what equipment is used, and the parameters under which the tests are conducted. Now let's move forward and take a closer look at this heatsink, its acoustic characteristics, and of course its performance in the thermal tests!