Frostytech has already tested one heatsink from new comer Raijintek, today we're testing out a simple full tower CPU cooler called the Themis OP105255 heatsink.
'Themis', as you're no doubt are already aware from your days in school, is the Greek goddess of "devine law." If you skipped school, you may have already met Themis in person... in a court room. Themis is the bronze lass holding the sword behind her back and the scales of justice in front. We can only presume this choice in name was meant to imply the cooler will lay down the law on heat! ;-)
In any event, Raijintek's Themis heatsink stands 158mm tall and weighs 448 grams. It's designed for Intel socket LGA2011/1366/115x/775 processors and AMD socket AM2/AM3/FM1/FM2 CPUs - should any still be in existance. The heatsink design is your bog-standard, three-8mm-heatpipe-exposed-base-tower-cooler we've all seen countless times before. The 120mm PWM fan operates at 1800-1250RPM and moves upwards of 78CFM according to the manufacturers specs. Noise output is modest to audible.
Rubber fan mounts make mounting the fan relatively easy during the installation process, but for some reason Raijintek are counting their pennies and include just enough fan mounts for ONE fan, one fan only. Expect to find the Raijintek Themis heatsink selling for around $34 USD.
Raijintek Themis Heatsink

---

heatsink specsheet
manufacturer: raijintek
model no.: themis (op105255)
materials: aluminum fins, copper heatpipes
fan mfg: raijintek a12025mmab
fan spec: 1800-1250pm, 12v, 0.40a
fan dim: 92x92x25mm
heatsink & fan dim: 158x122x76mm
weight: 448 grams
includes: multi-socket mounting hardware, thermal compound, instructions

---

Compatible with Sockets:
AMD: AM2/AM3/FM1/FM2
Intel: LGA775/1150/1155/1156/1366/2011
Est. Pricing: $34USD ($34CDN)
If you're the type of computer user who likes things quiet, you'll have a difficult time running two low-speed fans on the Raijintek Themis in a push pull configuration.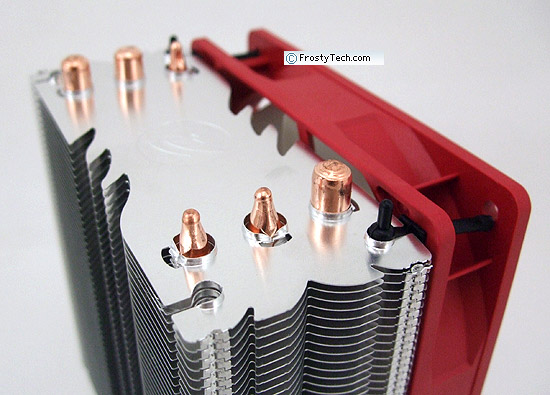 The heatsink can support front and rear fans, but unless you have a compatible set of rubber fan mounts kicking around from an old heatsink you'll be out of luck getting that secondary rear fan mounted.

Heatsink Installation and Hardware
The Raijintek Themis heatsink ships with two sets of metal brackets that screw onto the motherboard and a metal plate that rests a top the heatsink base to apply clamping force. A screwdriver may be required to install or remove this CPU cooler.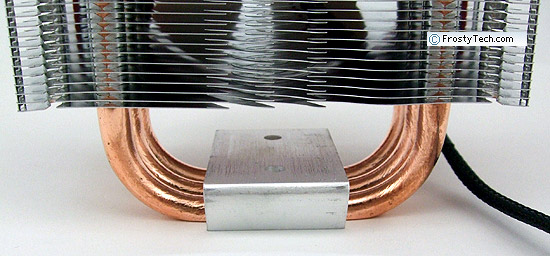 The Raijintek Themis heatsink installs onto AMD socket FM2/FM1/AM3/AM2 and Intel socket LGA115x/775/1366/2011 processors. Aside from the brackets and jumble of mounting screws, a small pack of thermal grease and printed instructions are included.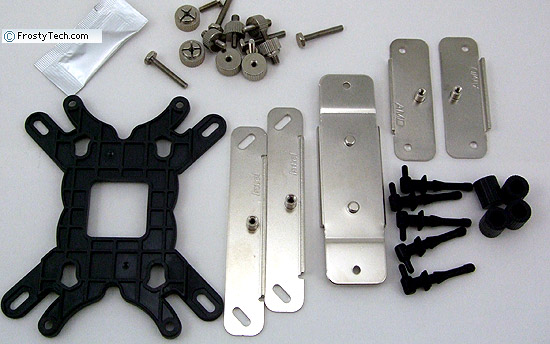 FrostyTech's Test Methodologies are outlined in detail here if you care to know what equipment is used, and the parameters under which the tests are conducted. Now let's move forward and take a closer look at this heatsink, its acoustic characteristics, and of course its performance in the thermal tests!