Corsair's Hydro H60 is an all-in-one, entry level liquid cooling CPU heatsink for Intel LGA2011/1366/1155/1156/775 and AMD socket AM2/AM3/FM2/FM1 processors. It comes with a single-120mm fan sized heat exchanger that is good for mid-to-full tower PC cases. The actual watercooling system is manufactured by Coolit Systems out of Calgary, just as other liquid cooling systems in the marketplace are made by Asetek. If you've seen Frostytech's previous tests of Corsair Hydro watercooling systems, we should note that the new Corsair Hydro H60 incorporates several upgrades to its water block design, pump, tubing type and ease of installation.
The unit consists of two parts: a 12v DC pump head with integrated reservoir and skived copper waterblock, and an air-to-liquid aluminum heat exchanger. The whole system ships fully assembled, pre-filled with a distilled water/propylene glycol coolant and is pre-plumbed. Just install it and go - no fuss, no mess.
A single 120mm PWM fan is shipped with the Hydro H60 which operates at a moderately audible 2000RPM or as slow as a whisper quiet 900RPM. The waterblock is connected by 28cm of flexible composite rubber tubing to a 157x119x27mm aluminum liquid-to-air heat exchanger. Retail price for the Corsair Hydro H60 is $75 USD/CDN at shops like Newegg, the only prerequisite is that your PC case must have a rear 120mm fan mounting hole.
H60's CPU Waterblock
Corsair have updated the waterblock design and given the Hydro H60 a new compact profile which hides functional changes to the integrated pump and improves mounting bracket installation significantly. All of this is transparent to the end user though. Being the 'entry level' water cooler model, the H60's waterblock lacks the integrated fan controller and LINK hardware present on the Hydro H80i and H100i units. No matter, you don't need the software/USB stuff to operate a watercooler such as this.
Corsair Hydro H60 Watercooling System

---

heatsink specsheet
manufacturer: corsair
model no.: hydro h60 (cw-9060007-ww)
materials: aluminum heat exchanger, skived copper water block.
fan mfg: corsair

fan spec: 2000-900rpm, 12v, 0.24a

fan dim: 25x120x120mm
waterblock dim: 27.5x63x63.3mm
heat exchanger dim: 157x119x27mm
pump spec: 12v dc, 0.1a
flow rate: n/a
head: n/a
coolant: propylene glycol/distilled water, anticorrosion/antifungal
weight: est. 800 grams
includes: multi-socket mounting hardware, thermal compound, instructions.

---

Compatible with Sockets:
AMD - AM2/AM2+/AM3/FM1/FM2
Intel - LGA775/1155/1156/1366/2011
Est. Pricing: $75USD ($75CDN)
The metal motherboard mounting brackets now slip over top of the waterblock and are held in place with rare-earth magnets. In the previous Hydro watercooler a bunch of screws were required and this was cumbersome. The waterblock/pump head is 27.5x63x63mm in size and features swivel hose connects just as before.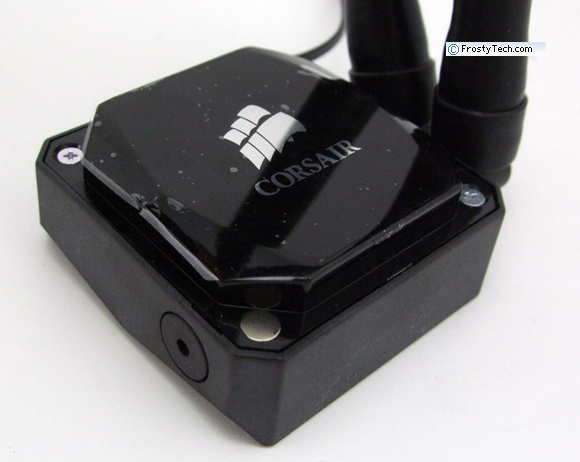 Inside Corsair's Hydro H60 pump head / waterblock is some circuitry and a small pump motor. Absolutely no specs are given about the integrated pump... it operates on 12V DC from a standard 3-pin fan header. The pump is very quiet in operation.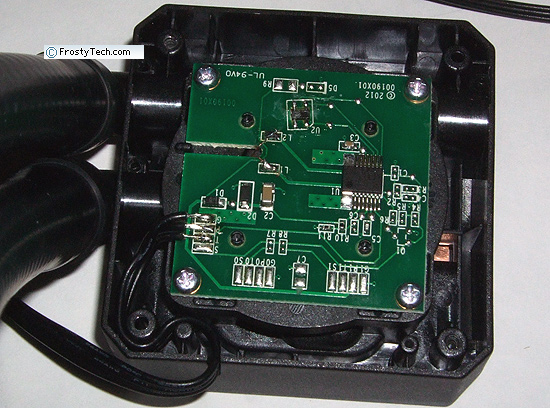 Inside the H60 waterblock/pump head
Connected to the Hydro H60 waterblock via fixed swivel joints are two composite rubber hoses measuring ~14mm O.D. The swivel joints make routing tubing a little easier within the confines of the computer case.
Years ago coolant loss through evaporation was a big problem for pre-filled watercooling systems not designed for regular top-up's. "Low evaporation" tubing is the industry standard now a days - in this case Corsair use composite rubber tubing which is less rigid than the FEP plastic tubing previously chosen. The composite rubber tubing has a braided inner core to help resist kinks and is similarly resistive to evaporation while at the same time being quite flexible. No means are provided to disconnect any of the hoses or add liquid to the system.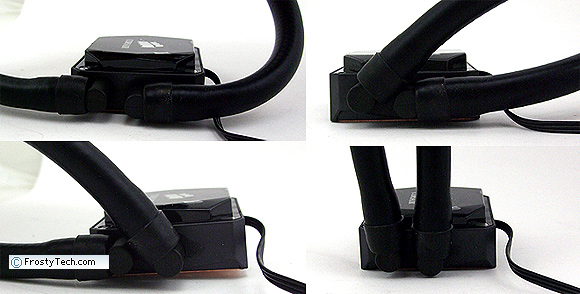 Swivel pipe connections
CPU-to-Fluid Heat Exchanger
At the base of the Hydro H60's pump head / waterblock is a 2mm thick copper plate with a black rubber O-ring and soft white silicone gasket. A section of the copper plate is micro-skived to form very fine copper fins about 5mm tall, bevelled at the sides and down the center. Coolant is directed into these fine copper fins through a central slit in the white silicone gasket which rests atop.
As the liquid coolant passes from the center of the skived copper fins out to the sides, the large surface area of copper in direct contact with the fluid enables very efficient heat conduction. Heat is thus readily conducted away from the CPU, into the copper, to the liquid which is then pumped off to the aluminum liquid-to-air heat exchanger to be shed into the surrounding air mass.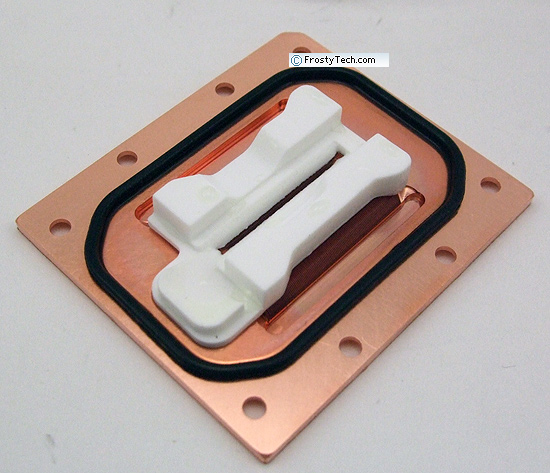 Below you can see the skived copper fin area which measures ~30x30x5mm in size, the copper plate is 2mm thick. The beveled slot down the center of the skived copper fins is new to this generation of Corsair Hydro watercooling heatsinks.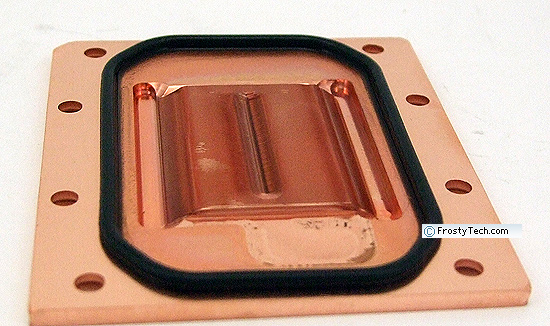 Since the white silicon gasket is flush with the tips of perhaps a hundred thin copper fins, the liquid has no option but to pass between the fins. For any low flow, liquid cooling system it's a very efficient design that minimizes the volume of coolant required.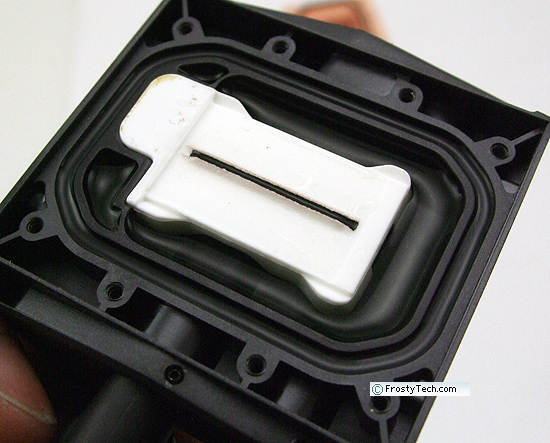 Underside profile of the white silicon gasket -- the O-ring is not shown.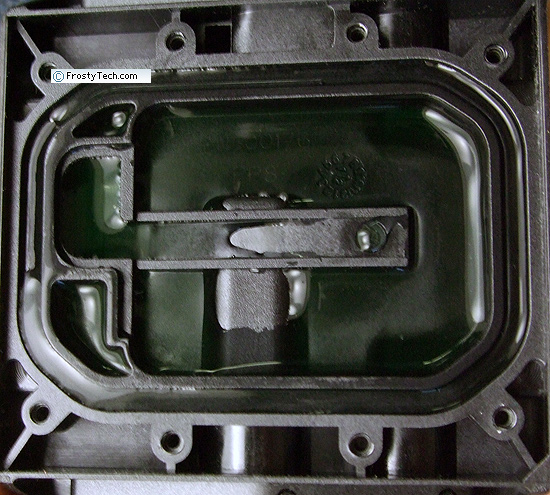 Coolant enters from the left.
As with anything so finely tuned, it's a elegant design provided no contaminants or corrosion block off the closely spaced skived copper fins. Like most watercooling solutions, the system has very little capacity to shed heat if the pump every fails or coolant stops flowing.
Next up, Frostytech takes a look at the heat exchanger used with the Hydro H60 watercooling system.