To install Corsair's Hydro H60 heatsink you must have a PC case with a rear 120mm fan vent punched in the back chassis panel.
The heat exchanger mounts to the inside of the PC chassis, with the components stacked in this order; PC case, fan exhausting out, heat exchanger. Corsair's illustrated and written instructions contradict themselves -- the system is illustrated as above, but the text recommends the fan be set up in the reversed "air-intake" position. Although the quick start guide is written in six languages, with great brevity I might add, clarity is lacking.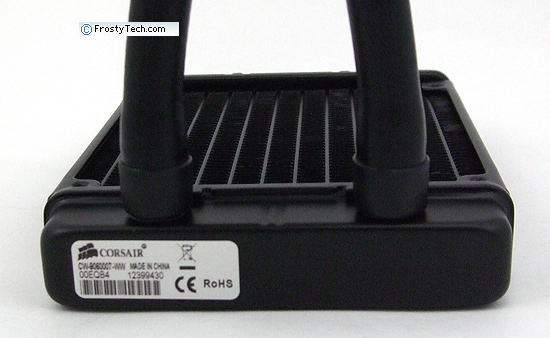 The 120mm PWM fan supplied with the Corsair Hydro H60 operates at 2000-900RPM. It is rated for 54CFM and moves air through the aluminum heat exchanger with a pressure of 2.36mm-H20.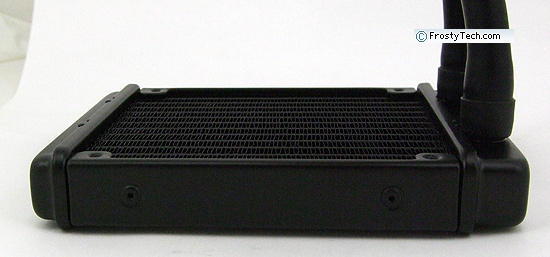 The effective area of the H60's aluminum heat exchanger is 111x120mm. Overall radiator dimensions are 157x119x27mm, without the fan.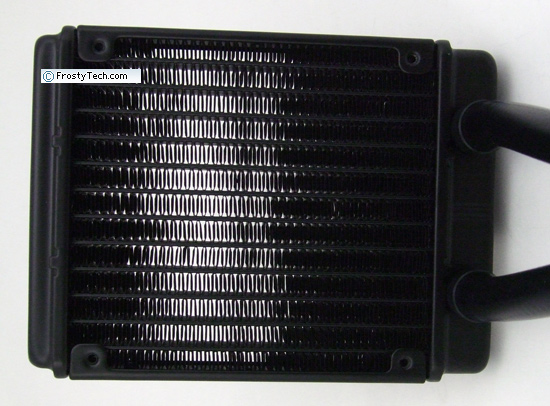 The aluminum heat exchanger is connected to the waterblock/pump head 28.5cm of composite rubber tubing.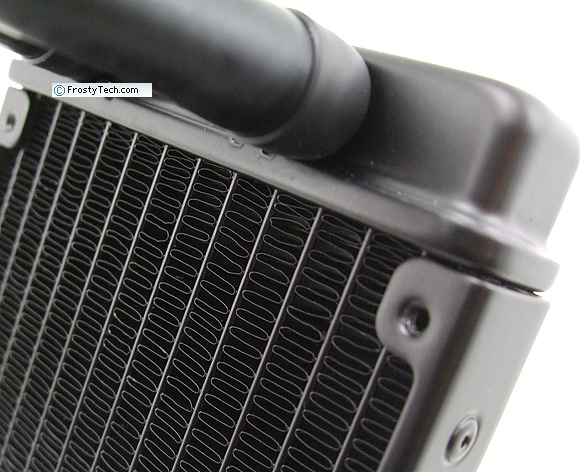 The 14mm diameter rubber tubing is fairly pliable and the internal braiding gives it decent kink resistance. The barbs on the radiator end are metal, those on the pump head appear to be glass fiber reinforced plastic. The pump head barbs fully swivel in one axis as we've already illustrated.
Watercooling Mounting Hardware
The Corsair Hydro H60 is compatible with Intel socket LGA2011/1366/1155/1156/775 and AMD socket AM2/AM3/FM1/FM2 processors. The pump head ships with two metal brackets; a bracket for AMD motherboards and one for Intel boards. A special rear motherboard support plate is used with Intel LGA1155/1156/775 platforms while the AMD bracket makes use of the standard AMD heatsink retention cage.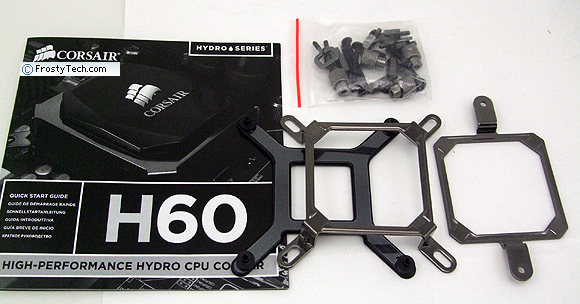 This heatsink will be tested on FrostyTech's Intel LGA1155/1156/775 and AMD version of the Mk.II synthetic thermal temperature test platform, and compared against a hundred reference Intel and AMD heatsinks. The whole test methodology is outlined in detail here if you'd like to know what equipment is used, and the parameters under which the tests are conducted.