Top-shelf, self-contained CPU watercooling systems are largely made by two OEMs, Canada's Coolit and Austria's Asetek. Companies like Thermaltake benefit from the engineering experience of these dedicated manufacturers, while consumers benefit from the established distribution channels of Thermaltake and competitive pricing. After all, Thermaltake heatsinks are available practically everywhere in the world, whereas in the past it was difficult to track down computer stores with Coolit's or Asetek's consumer thermal solutions. For the most part though, computer enthusiasts don't have to concern themselves with any of this vertically integrated/OEM/ODM business stuff. If you're looking for a self-contained water cooling system for your next PC, you only need to decide how big a heat exchanger your PC chassis will support and how many fans you want to use.
Most self contained liquid cooling systems are sold with 120mm and 240mm heat exchangers, the Thermaltake Water 2.0 Pro comes with a 50mm thick, 120mm-sized heat exchanger and a pair of fans. The Thermaltake Water 2.0 Pro ships pre-filled with a distilled water/anti-freeze based coolant which circulates through 11mm diameter 'low evaporation' rubber tubing. It's ready to go out of the box, no filling, no plumbing, no mess. The small fluid pump operates at 2800RPM, it's housed along with a reservoir and thin copper water block in the hockey puck sized package mounted atop the processor. For the sake of efficiency, the copper waterblock uses skived copper fins and a thin elastomer gasket which directs water flow through the resulting channels. The aluminum heat exchanger measures 150x120x49mm and attaches to the inside back panel of the users' computer case. Unlike standard air cooled heatsinks, the Thermaltake Water 2.0 Pro does require a 120mm fan opening above the motherboard I/O ports for the heat exchanger to be mounted to.
Two 120mm PWM fans come with the Thermaltake Water 2.0 Pro, these fans spin at 1200-2000RPM and produce moderate noise. The Thermaltake Water 2.0 Pro liquid cooling system installs onto AMD socket AM2/AM3/FM1/FM2 processors and Intel socket LGA2011/1155/1156 CPUs. Retail price is on the order of $86 USD/CDN. Please note that while Thermaltake list "Intel LGA775" compatibility, the unit Frostytech tested did NOT include an Intel bracket compatible with LGA775 motherboards.
Thermaltake Water 2.0 Pro Liquid Cooling System

---




heatsink specsheet
manufacturer: thermaltake
model no.: water 2.0 pro (clw0216)
materials: aluminum radiator, skived copper water block.
fan mfg: (x2) thermaltake pla12025s12hh-lv

fan spec: (x2) 2000-1200rpm, 12v, 0.50a

fan dim: 25x120x120mm
waterblock dim: 29.5x72x82mm
heat exchanger dim:150x119x50mm
pump spec: 2800rpm, 12v dc, 0.22a
flow rate: unknown
head: unknown
coolant: distilled water/propylene glycol
weight: 1061 grams
includes: multi-socket mounting hardware, thermal compound, instructions.

---

Compatible with Sockets:
AMD - AM2/AM2+/AM3/FM1/FM2
Intel - LGA2011/1366/1155/1156
(does not support LGA775)
Est. Pricing: $86USD ($95CDN)
Thermaltake's Water 2.0 Pro self-contained liquid cooling system consists of three components; a 12v DC pump, integrated reservoir and skived copper waterblock, a 12" length of rubber tubing and the aluminum heat exchanger.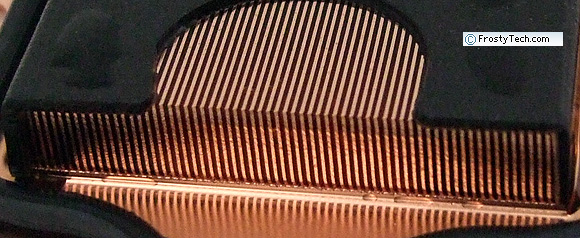 Power for the waterblock/pump is supplied via a standard 3-pin motherboard fan header and the two 120mm PWM fans each have separate 4-pin power cables. A Y-splitter is included to run both 120mm fans off a single PWM motherboard fan header.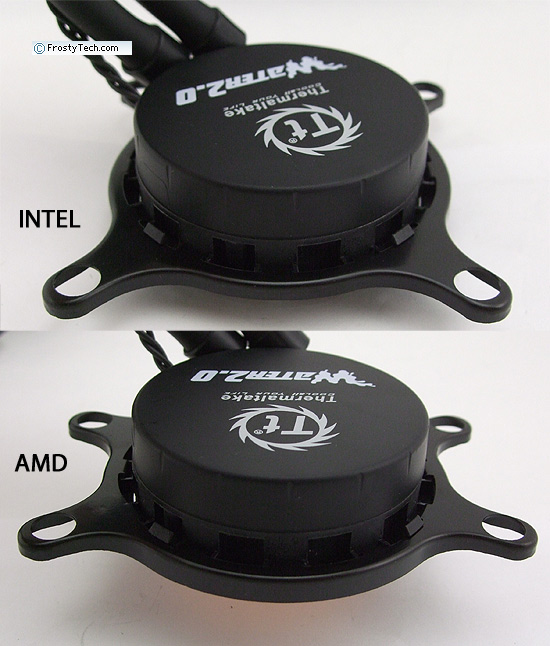 The Water 2.0 Pro is ready to go out of the box, the user need only install the waterblock onto the CPU and mount the radiator and 120mm fans to the back of the PC chassis. Please note: Your computer case MUST have mounting holes for a rear 120mm exhaust fan or the Water 2.0 Pro cannot be installed.


(engaging the CPU socket retention collar)
Brackets for Intel socket LGA1155/1156/2011/1366 and all AMD sockets are supplied.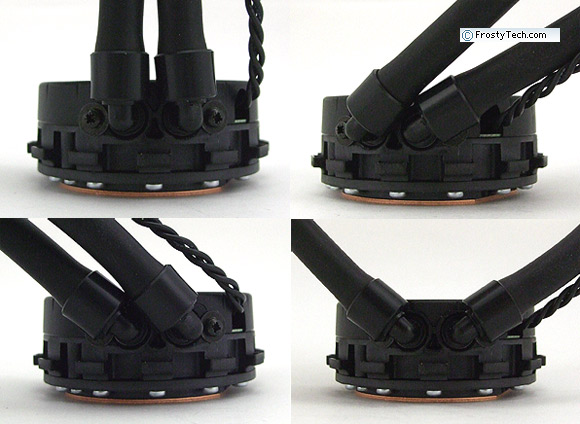 (rubber tubes swivel independently to facilitate easy installation)
Set within the base of the water pump assembly that mounts on top of the CPU is a skived copper fluid heat exchanger.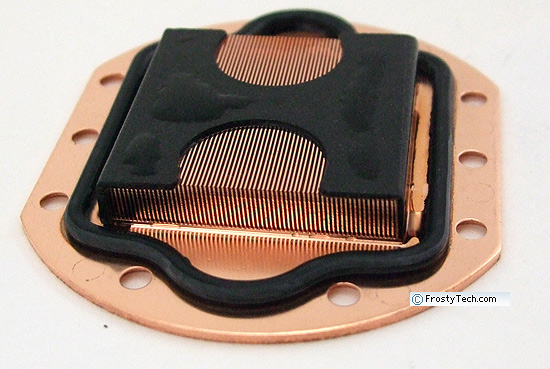 The fin area of the CPU fluid heat exchanger measures ~30x30x5mm in size. This is basically a thin-fin skived copper plate about 1mm thick. With the plastic cap in place, we can more clearly see how coolant enters the fluid heat exchanger and is directed from one side of the skived fins to the other.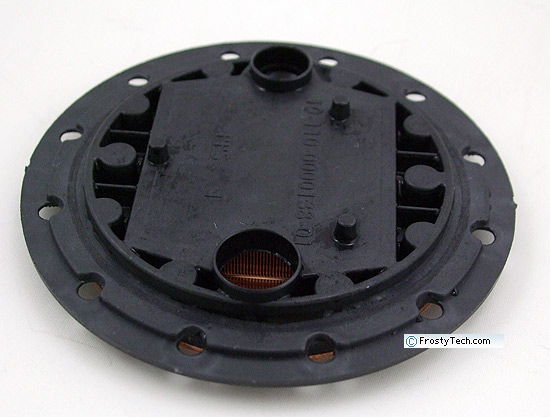 The copper fins are flush at the top so coolant must pass through them, thus ensuring a high degree of copper surface area is in contact with coolant.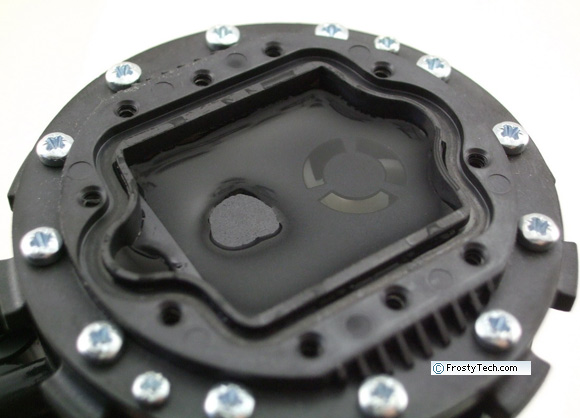 Provided the closely spaced copper fins remain unblocked over the life time of the thermal solution, this arrangement should make the Water 2.0 Pro pretty efficient at removing heat from the CPU and conducting it to the coolant. The tiny 12v DC pump head and waterblock are contained within a hockey puck sized block measuring 30mm tall x 72mm diameter.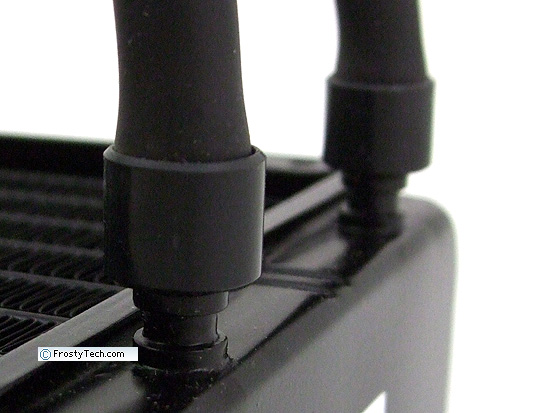 The aluminum heat exchanger is connected to the waterblock 12" length of "low evaporation" black rubber tubing. The tubing is 11mm in diameter and is pretty kink resistant. While the barbs on the radiator are metal, those on the pump head are plastic - take care when installing the unit so there is no chance of a barb being snapped off.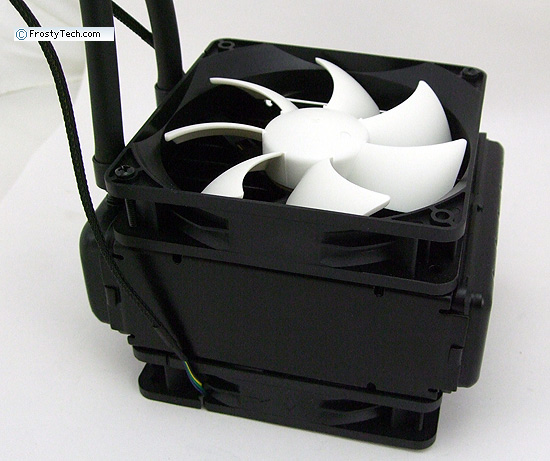 Twin 120mm PWM fans on either side of the heat exchanger spin at 1200-2000RPM to move air through the aluminum heat exchanger.
Mounting Hardware
The Thermaltake Water 2.0 Pro is compatible with both Intel and AMD processors and ships with two motherboard brackets that engage with supplied metal support plate to accommodate Intel and AMD motherboards.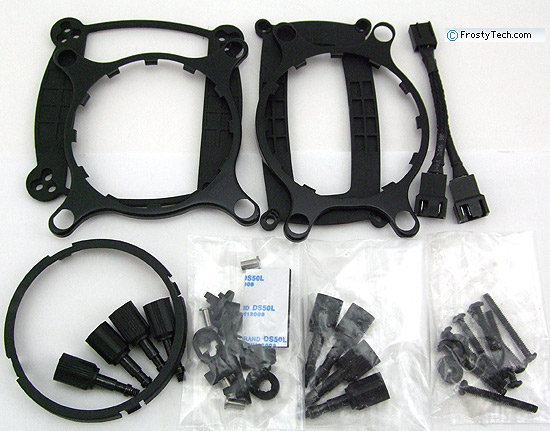 A good set of printed instructions is included to simplify installation.
This heatsink will be tested on FrostyTech's Intel and AMD version of the Mk.II synthetic thermal temperature test platform, and compared against hundreds of reference Intel and AMD heatsinks. The whole test methodology is outlined in detail here if you'd like to know what equipment is used, and the parameters under which the tests are conducted.