360° View - Thermaltake Water 2.0 Pro - Heat Exchanger
---
Information on Frostytech's test methodology is available here.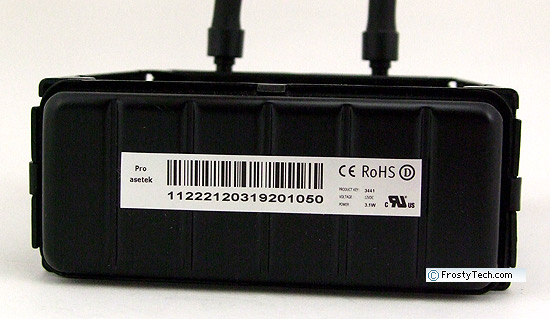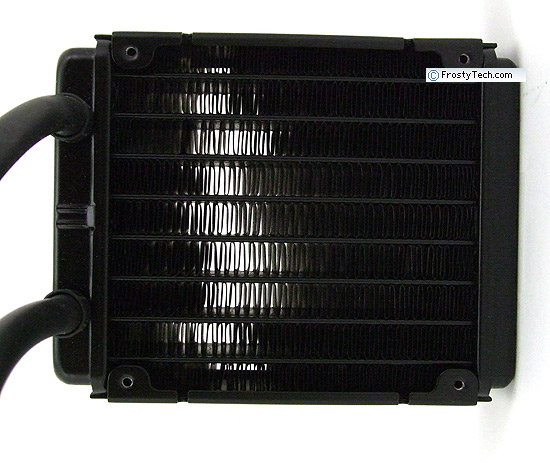 The heat exchanger measures 150x50x120mm in size. Metal barbs are used to hold the coolant tubes in place and fans can be attached to either side of the radiator. The radiator is keyed for 120mm fans and should be attached to the inside-rear of a computer case through cases' 120mm fan mounting holes. The effective area of the aluminum heat exchanger is 118x116mm.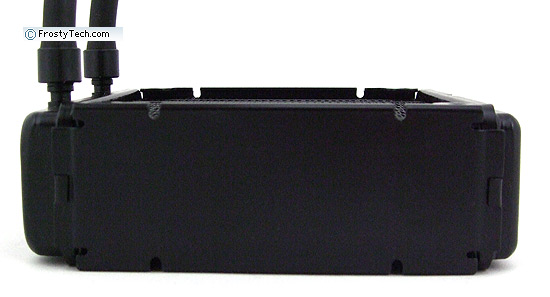 360° View - Thermaltake Water 2.0 Pro - Water Block

---

Information on Frostytech's test methodology is available here.

Detailed specifications on the Water 2.0 Pro pump such as pressure head and flow rate are not available. There are no provisions for removing the tubing for inspection, coolant refill or cleaning.

The copper baseplate is held in place with regular screws, a rubber washer just inside the flange means they are not in contact with the coolant. This is important as iron in contact with copper and aluminum can create a situation where the more electronegative metals cause the ferrous based materials to corrode. The copper base plate in measures 47x55x1mm and ships with a pre-applied patch of grey thermal compound.
Base Finish and Flatness
Flipping a heatsink over to inspect the business end is often a simple indicator of overall cooler quality. More practically speaking, a heatsink is in many ways only as effective as the contact it makes with the processor - the flatter and smoother the better. Base finish is one of the criteria that Frostytech measure in the course of evaluating heatsinks, and it involves two distinct aspects. Surface Finish is the first; this is calculated with the aid of Surface Roughness Comparator that has a cross section of common machine surface finishes and their numerical surface roughness equivalents in microinches. The second is Surface Flatness. This is tested with an engineer's straight edge or proven flat surface, in two axes.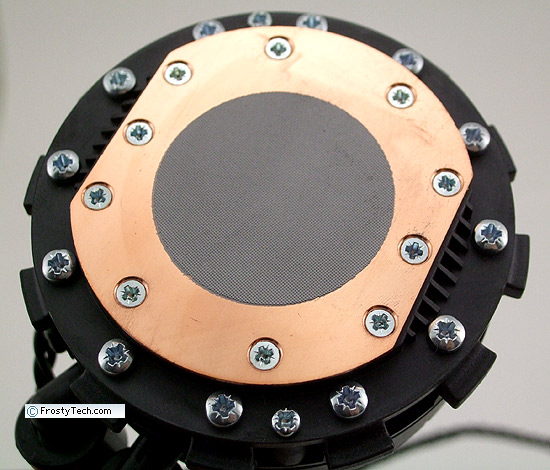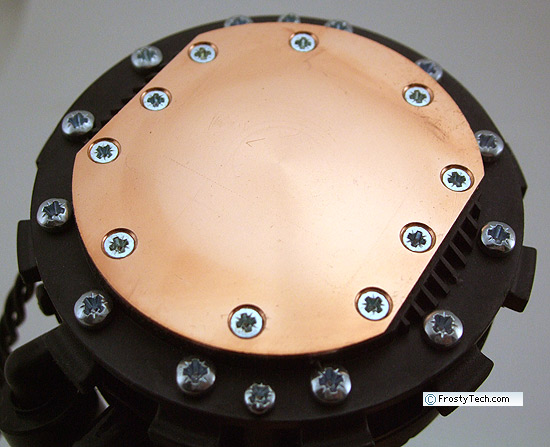 The copper base of the Thermaltake Water 2.0 Pro waterblock has a machined surface finish with a surface roughness of approximately ~16 microinches. The manufacturer ships it with a pre-applied patch of gray thermal compound for ease of installation (shown with/without). The base is significantly convex in both axes.
Next up Frostytech looks into the noise levels of this heatsink, then it's onto AMD and Intel thermal tests!