Standing 89mm tall, the lower profile Glacialtech Igloo 5761 Silent heatsink is a relatively compact cooler as modern thermal solutions go. Small through it is, Glacialtech should have limited this cooler to 85W TDP processors.
The Igloo 5761 Silent heatsink uses a familiar top-down-fan approach, with three 6mm diameter exposed base heatpipes conducting heat from the CPU to a small thin aluminum fin cooling stack. The cooling fins are topped off by a bright yellow 92x92x25mm PWM vaneaxial fan that operates at a fixed speed of 1200RPM. The fan outputs roughly 34CFM of air according the mfgr's specs, the airflow being directed down through the aluminum fin array and past the three intersecting copper heatpipes.
Glacialtech's Igloo 5761 Silent heatsink weighs a feathery 350 grams and comes with a pre-applied patch of thermal interface material so installation is a snap. It retails for about $20 USD. The heatsink is compatible with Intel socket LGA1155/1156/775 and lower TDP AMD socket 754/939/940/AM2/AM3/FM1/FM2 processors.
Glacialtech Igloo 5761 PWM Heatsink

---

heatsink specsheet
manufacturer: glacialtech
model no.: igloo 5761 silent
materials: aluminum fins, nickel plated copper heatpipes and copper base
fan mfg: glacialtech jt9225l12s012a
fan spec: 1200rpm, 12v, 0.12a
fan dim: 25x92x92mm
heatsink & fan dim: 89x96x114mm
weight: 350 grams
includes: multi-socket mounting hardware, instructions

---

Compatible with Sockets:
AMD: AM2/AM3/FM1/FM2
Intel: LGA775/1156/1155

Est. Pricing: $20USD ($20CDN)
The exposed heatpipe base of the Igloo 5761 Silent consists of three 6mm diameter heatpipes set into a 19mm tall, extruded aluminum heatsink. The solid portion of this combination base/heatspreader ranges from 4mm to 8mm thick.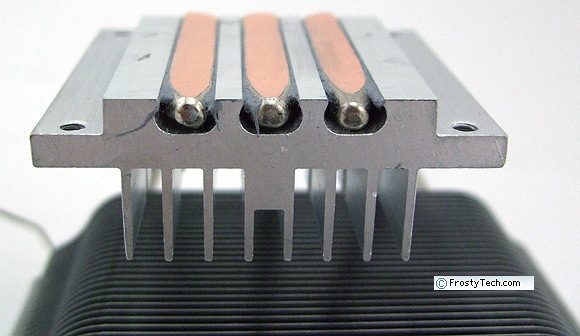 The top of the aluminum fin stack is wavy to help break up airflow and reduce resistance from the fin stack to the air flow exiting the smallish 92mm fan. The cooling fin array measures 96x91x29mm in size. The aluminum fins are press-fit over the nickel plated copper heatpipes, but not soldered to them.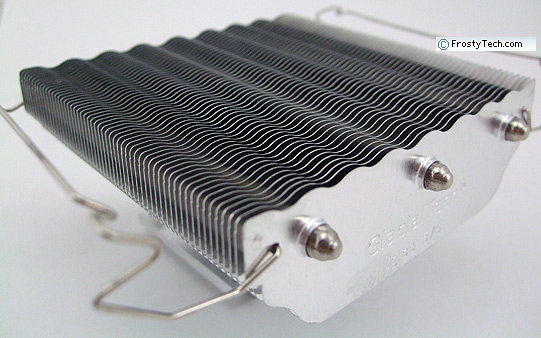 Heatsink Installation and Hardware
The Glacialtech Igloo 5761 Silent heatsink ships with two mounting brackets for Intel or AMD platforms. The Intel mounting brackets accommodate the full gamut of Intel sockets and snap into place with the standard Intel push-to-click retention posts.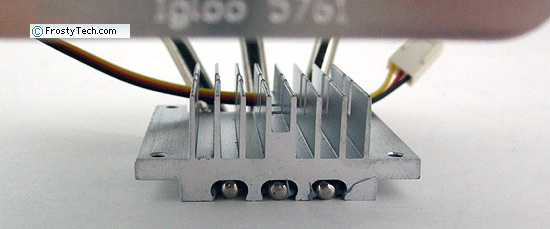 For AMD motherboards, Glacialtech can get away with a standard cam-lever arm that locks into AMD's heatsink retention cage. The AMD clip is easy to use and essentially tool free, the Intel brackets do need to be attached to the heatsink first.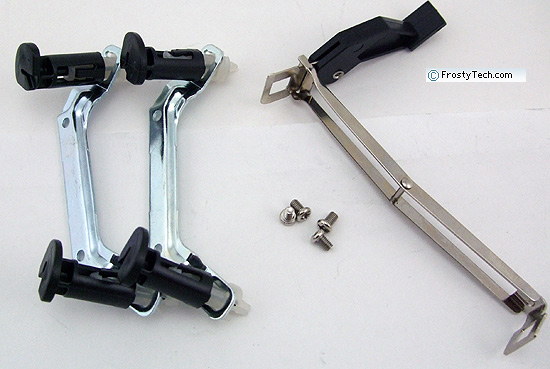 FrostyTech's Test Methodologies are outlined in detail here if you care to know what equipment is used, and the parameters under which the tests are conducted. Now let's move forward and take a closer look at this heatsink, its acoustic characteristics, and of course its performance in the thermal tests!