360° View - Glacialtech Igloo 5761 PWM Heatsink

---

Information on Frostytech's test methodology is available here.

The 92mm PWM fan has a yellow seven bladed impeller that rotates at 1200RPM. The fan is held on the Igloo 5761 Silent with a pair of wire brackets so cleaning dust out from between the fan and fins isn't difficult later on. Each aluminum fin measures 0.3mm thick and the fins spaced 1.5mm apart. Note the three 6mm diameter heat pipes.

The 6mm diameter copper heat pipes are set 3mm apart at the base and expand to 27mm apart where they intersect the 29mm tall aluminum fins. The heatpipes are flattened into a small extruded aluminum base plate and exposed to the processor below. The upper portion of the Igloo 5761 Silent heatsink is offset slightly and elevated ~33mm for clearance of nearby motherboard components.

Note the wavy leading edge of the aluminum fins and the placement of the 6mm diameter heatpipes within 5.5mm of the top of the fins. This is done to ease airflow resistance and get the most benefit from higher airflow at the leading edge just below the fan. The exposed heatpipe base plate is ~36x41mm in size. Grey thermal interface material comes pre-applied.
Base Finish and Flatness
Flipping a heatsink over to inspect the business end is often a simple indicator of overall cooler quality. More practically speaking, a heatsink is in many ways only as effective as the contact it makes with the processor - the flatter and smoother the better. Base finish is one of the criteria that Frostytech measure in the course of evaluating heatsinks, and it involves two distinct aspects. Surface Finish is the first; this is calculated with the aid of Surface Roughness Comparator that has a cross section of common machine surface finishes and their numerical surface roughness equivalents in microinches. The second is Surface Flatness. This is tested with an engineers straight edge or proven flat surface, in two axes.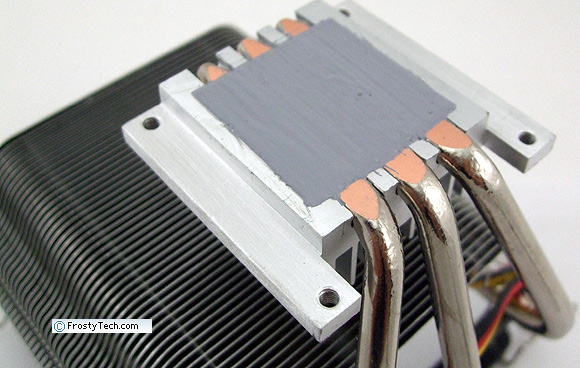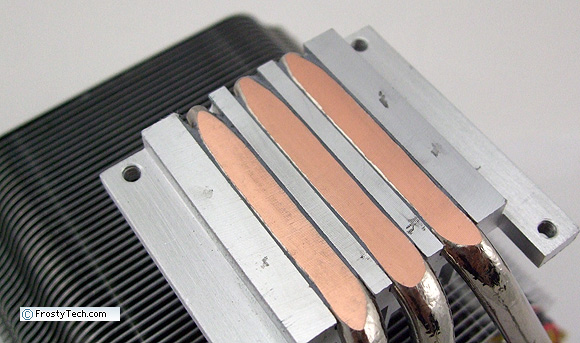 Glacialtech's Igloo 5761 Silent heatsink has an exposed heatpipe base that ships with a pre-applied patch of thermal compound. The exposed heatpipes are machined perfectly flat in both axes. Surface roughness is at or better than 64 microinches, with a ridged machining surface texture.
Up next, sound level measurements and heatsink noise comparisons.