On the heatsink test bench today is NZXT's Havik 120 heatsink, a tower style CPU cooler designed for Intel socket 2011/1366/1155/1156/775 and AMD socket AM2/AM3/AM3+/FM1 processors. The Havik 120 is a pretty typical tower heatsink that ships with two 120mm PWM fans (NZXT's special 'FZ' 13-blade fans) capable of each moving 75CFM per the mfgr's spec. The FZ fans operate at 1500-1200RPM and generate about 54.6 dBA noise according to Frostytech's real world sound measurements.
Despite it's name, the Havik 120 is only a bit smaller in actuality than the Havik 140 heatsink. While the latter had a footprint of 135x115mm, the Havik 120 heatsink has a slightly more compact footprint of 128x114mm. The Havik 120 weighs 980 grams and stands 161mm tall, it's built around four 8mm diameter copper heatpipes which are not exposed at the base.
Gone are the typical wire fan clips and in their place we find a set of large 'rubber bands' for mounting the fans. The 'rubber-band' system is a whole lot easier to install, but your guess is as good as mine as to how well this elastomer will hold up after a couple years of continual heating and cooling cycles inside a PC chassis. MTBF is pegged at 30,000 hours.
One novel aspect of the Havik 120's design are the edges of its aluminum fins. Each fin has a blunt knife edge which helps ease airflow through the aluminium fin stack by decreasing air flow resistance. If you look really closely at the Havik 120, you'll see a 1mm edge taper from 0.5mm down to about 0.25mm. Gigabyte tried a similar technique in 2006 with good results. Xigmatek have rolled this technique out on several of its own-brand heatsinks like the Prime SD1484 which Frostytech recently tested.
The NZXT Havik 120 cooler retails for around $50 bucks at the usual U.S., Canadian and European online computer stores Frostytech recommends.
NZXT Havik 120 Heatsink

---

heatsink specsheet
manufacturer: nzxt
model no.: havik 120
materials: aluminum fins, nickel plated copper heatpipes, aluminum base cap/nickel plated copper base plate.
fan mfg: nzxt af-fz120-01
fan spec: (x2) 1500-1200rpm, 12v, 0.30a
fan dim: (x2) 25x120x120mm
heatsink & fan dim: 161x128x114mm
weight: 980 grams
includes: multi-socket mounting hardware, thermal compound, instructions

---

Compatible with Sockets:
AMD - AM2/AM3/FM1
Intel - 2011/1366/1155/1156/775
Est. Pricing: $50USD ($50CDN)
Aluminum Fin Advancements
NZXT's Havik 120 heatsink uses a relatively wide 2.0mm fin pitch and modified leading and trailing fin edges. What we mean by that, is rather than the natural 90-degree edges where the aluminum fins have been sheared from the sheet metal roll, each fin has gone through the press one additional time and been given a blunted 'knife edge' taper.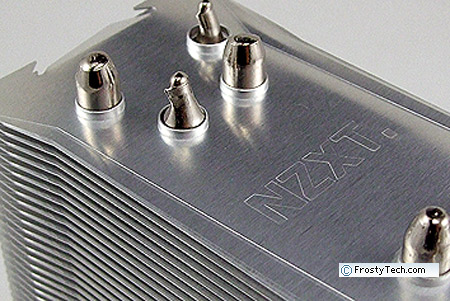 (Notice the tapered fin edges)
The knife edge is somewhat asymmetrical on the heatsink Frostytech evaluated, though it's hard to say if that's by design or just a side effect of this manufacturing step.
Along the side of the 105mm aluminum fin tower, every other fin tip has been bent to partially close off the space.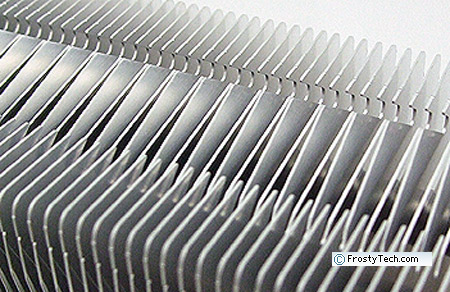 The Havik 120 heatsink doesn't feature exposed heatpipes at the base, so instead of four 8mm diameter heatpipes we find a standard nickel plated copper base plate soldered to the heatpipes. The copper acts as a heatspreader to distribute the heat energy from the CPU over a wider surface area. Exposed heatpipes lack this heatspreading capability and with smaller IHS processors, only the central heatpipes may receive the majority of heat energy from the CPU.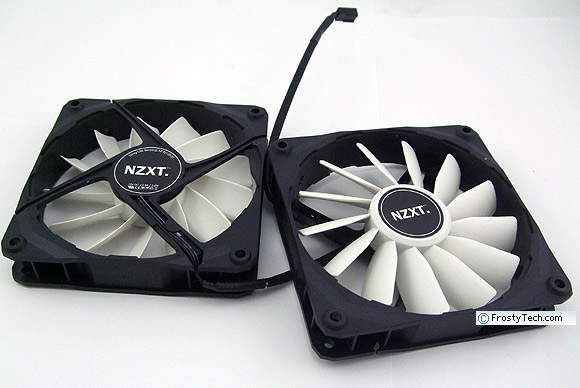 The NZXT Havik 120 heatsink ships with two 120mm FZ fans (AF-FZ120-01) that attach to either side of the heatsink fin tower. Users can get by with only one fan if they so desire, but as the impeller speed is 1500RPM it's best to use both fans.
Heatsink Installation Hardware:
NZXT's Havik 120 heatsink is compatible with Intel socket 2011/1366/1155/1156/775 and AMD socket AM2/AM3/FM1 processors. The heatsink comes with one rear metal support bracket for Intel/AMD motherboards that will require you to access to the back of the board. Depending on the computer case you may need to remove the motherboard to install this heatsink. After the upper metal stand offs are installed, subsequent CPU swaps are relatively straightforward.
AMD platforms make use of the same basic heatsink brackets, which is a shame since AMD supplies a nice heatsink retention cage on every single motherboard.
The brackets take a little bit of time to install but will firmly hold the heatsink in place. An extra rubber fan bracket, thermal compound and fan power splitters are also supplied.
FrostyTech's Test Methodologies are outlined
in detail here
if you care to know what equipment is used, and the parameters under which the tests are conducted. Now let's move forward and take a closer look at this heatsink, its acoustic characteristics, and of course its performance in the thermal tests!