360° View - NZXT Havik 120 Heatsink

---

Information on Frostytech's test methodology is available here.

The front and rear 120mm FZ fans stand out for their 13-blade white impeller. The compact vane pitch resembles an aircraft turbine. The twin 120mm PWM fans spin at 1500-to-1200RPM and at worst are only moderately loud. The four nickel plated copper heatpipes are 8mm in diameter and extend from the base to the top of the 107mm tall fin stack, spread 51mm and 82mm apart. The aluminum fins are 0.5mm thick and spaced 2.0mm apart. The center-most heatpipes are indexed inward 7mm to enter the airflow from the fans.

The Havik 120 heatsink stands 161mm tall, 125mm wide. The fin tower is 58mm deep without the fans mounted. The bottom most aluminum fin is elevated 43mm above the CPU socket. The base is 12mm thick and incorporates a 6mm thick nickel plated copper heatspreader onto which the four 8mm diameter heatpipes are soldered. From the side you can clearly see how the 'rubber bands' lock into the side of the fin tower to hold the fans in place.

The nickel plated copper base of the NZXT Havik 120 heatsink measures 40x37mm in size and ranges in thickness from 2.5-6mm. The four heatpipes are soldered to the base plate and to the nickel plated aluminum cap above. Notice the 'knife edge' given to the leading and trailing edge of the aluminum fins. The rubber fan clips leave a natural plenum of ~6mm behind the fan motor.
Base Finish and Flatness
Flipping a heatsink over to inspect the business end is often a simple indicator of overall cooler quality. More practically speaking, a heatsink is in many ways only as effective as the contact it makes with the processor - the flatter and smoother the better. Base finish is one of the criteria that Frostytech measure in the course of evaluating heatsinks, and it involves two distinct aspects. Surface Finish is the first; this is calculated with the aid of Surface Roughness Comparator that has a cross section of common machine surface finishes and their numerical surface roughness equivalents in microinches. The second is Surface Flatness. This is tested with an engineers straight edge or proven flat surface, in two axis.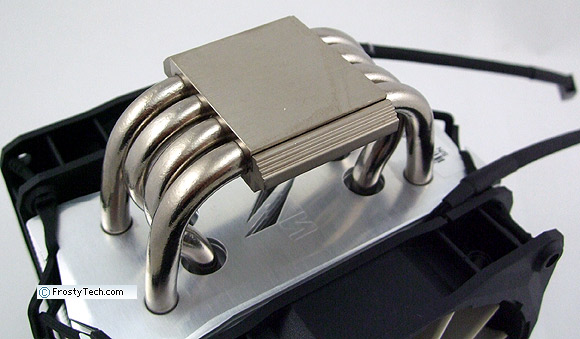 The nickel plated copper base plate of the NZXT Havik 120 heatsink has a surface roughness of approximately 16 microinches, which is considered excellent. The sanded surface finish is smooth, but unfortunately it's convex in one axis, though generally flat in the opposite. A little lapping to flatten the base would certainly improve this heatsink's potential.
Next up, Frostytech heatsink sound level measurements...