In this review Frostytech will be testing a promising looking heatsink from Thermaltake called the FrioOCK. However you pronounce the name, the Thermaltake FrioOCK is a 162mm tall variation on the familiar tower heatsink with a lot of potential.
The cooler weighs over a kilogram (1093grams) and comes with two 130mm fans arranged in a push-pull configuration that scale from 2100-to-1200RPM. Behind all the bulky fan shroud is an aluminum fin tower split down the middle and connected to a thick copper base plate by six 6mm diameter sintered metal wick copper heatpipes. The FrioOCK is compatible with the complete range of current Intel and AMD processors and is rated to heat loads of up to 240 Watts!
As you might expect by its appearance, the Thermaltake FrioOCK heatsink has a footprint of 143x136mm so it's best suited to full size computer cases. The cooler ships with two 130mm fans that drive up to 121CFM of air, so it can be a bit loud running at full speed. The fans are non-PWM so the manufacturer attaches a manual fan speed controller to manage speed if quieter operation is desired. Retail price is around $75.
Thermaltake FrioOCK Heatsink

---

heatsink specsheet
manufacturer: thermaltake
model no.: frioock (clp0575)
materials: nickel plated aluminum fins, copper heatpipes, copper base plate
fan mfg: everflow rb14025sh
fan spec: (x2) 2100-1200rpm, 12v, 0.60a
fan dim: 25x130x130mm
heatsink & fan dim: 162x143x136mm
weight: 1093 grams
includes: multi-socket mounting hardware, thermal compound, instructions.

---

Compatible with Sockets:
AMD - AM2/AM3/AM3+/FM1
Intel - LGA775/1155/1156/1366
Est. Pricing: $75USD ($75CDN)
The interesting bits of the Thermaltake FrioOCK heatsink are hidden behind the plastic fan shroud - each nickel plated aluminum fin is split down the middle, forming two cooling towers. The six 6mm diameter heatpipes are all aligned along the outer edge of the fins where airflow from the twin 130mm fans is strongest.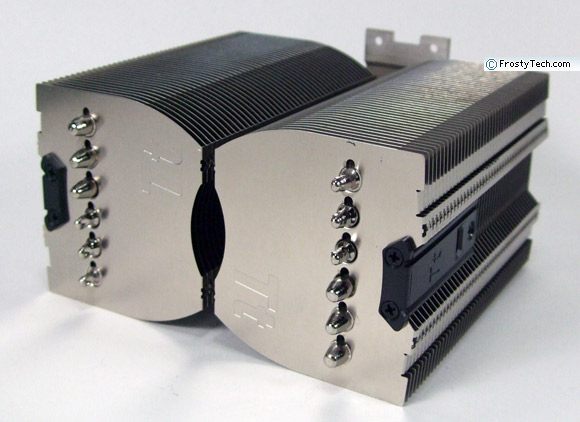 In most other respects the Thermaltake FrioOCK is a pretty typical tower heatsink. As an added measure to ensure low thermal joint resistance, the heatpipes are soldered to each of the aluminum fins and to the copper base plate.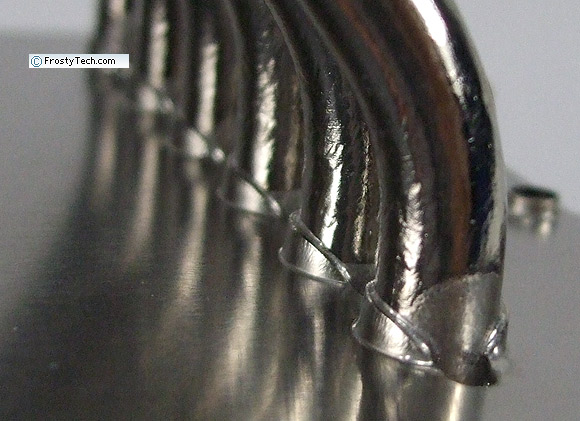 Heatsink Installation Hardware
Thermaltake's FrioOCK heatsink ships with separate brackets for Intel socket LGA775/1155/1156/1366 and AMD socket AM2/AM3/FM1 processors. Each set of brackets is screwed onto the base of the heatsink and threads through the motherboard with a rear support plate. Unfortunately this requires access to the rear of the motherboard to fasten a set of nuts, making any future CPU swapping a major maneuver.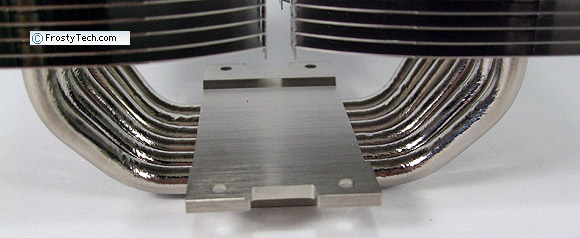 Given that this heatsink weighs 1093 grams, the solution that Thermaltake chose does assures that it won't be going anywhere.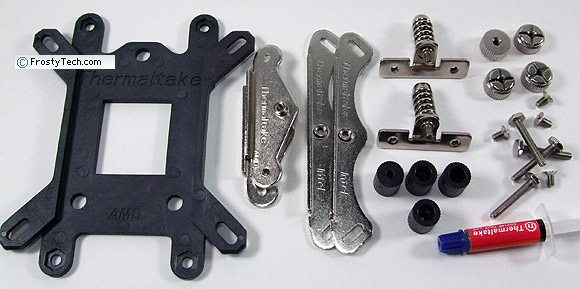 FrostyTech's Test Methodologies are outlined in detail here if you care to know what equipment is used, and the parameters under which the tests are conducted. Now let's move forward and take a closer look at this heatsink, its acoustic characteristics, and of course its performance in the thermal tests!