360° View - Thermaltake FrioOCK Heatsink

---

Information on Frostytech's test methodology is available here.

Both 130mm fans on the FrioOCK are powered over the same 3-pin fan connector which has a small fan speed controller attached. Speed ranges from 2100-1200RPM. The heatsink stands 162mm tall and about 143mm wide. Both fans mount to the plastic fan shroud which then clips over the aluminum fins. The entire assembly removes easily without tools to make dust cleaning more practical. Clearance below the bottom fin is 36mm. The translucent blue fan impellers are not illuminated.

Each nickel plated aluminum fin on the 1093gram FrioOCK heatsink measures 0.4mm thick and is spaced 2.0mm from the next. The aluminum fin stack measures 114mm tall, 63mm wide and 71mm deep. The six 6mm diameter heat pipes are positioned 90mm apart, lined up side by side at the base where they're soldered to a nickel plated copper base block. Total base thickness is 9.4mm.

The nickel plated copper base plate of the FrioOCK heatsink measures 36x45mm in size. All six 6mm diameter copper heatpipes are soldered in place to ensure good thermal conductivity with the 1.5-4.5mm thick heatspreader. From the top we can't really see that much as a plastic fans shroud covers everything (it's required to support the two 130mm fans).
Base Finish and Flatness
Flipping a heatsink over to inspect the business end is often a simple indicator of overall cooler quality. More practically speaking, a heatsink is in many ways only as effective as the contact it makes with the processor - the flatter and smoother the better. Base finish is one of the criteria that Frostytech measure in the course of evaluating heatsinks, and it involves two distinct aspects. Surface Finish is the first; this is calculated with the aid of Surface Roughness Comparator that has a cross section of common machine surface finishes and their numerical surface roughness equivalents in microinches. The second is Surface Flatness. This is tested with an engineers straight edge or proven flat surface, in two axis.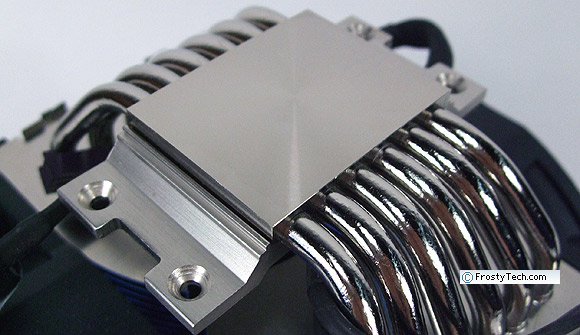 The base of the Thermaltake FrioOCK heatsink has a razor smooth turned surface finish. Surface roughness is at or better than 8 microinches, which is considered excellent. The nickel plated copper base plate is soldered to six 6mm diameter copper heatpipes and it is perhaps this step on the assembly line which left the base plate so very domed. When the base is compared next to an engineers straight edge the convex curvature is quite visible in both axis. This heatsink requires significant lapping.
Next up, acoustic noise measurements and then it's on to AMD/Intel synthetic thermal test results.