In wind tunnels metal honeycomb panels are often used to smooth out the turbulent airflow and create laminar airflow. Coolage's X120TF heatsink borrows from this idea with a loosely shaped honeycomb fin stack. It will be interesting to see what impact this kind of fin geometry has on the relatively deep fins of the X120TF heatsink - will it help or hinder the cooling performance?
In most other respects the Coolage X120TF is a pretty standard tower heatsink. It stands 148mm tall and weighs approximately 750 grams. The heatsink uses six 6mm diameter copper heatpipes to conduct heat from the CPU base plate to the 102mm fin stack above. A single 120mm may be used with this heatsink, for the purposes of Frostytech's review we'll be using the manufacturer supplied 38x120mm Coolage CA-120SX2 fan. It runs at 2000RPM and is rated for 80CFM airflow. The Coolage X120TF heat sink installs onto Intel socket 775/1366 and AMD socket 939/AM2/AM3 processors.
Coolage X120TF Heatsink

---

heatsink specsheet
manufacturer: coolage
model no.: frozen orb x120tf
materials: nickel plated aluminum fins and copper base
fan mfg: korea hilo co. ltd. ca12038sk2
fan spec: 2000rpm, 12v, 0.19a
fan dim: 38x120x120mm
heatsink & fan dim: 148x126x99mm
weight: 750 grams
includes: multi-socket mounting hardware, thermal compound, instructions.

---

Compatible with Sockets:
AMD: AM2/AM2+/AM3
Intel: LGA775/1366
Est. Pricing: $60USD ($60CDN)
Honeycomb panels are used throughout aircraft construction because the shape of the metal honeycomb makes for a very lightweight and rigid core structure when sandwiched between non-elastic sheets. Carbon fiber is common, but aluminum, plastics are even paper also used. The hollow structure is light and the honeycomb pattern robust against compressive forces.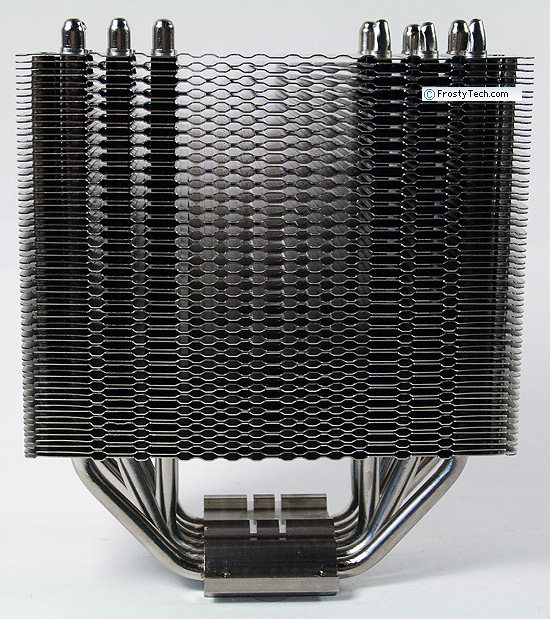 Another frequent application for open cell honeycomb panels is as a laminar air flow straightener in wind tunnels. In this application the honeycomb panels remain open and air is passed through the many small tubes which settles down turbulent airflow. The fin stack of the Coolage X120TF heatsink resembles this application when viewed directly head on.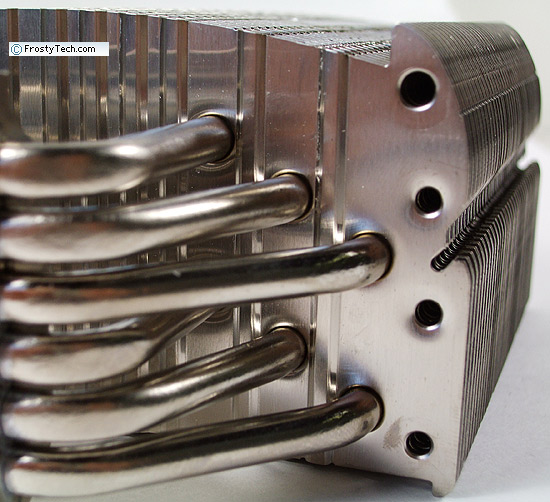 Coolage achieve this effect by pressing the individual aluminum fins with alternating channels. Stacked together the aluminum fins form 55-60mm long honeycomb channels, though the doubling up of layers results in spaces which are so closely spaced that it's doubtful much, if any, airflow passes by.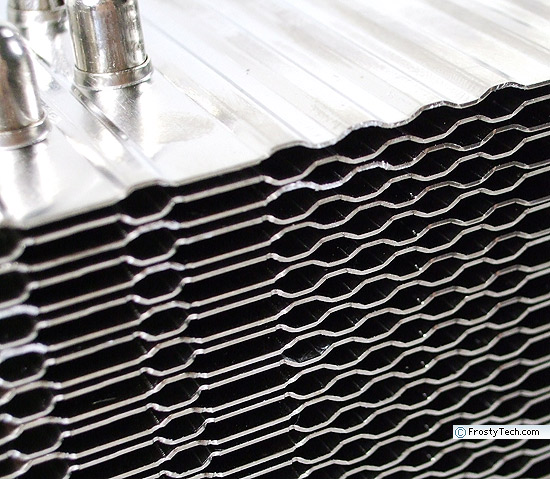 The 0.4mm thick aluminum fins come together to create a hexagon pattern in the fin stack with cell diameter of approximately 2-2.5mm.
Coolage CA-120SX2 Fan
Coolage supplied a 38x120mm fan for testing on the Coolage X120TF heatsink. The CA-120SX2 fan is rated for speeds of 2000RPM, features double ball bearings, moves about 80CFM and is rated for an MTBF of 120K hrs. The fan ships with mounting screws and a PCI bracket manual fan speed controller.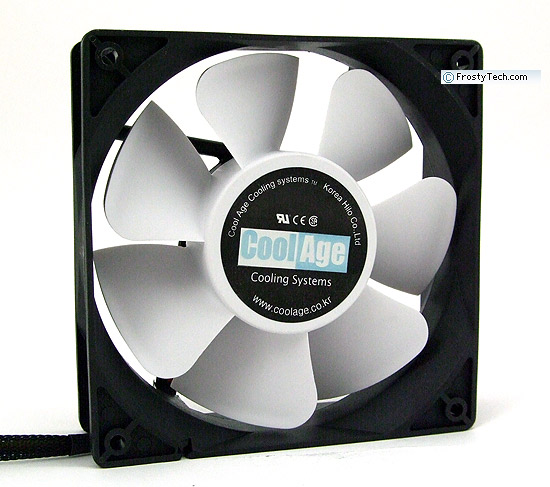 Mounting Method and Hardware
The Coolage X120TF heatsink comes with mounting brackets to accommodate Intel socket 775/1366 and AMD socket 939/AM2/AM3 processors. Three separate brackets get the job done. The Intel clips are screwed to the base of the cooler while the AMD solution slots in just above the base plate and uses the AMD heatsink retention cage central lug every motherboard is equipped with.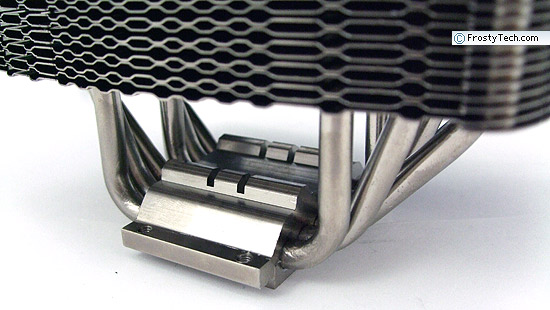 For Intel processors, Coolage rely on a metal support back plate and spring tensioned machine screws to apply the appropriate clamping forces. All generations of AMD processors are serviced by one cam lock spring clip that locks onto the central tab in the heatsink retention frame.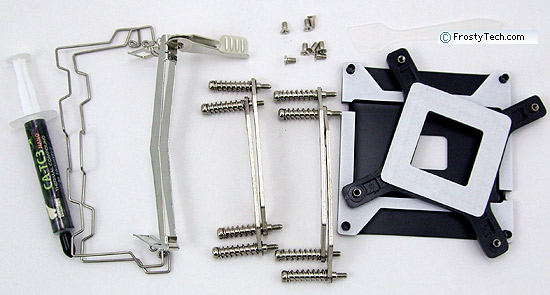 This heatsink will be tested on FrostyTech's Intel LGA775 and K8 version of the Mk.II synthetic thermal temperature test platform, and compared against a hundred reference LGA775 and K8 heatsinks. The whole test methodology is outlined in detail here if you'd like to know what equipment is used, and the parameters under which the tests are conducted.