360° View - Coolage Frozen Orb X120 TF Heatsink

---

Information on Frostytech's test methodology is available here.

A single 120mm fan can be installed on the CoolAge X120TF heatsink - this fan was manufacturer supplied, the heatsink sells without any fan. Six U-shaped 6mm copper heatpipes are packed closely at the base and loop around to both sides of the 126mm wide fin stack. The heatpipes expand outwards to conduct heat to a 28.5mm wide swath of cooling fin situated directly behind the fan blades.

The nickel plated aluminum fins on the CoolAge X120TF heatsink measure 0.4mm thick and are spaced roughly 1mm apart. Owing to the hexagonal pattern of the fins, some are >0.3mm apart while others ~2.0mm. The copper base plate measures 3-5.5mm thick. The bottom most fins are elevated 38mm above the CPU for clearance. The fin tower itself measures 102mm high, 126mm wide and 60mm deep. Wire fan clips accommodate a range 120mm fan thicknesses.

The CoolAge X120TF's heatpipes intersect the fins in a double chevron shape, offset by 14mm. Aluminum fins are interference fit over the heatpipes while the heatpipes are soldered to the copper base plate. Curiously, there is no plenum between the fan and leading edges of the cooling fins. The nickel plated copper base plate measures 45x35mm in size.
Base Finish and Flatness
Flipping a heatsink over to inspect the business end is often a simple indicator of overall cooler quality. More practically speaking, a heatsink is in many ways only as effective as the contact it makes with the processor - the flatter and smoother the better. Base finish is one of the criteria that Frostytech measure in the course of evaluating heatsinks, and it involves two distinct aspects. Surface Finish is the first; this is calculated with the aid of Surface Roughness Comparator that has a cross section of common machine surface finishes and their numerical surface roughness equivalents in microinches. The second is Surface Flatness. This is tested with an engineers straight edge or proven flat surface, in two axis.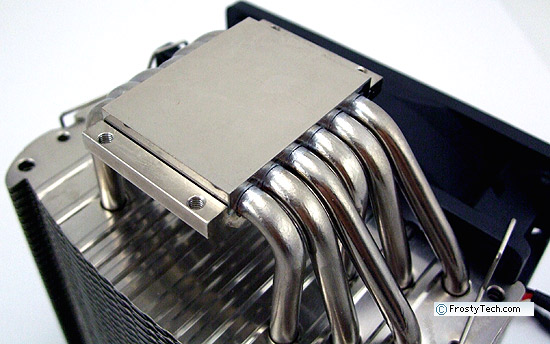 The nickel plated copper base of the CoolAge X120TF heatsink is turned flat on a lathe, though a slight ridged texture is left by the cutting tool when a finger nail is dragged across the surface. Surface roughness is ~16 microinches or better according the surface roughness gauge. The base plate is perfectly flat in one axis and very very slighty concave in the opposite.
Next up on Frostytech, acoustic measurements.