The Thermalright Silver Arrow is a dual tower, dual 140mm fan heatsink for performance and lower noise Intel / AMD processor cooling. It's constructed around four 8mm diameter sintered metal wick copper heatpipes and thin, multi-winglet nickel plated aluminum fins. The balanced fan arrangement makes it seem as though the Silver Arrow is really two heatsinks merged into one, doesn't it?
Like so many of the Thermalright heatsinks that have preceded it, the Silver Arrow is a refined example of simple thermal concept. There's no magic, just a good proportion of copper heatspreader to heatpipes to thin high density aluminum fins to large quiet fans -- all times two. The end result is +165mm tall and boxy for sure, but it's also a heatsink that can comfortably operate at scarcely a whisper or ramp up its twin 140mm PWM fans to tackle performance cooling situations. It's among the best performing, sub-44dBA noise heatsinks Frostytech has tested to date, but still a couple degrees Centigrade from the top spot if sound is not taken into consideration.
Thermalright's Silver Arrow is compatible with Intel socket 775/1155/1156/1366 and AMD socket AM2/AM2+/AM3 processors. CrazyPC.com sell the Thermalright Silver Arrow heatsink for about $74 USD. Weighing in at 825 grams in total and standing 166mm tall the Silver Arrow heatsink has an actual footprint of 147mm by 153mm so it's advisable to measure your motherboard and computer case to ensure sufficient clearance on all fronts. The double tower heatsink ships with two 140mm PWM fans (actual size 25x140x152mm) that operate at 1300RPM to 500RPM.
Anti-vibration rubber strips are user-applied at the corners of each tower to prevent noises of vibrations from propagating and the heatsink retention system is sturdily constructed.
Thermalright Silver Arrow Heatsink

---

heatsink specsheet
manufacturer: thermalright
model no.: silver arrow
materials: nickel plated aluminum fins, copper heatpipes, copper/aluminum base.
fan mfg: (2) thermalright tr-ty140

fan spec: 1300-500rpm, 12v, 0.2a

fan dim: 25x140x152mm

heatsink & fan dim: 166x147x153mm
weight: 825 grams
includes: multi-socket mounting hardware, thermal compound, instructions

---

Compatible with Sockets:
AMD: AM2/AM2+/AM3
Intel: LGA775/1155/1156/1366
Pricing: $75USD ($75CDN)
To ensure good thermal conductivity between the different components, the copper heatpipes and aluminum fins of the Silver Arrow heatsink are completely nickel plated. The joints between the four 8mm diameter sintered wick copper heatpipes and C1100 copper base plate are apparently soldered, but upon close inspection thin gaps are plainly visible on both sides.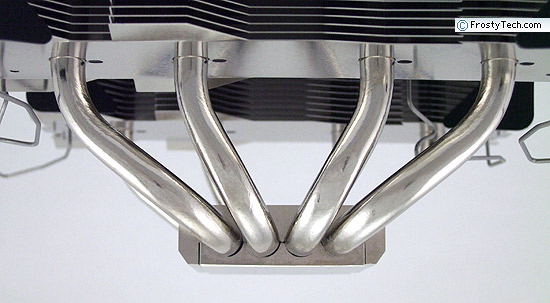 Thermalright have designed the Silver Arrow heatsink to accommodate a range of fan sizes, from 120mm to 140mm in width. By relying on two large, relatively slow speed 140mm fans, a sufficient amount of air can be moved through the Silver Arrow's two fin stacks without generating much noise.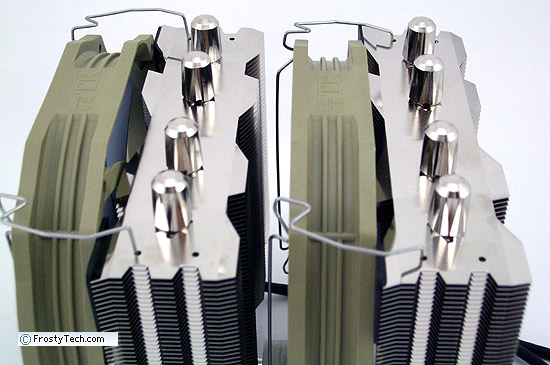 To help induce turbulence within the fins and improve thermal transmission between the air and metal, Thermalright continue the use of bent winglets on both leading and trailing edges of thin aluminum fins.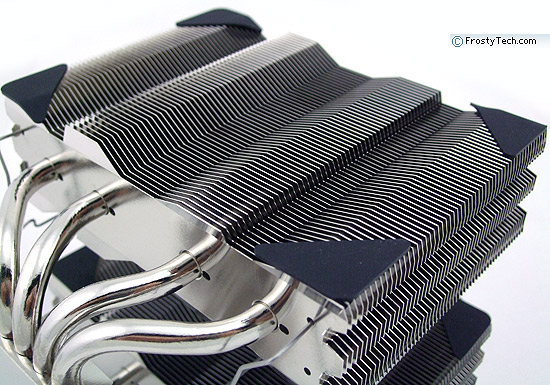 Fans are held in place with easy to use wire fan clips that engage with holes in the fan frame. Small rubber pads are included with the heatsink and should be applied to the four corners of each tower before installing the fans for the first time.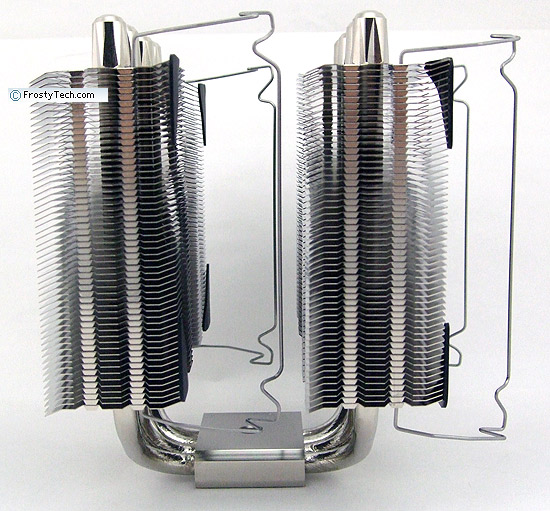 Installation Hardware
The Thermalright Silver Arrow heatsink ships with separate metal brackets for Intel LGA775/1155/1156/1366 and AMD socket AM2/AM2+/AM3 processor platforms.
Both Intel/AMD sockets require a metal rear motherboard support plate to be installed, and alternatively small stand-offs and a metal top-plate or spring tensioned screws to apply clamping pressure. For the Intel platform a separate metal plate slips over the top of the Silver Arrow's base into a keyed depression. This plate uses two screws to attach to the Intel top-plate, then a central lug may be turned with the supplied wrench to apply strong clamping force.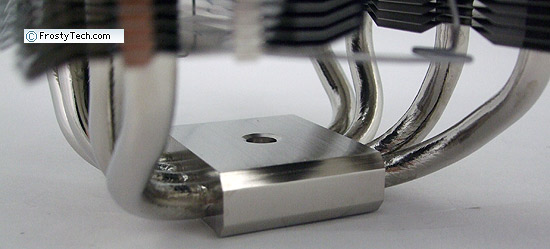 After the heatsink is mounted to the processor, eight thin rubber anti-vibration pads should be attached at each of the four corners where the fans will contact the aluminum fin towers. The 140mm fans can then be installed with the flat side of the fan frame facing up/down. Special wire clips are supplied to hold the two fans in position. A small syringe of thermal compound is also included.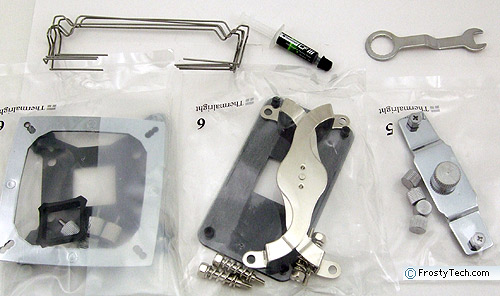 FrostyTech's Test Methodologies are outlined in detail here if you care to know what equipment is used, and the parameters under which the tests are conducted. Now let's move forward and take a closer look at this heatsink, its acoustic characteristics, and of course its performance in the thermal tests!