360° View - Thermalright Silver Arrow Heatsink

---

Information on Frostytech's test methodology is available here.

Two PWM fans measuring 25x140x152mm are installed inline with one another and operate at 1300-500RPM. Power is supplied by two 4-pin PWM fan headers. From the rear we can see the small winglets that form the leading and trailing edges on both of the two towers of this 166mm tall, 153mm wide heatsink. The four 8mm diameter heatpipes thread through the closely spaced, thin nickel plated aluminum fins and are soldered to a thick C1100 copper heatspreader at the base.

Each fin array measures 103mm tall, 147mm wide, 31-42mm deep. The nickel plated aluminum fins measure 0.3mm thick and are set at a pitch of 1.5mm. The two towers are spaced 39mm apart. The bottom most fin of the Silver Arrow heatsink is 46mm above the CPU for clearance. The four 8mm diameter copper heat pipes of the Silver Arrow cooler expand outwards from a side by side placement at the base.

From the top we can clearly see the saw-toothed winglets which are bent alternatively up and down. The nickel plated copper baseplate on the Silver Arrow measures 40x40mm in size, and between 2-5.5mm thick. The heatpipes are soldered to copper base plate, an interference fit is used for the fin-to-heatpipe joint. Note the wire fan clips can be installed on either side of the heatsink's towers.
Base Finish and Flatness
Flipping a heatsink over to inspect the business end is often a simple indicator of overall cooler quality. More practically speaking, a heatsink is in many ways only as effective as the contact it makes with the processor - the flatter and smoother the better. Base finish is one of the criteria that Frostytech measure in the course of evaluating heatsinks, and it involves two distinct aspects. Surface Finish is the first; this is calculated with the aid of Surface Roughness Comparator that has a cross section of common machine surface finishes and their numerical surface roughness equivalents in microinches. The second is Surface Flatness. This is tested with an engineers straight edge or proven flat surface, in two axis.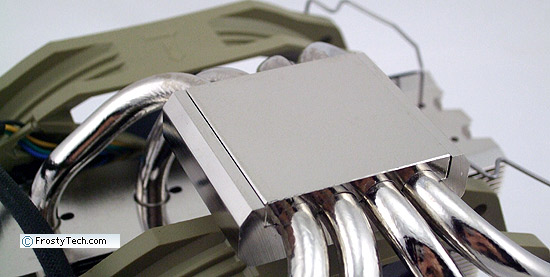 The nickel plated copper base the Thermalright Silver Arrow heatsink has a machined finish with a surface roughness of approximately ~8 microinches, which is considered excellent. Typical of most Thermalright heatsinks Frostytech has tested, the base plate has a somewhat convex profile in one axis. The opposite axis is very flat.
You can see the curvature of the Silver Arrow heatsink base by holding it against a straight edge (see image below) in front of a uniform light source.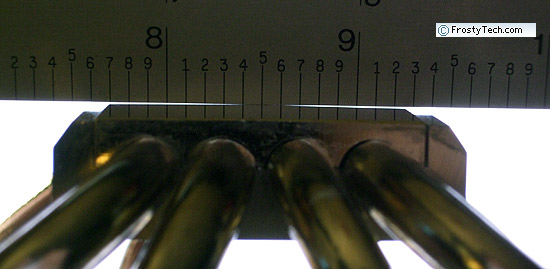 Thermalright's base treatment has spawned a small cottage industry among heatsink retailers for pre-lapped heatsinks for those that desire it. The heatsink Frostytech tested was not lapped.
Next up, let's see how this heatsink handles the heat compared to a selection of other heatsinks!