In this review Frostytech is testing Titan's new Hati TTC-NC15TZ exposed heatpipe base CPU cooler. The TTC-NC15TZ is capable of very good performance results with the supplied 120mm PWM fan operating at full speed, however that trend quickly changes direction once fan speed is brought down for quieter operation...
Like many tower heatsinks, the Hati TTC-NC15TZ heatsink has three exposed 8mm diameter direct contact heatpipes at the base. These allow heat to be efficiently conducted from the CPU to the aluminum fins without passing first through a secondary heat spreader where voids can impeed thermal conduction.
While the aluminum fins on the Titan Hati TTC-NC15TZ heatsink certainly aren't identical to any other heatsink Frostytech has tested, the basic structure is pretty familiar by now. In any event, Titan's Hati TTC-NC15TZ heatsink stands 159mm tall, is 129mm wide and accommodates up to two 120mm fans. The one fan supplied with this heatsink spins at 800~2200 RPM and generates between 32dBA to 50 dBA noise according to Frostytech's real world sound measurements. Weighing 604 grams, the TTC-NC15TZ heatsink installs onto Intel socket 775/1156/1155/1366 and AMD socket AM2/AM2+/AM3 processors.
Titan Hati TTC-NC15TZ Heatsink

---

heatsink specsheet
manufacturer: titan
model no.: hati ttc-nc15tz
materials: aluminum fins & base, copper heatpipes
fan mfg: titan tfd-12025h12zp
fan spec: 800-2200rpm, 12v, 0.32a
fan airflow: 24-66cfm
fan dim: 25x120x120mm
heatsink & fan dim: 159x129x78mm
weight: 604 grams
includes: multi-socket mounting brackets, thermal compound, fan speed reducer, instructions

---

Compatible with Sockets:
Intel - LGA775/1155/1156/1366
AMD - AM2/AM2+/AM3
Pricing: $40USD ($40CDN)
The Hati's three 8mm diameter copper heatpipes are swagged into the aluminum base block and then ever so thinly milled flush. Considering all the heatsinks that Frostytech has tested which employ 'heatpipe direct touch' or 'direct contact heatpipes', we've found that milled base plates tend to offer better results and flatter surfaces than the 'light sanding finish' affords.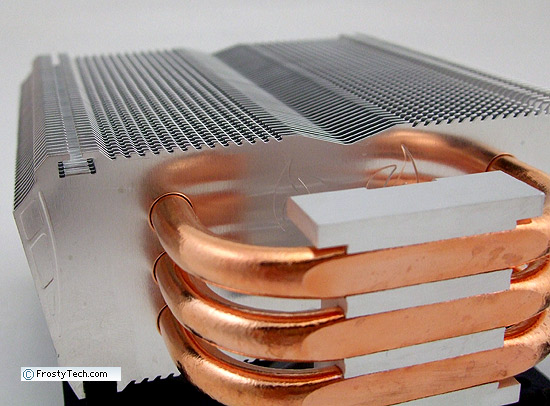 Exposed heatpipe base heatsinks work best with processors that have thick integrated heatspreaders and even heat distribution over the entire CPU IHS surface area. They can potentially encounter problems when heat is localized too directly, such that one or two of the outside heatpipes receives much less heat than the remainder.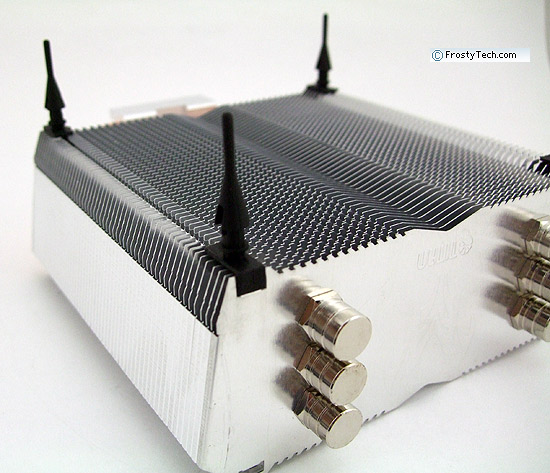 The 48mm deep aluminum fins have a small saw toothed pattern at the leading and trailing edges to help break up laminar airflow. The rubber vibration absorbing fan posts slide easily into slots formed in the fin stack.
Heatsink Installation
Titan's Hati TTC-NC15TZ heatsink is compatible with Intel socket 775/1156/1155/1366 and AMD socket AM2/AM2+/AM3 processors. The heatsink comes with a set of rear-motherboard support brackets and one upper metal clip which accommodates all the CPU sockets. Assorted brass standoffs and thumbscrews make installation pretty straight forward. It's not tool free, so be prepared to open up the PC and install the motherboard rear support plate.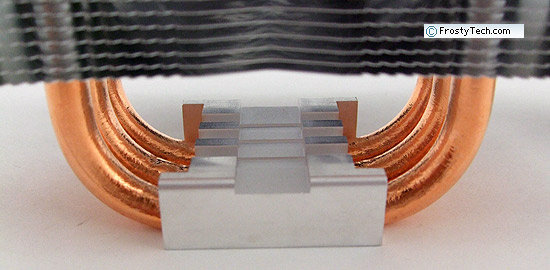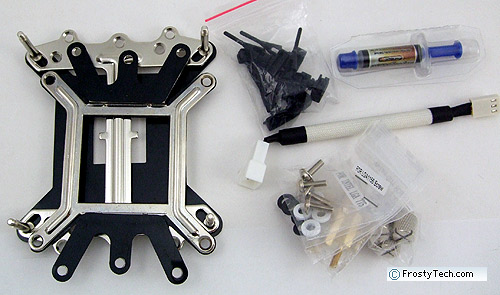 Extra rubber fan posts are supplied so as many as two 120mm fans can be mounted on the heatsink. One fan is supplied with the heatsink though. The fan speed reducer cable will drop fan speed from 2200RPM to ~ 1300RPM.
FrostyTech's Test Methodologies are outlined in detail here if you care to know what equipment is used, and the parameters under which the tests are conducted. Now let's move forward and take a closer look at this heatsink, its acoustic characteristics, and of course its performance in the thermal tests!