If you can fit a tower heatsink into your computer case it really is the best style of heatsink for cooling an Intel or AMD chip. Deciding on which tower heatsink to purchase is another question altogether.... the Frostytech Top 5 Heatsink chart is full of recommendations and a great place to start. Once you've got the CPU cooler nailed down, the next question usually is; "one fan or two?" Internal case airflow, secondary heat sources, the veracity of rear case fans/power supply fans and a half dozen other parameters all affect your PC cooling situation uniquely - so the best answer requires you to directly test what works best for your PC and your personal noise/heat preferences.
In this review Frostytech is testing the Apack Zerotherm ZT-10D Premium, a dark nickel plated tower heatsink that is capable of mounting one or two 120mm fans in a push-pull configuration. Taking a page out of the Thermalright handbook, the Zerotherm ZT-10D Premium does not include a fan of its own. You must supply your own 120mm fan (or fans).
For the purposes of this review Zerotherm have asked us to test the ZT-10D Premium heatsink with Zerotherm ZT-120F fans. These non-PWM 120mm fans operate at 1300-800RPM and move between 43-73CFM air. The heatsink does ship with plenty of rubber fan mounts, so at least in that respect it's got you covered. Incidently, do you prefer heatsinks to come with, or without fans?
Standing 160mm tall, the Zerotherm ZT-10D Premium heatsink somehow manages to squeeze in six 8mm diameter heatpipes, packed edge-to-edge at the copper base plate and piercing the nickel plated fins in small arc. It will accommodate one or two 120mm fans of your choice on opposite sides of the 74mm wide tower. The entire heatsink weighs in at 885 grams and installs onto Intel socket 775/1155/1156/1366 and AMD socket 754/939/940/AM2/AM3 processors.
Zerotherm ZT-10D Premium Heatsink

---

heatsink specsheet
manufacturer: apack zerotherm
model no.: zt-10d premium
materials: dark nickel plated aluminum fins, copper heatpipes, copper base plate
fan mfg: not included
fan spec: not included
fan airflow: not included
fan dim: 25x120x120mm
heatsink & fan dim: 160x128x129mm
weight: 885 grams
includes: multi-socket socket mounting hardware, thermal compound, instructions

---

Compatible with Sockets:
AMD - 754/939/940/AM2/AM3
Intel - LGA775/1156/1366
Pricing: $49USD ($49CDN)
The 8mm diameter copper heatpipes are packed closely at the base of the Zerotherm ZT-10D Premium heatsink and fully soldered to the copper base plate.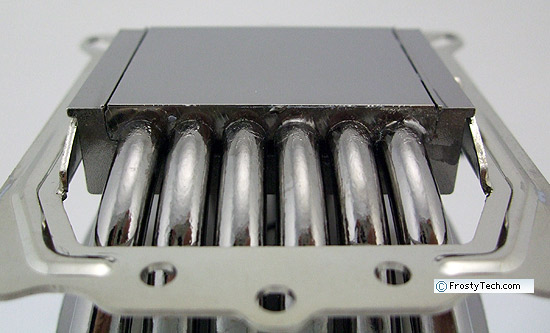 Sold separately are the Zerotherm ZT-120F fans. The ZT-120F fans come in either clear or black frames/impellers and operate at a speed of 1300-800 RPM. Airflow ranges from 73CFM to 34CFM respectively. Air pressure is stated as 1.84mmH20.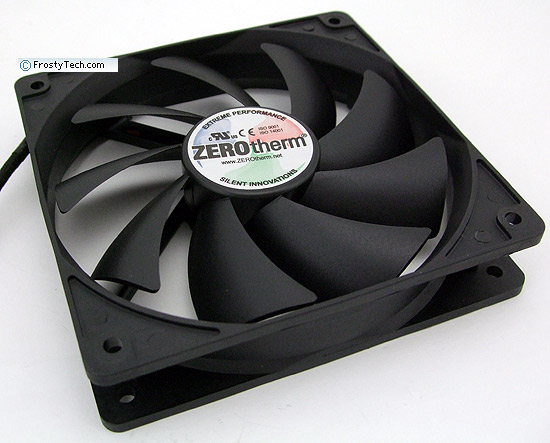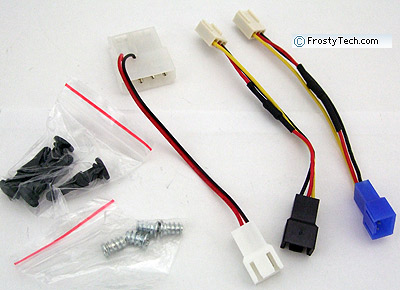 The fans are not PWM compliant. Each fan does ship with a set of resistors to decrease fan speed as needed (or not needed), small rubber fan mounts, screws and a molex power adaptor.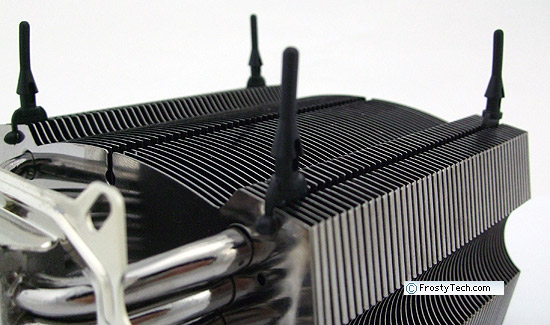 Fans are held by four rubber vibration absorbing posts (included with the ZT-10D Premium heatsink) that slide into slots in the aluminum fins.
Heatsink Mounting Hardware
Zerotherm's ZT-10D Premium heatsink ships with brackets for Intel LGA775/1155/1156/1366 and AMD 754/939/940/AM2/AM3 processors. The heatsink mounts to both Intel and AMD motherboards using the permanently affixed metal bracket pictured below.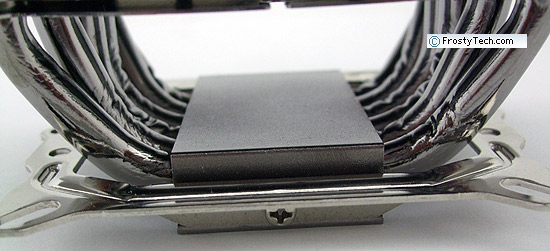 A collection of screws and spring-tensioned nuts accommodate the variety of hole patterns for the range of processors the ZT-10D Premium heatsink is compatible with. Eight rubber vibration absorbing fan posts are supplied along with a small container of thermal compound.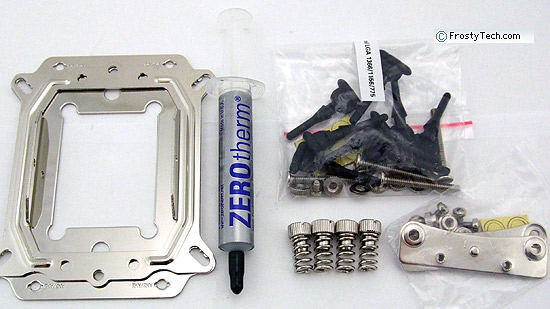 It's not the simplifies heatsink bracket system out there, and it will require you to access the rear of the motherboard... but once installed the heatsink should remain firmly in place.
FrostyTech's Test Methodologies are outlined in detail here if you care to know what equipment is used, and the parameters under which the tests are conducted. Now let's move forward and take a closer look at this heatsink, its acoustic characteristics, and of course its performance in the thermal tests!