360° View - Zerotherm ZT-10D Premium Heatsink

---

Information on Frostytech's test methodology is available here.

The 120mm fan is not included with the heatsink, but shown for illustrative purposes. The fan is held on by four rubber vibration absorbing posts. Six 8mm diameter copper heatpipes rise up through bare nickel plated aluminum fins which have a smooth surface. Each aluminum fin measures ~0.5mm thick and is spaced 2.0mm apart.

The Zerotherm ZT-10D Premium heatsink stands 160mm tall, the bottom-most fin being 38mm above the CPU socket for clearance. The six heatpipes are positioned side to side where they make direct contact with the processor and expand outward to form a slight arc through the 74mm wide aluminum fin stack. The base incorporates a 14mm thick aluminum section to provide support for clamping, with 2.5-5.5mm thick copper base plate under the heatpipes.

The nickel plated copper base of the Zerotherm ZT-10D Premium heatsink is generally very flat. It measures 35x45mm in size. The top view of the heatsink illustrates the shallow arc the heatpipes are arranged in, and the curved plenum behind each 120mm fan. The "ZT" logo is stamped through all ~48 fins.
Base Finish and Flatness
Flipping a heatsink over to inspect the business end is often a simple indicator of overall cooler quality. More practically speaking, a heatsink is in many ways only as effective as the contact it makes with the processor - the flatter and smoother the better. Base finish is one of the criteria that Frostytech measure in the course of evaluating heatsinks, and it involves two distinct aspects. Surface Finish is the first; this is calculated with the aid of Surface Roughness Comparator that has a cross section of common machine surface finishes and their numerical surface roughness equivalents in microinches. The second is Surface Flatness. This is tested with an engineers straight edge or proven flat surface, in two axis.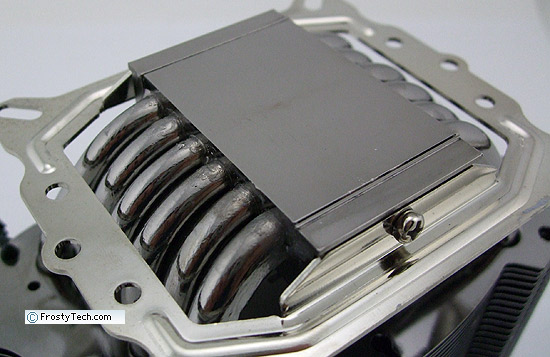 The dark nickel plated copper base of Zerotherm's ZT-10D Premium heatsink has a surface roughness of approximately 8 microinches, which is considered very good. The base is machined generally flat in both axis, though there is a very slight wave from corner to corner that is visible next to to an engineers straight edge.
Sound level measurements are coming right up next.