Coolink is the slightly more mainstream-slash-economical arm of the company which manufactures the Noctua brand of low noise heatsinks. Whether the same providence holds true for the Coolink Corator DS heatsink is something that remains to be seen... but off the cuff, the pedigree seems to be there.
One key difference between Noctua and Coolink heatsinks centers around the manufacturing techniques used by the latter. With the Corator DS in particular, instead of manufacturing it with a soldered fin/heatpipe joint style, Coolink have opted for a straightforward interference fit between the raw aluminum fins and 10mm diameter copper heatpipes. There's nothing inherently undesirable about this, and in fact it does away with any influence solder bonds may impose on the overall 'thermal circuit.' As you might expect, different solder alloys posses different thermal conductivity; the base-standard SnPb solder alloy has a thermal conductivity of ~ 50 W/mK whereas lead-free solders brought forth by RoHS legislation like SnAgCuSb have a thermal conductivity of approximately 57W/mK, BiSn alloys just ~19W/mK.
While a spade may be a spade, the same is cannot be said for all solders. To that end, it's a shame heatsink manufacturers are adept at telling you everything there is to know about a fan bearing system but rarely if ever disclose solder alloy beyond its Pb content. Were that to change, you might see many more thermal solutions makers advertising high thermal conductivity solder alloys such as SnAg at 78W/mK. For that matter, Frostytech would like to see heatpipe wick structures brought into the open as well, but I digress...
Coolink Corator DS Heatsink

---

heatsink specsheet
manufacturer: coolink
model no.: corator ds
materials: aluminum fins, copper heatpipes, copper base
fan mfg: coolink swif2-120p
fan spec: 1700-800rpm, 12v, 0.33a
fan airflow: 60-127 m3/h
fan dim: 25x120x120mm
heatsink & fan dim: 160x141x119mm
weight: 1040 grams
includes: multisocket mounting hardware, thermal compound, instructions

---

Compatible with Sockets:
AMD: 754/939/AM2/AM3
Intel: LGA775/1156/1366
Est. Pricing: $65USD ($65CDN)
The 1040 gram heatsink on the test bench today is the Coolink Corator DS, a dual tower single fan thermal solution designed for use on Intel socket 775/1156/1366 and AMD socket AM2/AM3 processors. A single 800-1700RPM 120mm PWM fan is supplied with the heatsink, nestled snugly between two 46mm wide aluminum fin towers of 30, and 40 fins, respectively.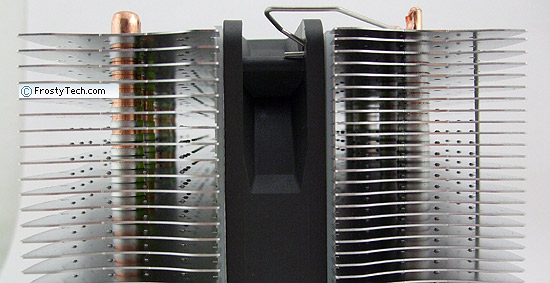 The 'asymmetrical fin stacks' permit air to more easily enter the heatsink by widening the fin spacing just fore of the vaneaxial fan. Coolink use elastomeric strips to prevent the fan from rattling around in its cage of aluminum. The final (and mostly likely entirely cosmetic) touch is a surface texture of dimples on the cooling fins to help break up laminar airflow, or look cool - your guess is as good as mine.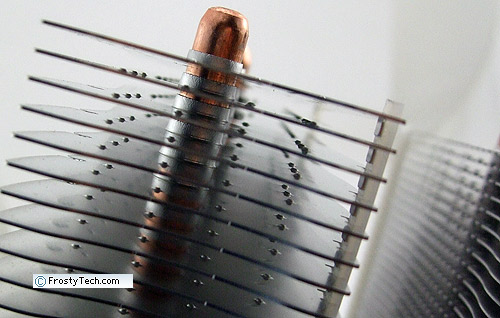 Beyond all that the Corator DS is a pretty standard dual tower heatsink built around four 8mm diameter heatpipes. It has an all important exposed heatpipe base, though the usual copper-aluminum zebra stripes are gone and in their place is a homogeneous mass of copper. Called the 'Gapless Direct Touch' technology, Coolink have constructed the base of the Corator DS heatsink in such a way that the exposed copper heatpipes are sandwiched between little rectangular slices of copper.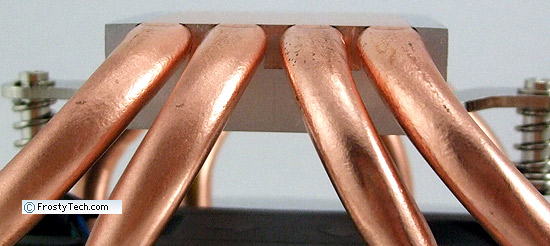 The whole mass is bonded to an aluminum base block, if only the maker could have machined the heatsink's base a little flatter. The Coolink Corator DS heatsink runs about $65 at the usual heatsink retailers like QuietPC.
Mounting Hardware

The Coolink Corator DS heatsink ships with a couple metal brackets that screw onto a common mounting point on the heatsink to accommodate both Intel and AMD sockets. The commoun mounting point is spring-tensioned so there is little chance to over torque and unbalance load forces.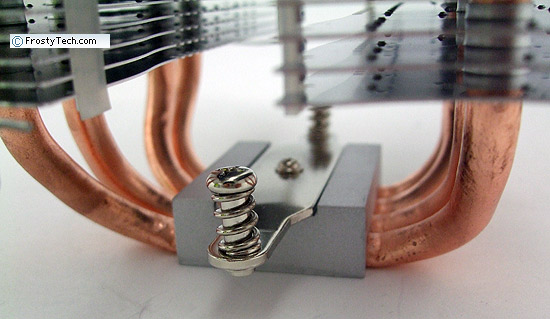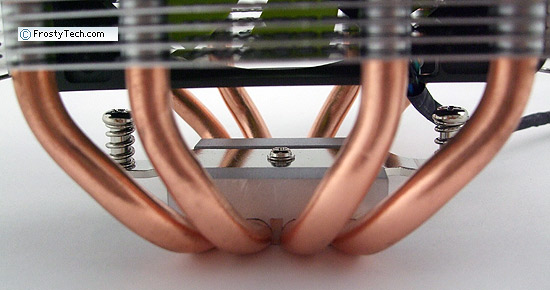 The Intel mounting hardware makes use of a metal retention plate that slides in behind the motherboard and a set of special screws that thread through each of the four corners. Removal of your motherboard may be necessary, but at least Coolink has designed its mounting bracket so that just one bit of metal works with Intel LGA775, 1156 or 1366 motherboard mounting hole spacing.
The AMD mounting brackets work in much the same fashion, but utilize the existing AMD mounting bracket. Coolink ship the Corator DS with a syringe of 'chillaramic' thermal grease.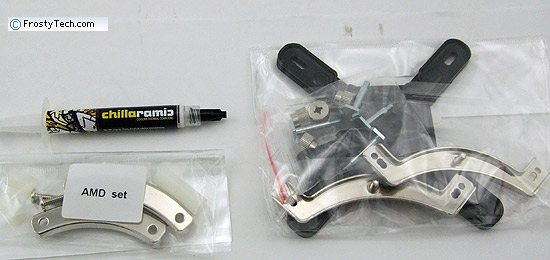 FrostyTech's Test Methodologies are outlined in detail here if you care to know what equipment is used, and the parameters under which the tests are conducted. Now let's move forward and take a closer look at this heatsink, its acoustic characteristics, and of course its performance in the thermal tests!