Thermolab's BADA2010 heatsink is a slightly quieter revision of the original BADA heatsink, in all other respects the two coolers are basically identical. Frostytech tested the original BADA cooler in 2009 and found it offered very good performance for its 135mm tall stature. Noise levels peaked at moderate 54 dBA, with the 95mm fan spinning up to about 2800RPM. This time around, the BADA2010 heatsink is equipped with a 95mm PWM that spins at 2100RPM, noise levels top out at a noticeably quieter 44.3 dBA.
The only other significant difference to the BADA2010 is support for newer Intel processors - Core i5 and Core i3. In other words, Thermolab have updated a mid-tower heatsink to work on every modern processor available today.
Thermolab's BADA2010 heatsink is equipped with one 95mm PWM fan mounted to the heatsinks' raw aluminum fins with permanently attached rubber vibration absorbing posts. At full speed the Protechnic MGT9212LR-W25 fan rotates at 2100RPM, the baseline is 1000RPM. Weighing 521 grams, Thermolab's BADA2010 heatsink stands 135mm tall and installs onto Intel socket 775/1155/1156/1366 and AMD socket AM2/AM3 processors. Forming the backbone of this heatsink are three 6mm diameter exposed base copper heatpipes.
The Thermolab BADA heatsink retails for in the region of $38USD via the usual online heatsink retailers, or here.
Thermolab BADA2010 Heatsink

---

heatsink specsheet
manufacturer: thermolab
model no.: bada2010
materials: aluminum fins, copper heatpipes, aluminum base with exposed heatpipes.
fan mfg: protechnic mgt9212lr-w25
fan spec: 1000-2100rpm, 12v, 0.15a
fan airflow: n/a
fan dim: 25x95x95mm
heatsink & fan dim: 135x115x95mm
weight: 521 grams
includes: multi-socket socket mounting hardware, thermal compound, instructions

---

Compatible with Sockets:
AMD - AM2/AM3
Intel - LGA775/1155/1156/1366
Pricing: $38USD ($38CDN)
Although you probably wouldn't notice at first glance, there isn't a single straight line on the Thermolab BADA2010 heatsink. Each edge of the aluminum fins is gently curved in one direction or another. Behind the fan is a small plenum which gradually slopes inward to form a void behind the fan motor. The rubber vibration absorbing fan mounting posts are fixed in place, and seem a little tougher than the usual elastomer picked for the task.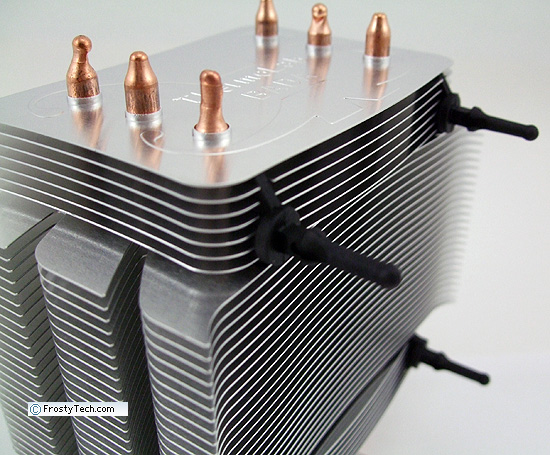 Three 6mm diameter copper heatpipes broach the aluminum cooling fins every 10mm. This format distributes heat from the relatively compact exposed heatpipe base to a broader area in the cooling fins. It's also a direct result of Thermolab engineers balancing the entire upper body of the BADA2010, including fan, over the CPU.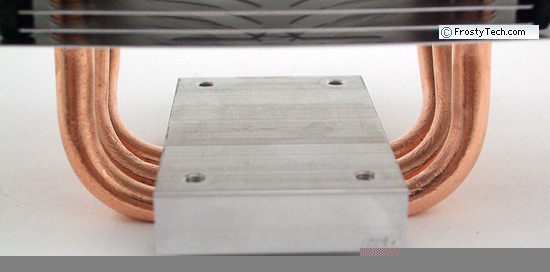 It's interesting that Thermolab have made the fins on the BADA2010 heatsink so there is less surface area at the top and bottom. Instead the majority of aluminum cooling fins occupy a region roughly 65mm high, 115mm wide at the center of this cooler.
Mounting Hardware
The Thermolab BADA2010 heatsink ships with a couple metal brackets that screw onto the base of the heatsink, accommodating Intel socket LGA775/1155/1156/1366 and AMD socket AM2/AM3 processors. Both CPU types require machine screws that thread in from behind the motherboard with a metal backplate for added support. The motherboard may need to removed from the case to install the BADA2010, which is never fun, but it's a solid method when complete.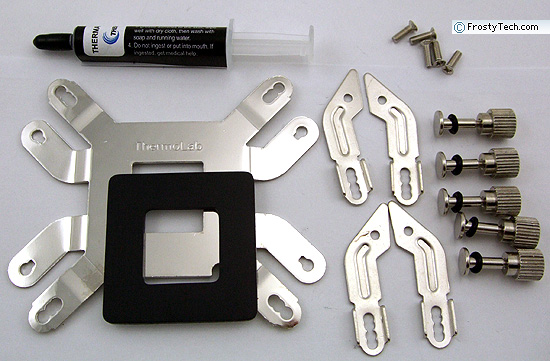 Apart from the mounting brackets, the Thermolab BADA2010 heatsink comes with a syringe of thermal grease.
FrostyTech's Test Methodologies are outlined in detail here if you care to know what equipment is used, and the parameters under which the tests are conducted. Now let's move forward and take a closer look at this heatsink, its acoustic characteristics, and of course its performance in the thermal tests!