360° View - Thermolab BADA2010 Heatsink

---

Information on Frostytech's test methodology is available here.

Its 95mm fan spins at 2100-1000RPM and draws power from a standard 4-pin PWM motherboard fan header. The three copper heatpipes are 6mm in diameter, extending from the base up through 94mm worth of fin. Each aluminum fin is 0.3mm thick and spaced ~2.0mm apart. Not really visible is a void in the central tower of fins which also have blade like extensions on either side. Note the four rubber fan mounting posts permanently fixed into the fins of the heatsink.

Note how the body of the Thermolab BADA2010 is centered over the CPU (left image). The heatsink stands 135mm tall, the bottom-most fin is 30mm above the CPU socket for clearance of adjacent motherboard components. Heat pipes are positioned side to side at the center of the aluminum block where they make direct contact with the processor, then angle backwards into the body of the heatsink. The base incorporates a 12mm thick aluminum section to provide support for the heatpipes and brackets.

The base of the BADA2010 measures 36x43m in size and features exposed heatpipes. Notice the blade like extensions on either side of the heatsink body from the central aluminum fins which are 115mm wide. The upper and lower fin sets are 93mm wide. There is a slight plenum of about 4mm behind the 95mm diameter fan.
Base Finish and Flatness
Flipping a heatsink over to inspect the business end is often a simple indicator of overall cooler quality. More practically speaking, a heatsink is in many ways only as effective as the contact it makes with the processor - the flatter and smoother the better. Base finish is one of the criteria that Frostytech measure in the course of evaluating heatsinks, and it involves two distinct aspects. Surface Finish is the first; this is calculated with the aid of Surface Roughness Comparator that has a cross section of common machine surface finishes and their numerical surface roughness equivalents in microinches. The second is Surface Flatness. This is tested with an engineers straight edge or proven flat surface, in two axis.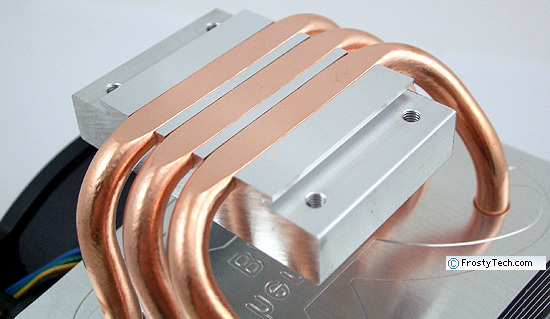 The Thermolab BADA2010 heatsink has a surface roughness of approximately 8 microinches, which is considered excellent. The base is machined razor-smooth, and perfectly flat in both axis. The copper and aluminum parts are completely flush. 2.0mm separates the heatpipes which are pressed into the semi-circular recesses.
Next up Frostytech will measure the sound output from this heatsink at full and minimum fan settings...