In this review Frostytech will be testing out Noctua's massive dual-fan NH-D14 heatsink and comparing it against 280 other heatsinks... just because we like you. Return the favour and spread the word about Frostytech!
As you probably know, Noctua is collaboration between the Austrian-based Rascom Computerdistribution Ges.m.b.H (Willkommen!) and Taiwanese manufacturer Kolink International Corp (Ni Hao!). The Noctua NH-D14 heatsink is sort of a special case as it comes bundled with two fans; Noctua's 120mm NF-P12 and 140mm NF-P14 models. Each vaneaxial fan features SSO bearings, vortex-control notches and techniques like textured leading impeller surfaces, all in an effort to reduce noise signature. Silent but deadly, as it were.
The big NH-D14 heatsink stands as tall as a modern tower heatsink but is twice as wide. The dual-fan set up more than makes up for that bulk by proving itself to be an excellent low noise solution capable of performance cooling. This heatsink currently ranks near the top of Frostytech's Top 5 Heatsinks chart, and since we're comparing it against nearly 280 heatsinks, that should tell you something.
Weighing in at 1240 grams, the 161mm tall, 140x156mm square Noctua NH-D14 processor heatsink is large no matter how you size it up. It's six, 6mm diameter copper heatpipes fan out from the base into two separate towers of nickel plated aluminum cooling fins. Both fans are held in place with easy to use wire fan clips that engage with small rubber mounting grommets. The fans rest against clear elastomer strips that provide the proper spacing from saw-toothed fin edges, and isolate the fans from creating possible vibration noises within the body of the heatsink.
Noctua NH-D14 Heatsink

---

heatsink specsheet
manufacturer: noctua
model no.: nh-d14
materials: nickel plated aluminum fins, copper heatpipes, copper/aluminum base.
fan mfg: (1) noctua nf-p12*, (1) np-p14

fan spec:
*900-1300rpm, 12v, 0.09a
900-1200rpm, 12v, 0.10a

fan dim:
*25x120x120mm
25x140x140mm

heatsink & fan dim: 161x140x156mm
weight: 1240 grams
includes: multi-socket mounting hardware, thermal compound, fan speed adaptors, fan clips, screwdriver, instructions

---

Compatible with Sockets:
AMD: 754/939/940/AM2/AM2+/AM3
Intel: LGA775/1156/1366
Est. Pricing: $90USD ($90CDN)
MOUNTING KIT UPGRADEABLE TO SUPPORT AMD SOCKET AM4?

Manufacturer Provided Mounting Kit Required to Support AMD Socket AM4 Motherboards? YES

Manufacturer AM4 Kit Request Form Link:
https://noctua.at/en/nm-am4-mounting-kit-order-form

Noctua state: "Owners of Noctua CPU coolers can obtain the Noctua NM-AM4 SecuFirm2 Mounting-Kit free of charge via this form. A proof of purchase (electronic version, photo or scan of the invoice) of both a Noctua CPU cooler and either a socket AM4 mainboard or socket AM4 CPU are required. There is a dedicated upgrade kit (NM-AM4-UxS) available for NH-U14S, NH-U12S and NH-U9S"

For more details, heatsink exceptions and a complete list of incompatible coolers, see here.


Noctua NM-AM4 SecuFirm2 Mounting-Kit supported on following Noctua heatsinks Frostytech has tested: NH-C12P , NH-C14 , NH-D14 , NH-D15 , NH-D9L, NH-L12, NH-L9x65, NH-U12 , NH-U12P , NH-U9, NH-U9B . Noctua NM-AM4-UxS Mounting-Kit: NH-U14S, NH-U12S and NH-U9S.
The heatsink is compatible with Intel socket 775/1156/1366 and AMD socket AM2/AM3 processors, be they single, dual, quad or six, eight or deca-core chips. Noctua's NH-14 heatsink retails for about $94CDN ($90USD / £60GBP) online at QuietPC (UK), Newegg (US), and NCIX (Canada) . It is big, so be sure to measure the space above the CPU to ensure you have at least 165mm clearance.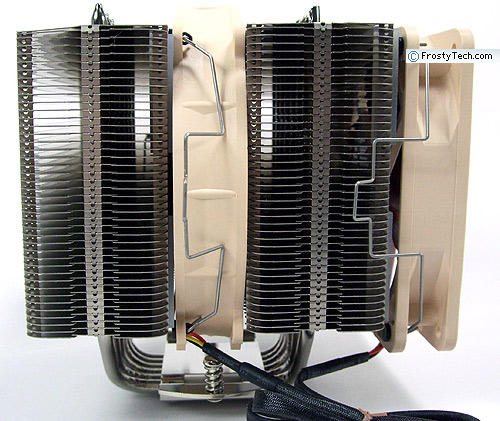 To ensure good thermal conductivity between the different components, the copper heatpipes and aluminum fins of the NH-D14 heatsink are nickel plated, and all joints soldered. Soldering decrease thermal joint resistance between the fins and heatpipes, or heatpipes and base.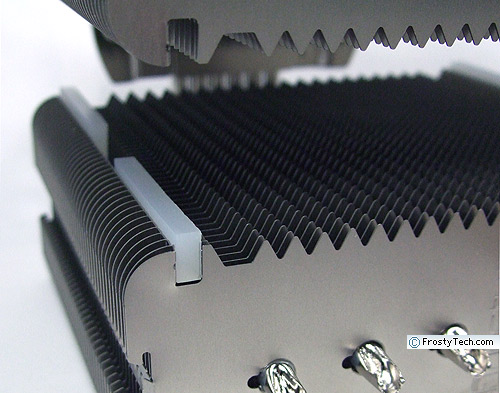 The heatsink is designed to works with 120mm sized fans, which are held in position with wire clips that lock into a notch running along the outside edges.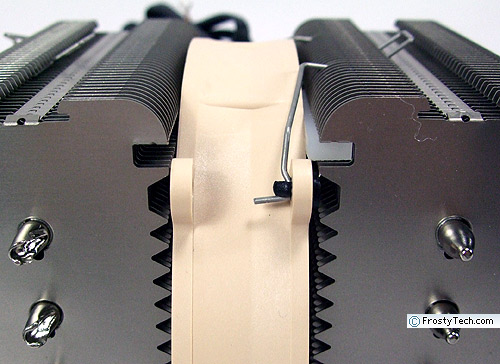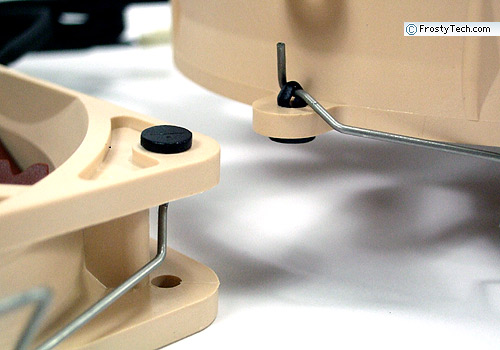 Fans are held in place with easy to use wire fan clips that engage with small rubber mounting grommets. The grommets keep the wire clips in position so it's much less of a hassle when re-installing a fan. Often the tab that holds the fan in place falls out on other heatsinks that use wire fan clips, so we really noticed this seemingly innocuous touch.
Installation Hardware
Noctua's NH-D14 heatsink is compatible with Intel socket 775/1156/1366 and AMD socket 754/939/940/AM2/AM3 processors. The CPU cooler ships with a variety of brackets, separated into several packages for AMD and Intel processors. For each CPU socket small metal tabs are attached to the heatsink base, a backplate positioned on the motherboard, then everything fixed in place with spring-tensioned screws.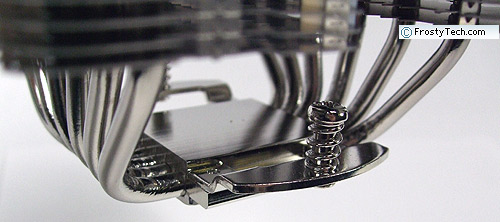 The multi-language manual makes installation pretty straightforward. Both fans are pre-installed on the heatsink along with clear rubber anti-vibration strips across the edges of the thin aluminum fins. Fans may need to be removed for the installation procedure, but this is relatively painless as Noctua have designed the wire fan retention clips with hand holds, and best of all little rubber studs to keep the clips locked into the fan frame.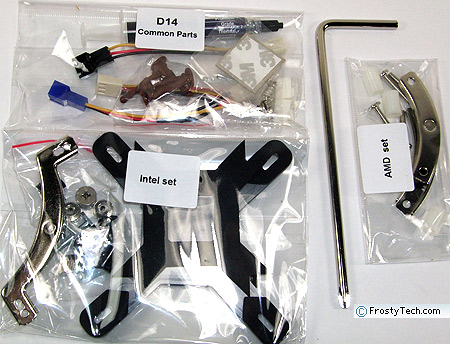 A small syringe of thermal compound is included, along with in-line resistors which can be added to reduce the speed of the NH-D14's fans. The blue fan speed resistor reduces fan speed the most, the black connector reduces fan speed about half way.
FrostyTech's Test Methodologies are outlined in detail here if you care to know what equipment is used, and the parameters under which the tests are conducted. Now let's move forward and take a closer look at this heatsink, its acoustic characteristics, and of course its performance in the thermal tests!