Thermaltake tends to release far more derivative heatsink designs than blaze thermal engineering trails, but unlike longstanding competitors Vantac and Globalwin, Thermaltake continues to forge ahead. Finding a Noctua or Thermolab heatsink isn't always easy, but walk into any computer store on the planet and you're more than likely to find something with Thermaltake's name on it!
And that is the reason why Frostytech reviews so many different heatsinks from companies big and small. With a global readership (thank you for reading by the way) we want to cover as many heatsinks as possible so that if you walk into a computer store in London, Jakarta, Budapest, Hong Kong, De Kwakel or even New York, you'll be able to look up your locally available heatsinks on Frostytech.
The focus of this Frostytech review is the Thermaltake Contac 29, a new mid-sized tower heatsink from this well known Taiwanese-based manufacturer. The Contac 29 heatsink stands 160mm tall and ships with a fancy looking orange impeller fan that reminds me of a washing machine agitator on steroids. Three 8mm diameter copper heatpipes are exposed at the base of the heatsink, thus making direct contact with the processor's integrated heatspreader for optimal conduction of heat energy. A single 120mm PWM fan scales in speed from 800-2000RPM and mounts via rubber vibration absorbing mounting posts. An extra set are even supplied for users who wish to add a second fan. Weighing in at 558 grams, the Thermaltake Contact 29 heatsink is compatible with all current Intel and AMD processors - sockets 775/1156/1366 and 939/AM2/AM3 respectively.
Thermaltake Contac 29 Heatsink

---

heatsink specsheet
manufacturer: thermaltake
model no.: contac 29
materials: aluminum fins, copper heatpipes, aluminum base with exposed heatpipes.
fan mfg: hong sheng a1225l12s
fan spec: 800-2000rpm, 12v, 0.30a
fan dim: 25x120x120mm
heatsink & fan dim: 160x120x77mm
weight: 558 grams
includes: multi-socket mounting hardware, thermal compound, instructions.

---

Compatible with Sockets:
AMD - 754/939/940/AM2/AM3
Intel - LGA775/1156/1366
Est. Pricing: $35USD ($35CDN)
Small formfactor owners are going to be out of luck with this heatsink, but that almost goes without saying these days. Online retail price is expected to be around $35 USD at the usual suspects for PC gear: Canada Computers, Newegg, NCIX, TigerDirect, etc.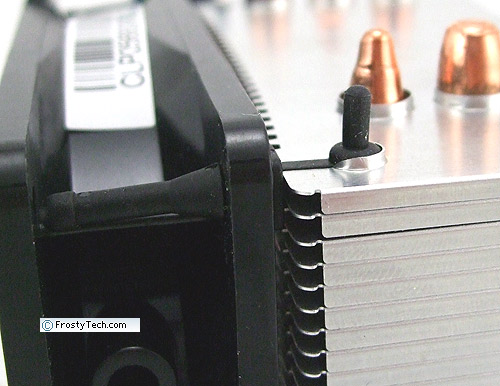 Heatsink Installation Hardware
Thermaltake's Contac 29 heatsink ships with brackets for LGA775/1156/1366 and AMD K8 processors (754/939/940/AM2/AM3). The Intel bracket accommodates Intel socket 775/1156/1366 with clips that use sliding slots for standard Intel push-to-click plastic retention tabs.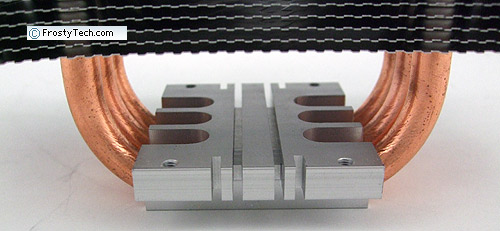 The heatsink is installed on AMD socket 754/939/940/AM2/AM3 processors via the standard AMD heatsink retention cage. A metal cam-operated tool free bracket locks onto the tabs of the AMD retention bracket and applies the necessary force with a quick flip of the lever. Given that this heatsink weighs only 560 grams, the solution should be sufficient to keep the heatsink in position.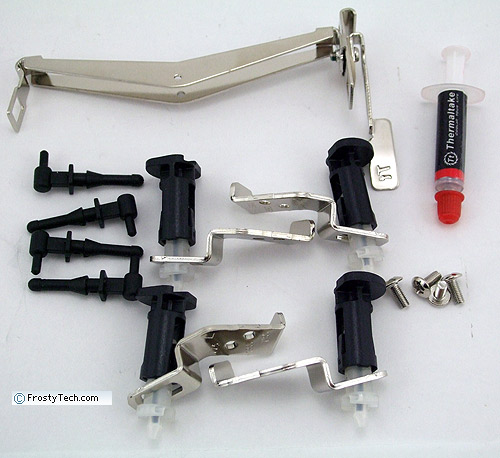 Two sets of rubber vibration absorbing fan posts (eight in total) are supplied with the heatsink so an additional 120mm fan can be installed.
FrostyTech's Test Methodologies are outlined in detail here if you care to know what equipment is used, and the parameters under which the tests are conducted. Now let's move forward and take a closer look at this heatsink, its acoustic characteristics, and of course its performance in the thermal tests!