Thermaltake's SpinQ VT heatsink is undeniably unique, it's sculptural and nothing about its helical fin arrangement is unnecessarily complex.
The SpinQ VT heatsink stands 162mm tall and is made from nickel plated aluminum fins soldered over six copper heatpipes, which are really three heatpipes doubled over into a U-shape. Each aluminum fin has a shape that resembles a chain sprocket from a bicycle, but each of the ~50 fins is sequentially rotated 6mm before being threaded over the copper heatpipes. This creates the eleven-sided shape that resembles a drill bit on steroids.
In the middle of all this is an 80mm diameter, 85mm long squirrel cage fan that draws air in through both center openings and expels it outwards in all directions through the 20mm deep cylinder of cooling fins.
The fan spins at 1000-1600RPM and is not PWM compliant. Thermaltake have attached a small variable resistor which allows manual fan control if quieter operation is desired.
Thermaltake SpinQ VT Heatsink

---

heatsink specsheet
manufacturer: thermaltake
model no.: spinq vt (clp0554)
materials: nickel-plated aluminum fins, copper heatpipes and base plate.
fan mfg: everflow r128032su
fan spec: 1000-1600rpm, 12v, 0.45a
fan dim: 85x80x80mm squirrel cage
heatsink & fan dim: 162x122x122mm
weight: 495 grams
includes: multi-socket mounting hardware, thermal compound, fan speed controller, instructions

---

Compatible with Sockets:
AMD - 754/939/940/AM2/AM2+/AM3
Intel - 775/1156/1366
Est. Pricing: $50USD ($50CDN)
When operating at full speed the Thermaltake SpinQ VT heatsink is moderately audible, at its slowest speed it's fairly quiet. The Thermaltake SpinQ VT heatsink is compatible with Intel socket 775/1156/1366 and AMD socket 754/939/940/AM2+/AM3 processors, and weighs 495 grams.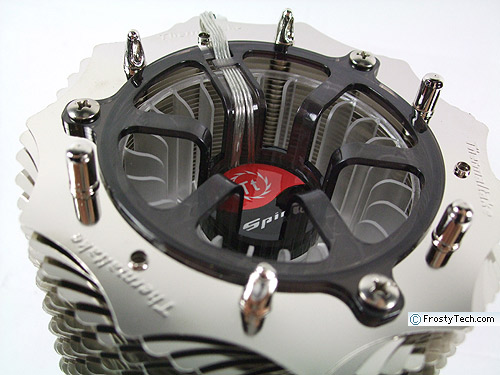 The 80mm squirrel cage fan is suspended in the midst of the cylindrical cooling ring of the SpinQ VT heatsink. Air is drawn in from either side before the fan exhausts it outward. The translucent fan is illuminated with a couple red LEDs for added visual effect.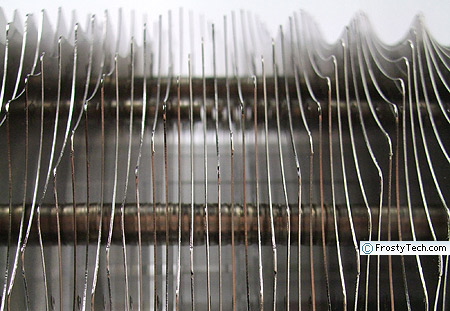 Mounting Method and Hardware
The Thermaltake SpinQ VT heatsink is compatible with both Intel and AMD processors so three different mounting brackets are supplied. Installation is quite simple for socket 775 and 1156/1366 processors because the heatsink uses the standard Intel push-to-click retention tabs.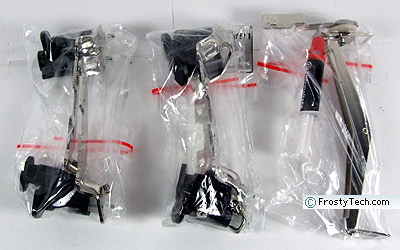 For AMD processors a simple K8 mounting clip is used which locks the SpinQ VT onto the existing AM heatsink retention frame. The three copper heatpipes are soldered to a nickel plated copper base plate. The two cuts in the top aluminum cap are for the AMD clip to slide into.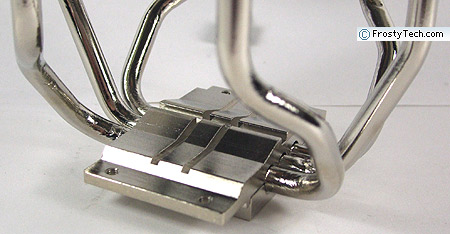 This heatsink will be tested on FrostyTech's Intel LGA775 and K8 version of the Mk.II synthetic thermal temperature test platform, and compared against a hundred reference LGA775 and K8 heatsinks. The whole test methodology is outlined in detail here if you'd like to know what equipment is used, and the parameters under which the tests are conducted.