360° View - Thermaltake SpinQ VT Heatsink

---

Information on Frostytech's test methodology is available here.

The 80mm squirrel cage fan in the Thermaltake SpinQ VT heatsink spins at 1000-1600RPM. Power is supplied by a 3-pin motherboard fan header, while fan speed can be adjusted manually by the included fan speed controller. Six 6mm copper heatpipes pass through the aluminum fins, but these are simply the ends of three heatpipes soldered to the base. Each aluminum fin is 20mm deep, 120mm in diameter. The central hole is 83mm across.

Looking at the Thermaltake SpinQ VT heatsink from the side you can more clearly see how only three heatpipes are used, but doubled up to pass through the cooling fins on opposite sides. Each aluminum fin measures 0.3mm thick and is spaced 1.5mm apart. The copper base block under the heatpipes is 6mm thick. The bulk of the SpinQ VT heatsink is elevated 63mm above the CPU.

The nickel plated copper base of the SpinQ VT heatsink measures 36x36mm. The surface is smooth but shows marks from the face milling. All three heatpipes are soldered to it on the opposite side.
Base Finish and Flatness
Flipping a heatsink over to inspect the business end is often a simple indicator of overall cooler quality. More practically speaking, a heatsink is in many ways only as effective as the contact it makes with the processor - the flatter and smoother the better. Base finish is one of the criteria that Frostytech measure in the course of evaluating heatsinks, and it involves two distinct aspects. Surface Finish is the first; this is calculated with the aid of Surface Roughness Comparator that has a cross section of common machine surface finishes and their numerical surface roughness equivalents in microinches. The second is Surface Flatness. This is tested with an engineers straight edge or proven flat surface, in two axis.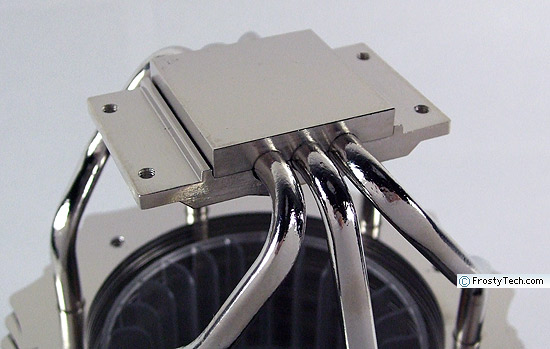 The base of the Thermaltake SpinQ VT heatsink is flat in one axis, and very slightly concave in the opposite, mostly over the center line. The nickel-plated copper base has a mirror smooth finish, surface roughness is ~4 microinches or better, which is excellent. Light machining marks are visible from the face milling operation.