The Zalman CNPS10X Flex heatsink ships without any fans, so users can install one or two 120mm fans of their own choosing. In all other respects the CNPS10X Flex is identical to Zalman's CNPS10X Quiet heatsink, so today's review is not going to be a huge departure from what we saw from the Quiet.
Like the other Zalman CNPS10X series heatsinks, the Flex stands 150mm tall, weighs in at ~700 grams and supports Intel socket 775/1156/1366 and AMD 754/939/940/AM2/AM2+/AM3 processors. Constructed from a die-cast copper baseplate soldered to five 6mm diameter copper heatpipes that pass through a 105mm section of aluminum fins, the CNPS10X Flex is intended to be the flexible heatsink option for users who prefer ultra quiet after market fans from the likes of QuietPC and Noctua. It's also proven itself to be a very capable CPU cooler, but more on that later.
At 133mm wide, the Zalman CNPS10X Flex demands a good 65-70mm clearance from the center of the CPU socket out. There is 37mm clearance below the bottom fin. On Intel platforms the mounting hardware allows this heatsink to be installed in any direction, AMD users are limited by the orientation of the AMD heatsink retention cage.
Zalman CNPS10X Flex Heatsink

---

heatsink specsheet
manufacturer: zalman
model no.: cnps10x flex
materials: aluminum fins, copper heatpipes, copper baseblock
fan mfg: not included
fan spec: not included
fan dim: 25x120x120mm
heatsink & fan dim: 150x133x97mm
weight: 700 grams
includes: multi-socket mounting hardware, thermal compound, (2) sets fan mounting brackets, instructions.

---

Compatible with Sockets:
AMD - 754/939/940/AM2/AM2+/AM3
Intel - 775/1156/1366
Est. Pricing: $65USD ($65CDN)
One or two 120mm fans can be installed with the use of springy wire fan brackets. For the purpose of this review Frostytech will be testing the Megahalems heatsink with an 80CFM AGA12025F12L and 50CM Mechatronics G1225S12B fan (both are 120x120x25mm vanaxial 12vDC). The former because enthusiasts like higher-airflow fans and the latter because it has long been Frostytech's 120mm test fan of choice for heatsinks that ship fanless.
Mounting Method and Hardware
Zalman's CNPS10X Flex heatsink can be installed on Intel socket 775/1156/1366 processors and AMD socket 754/939/940/AM2/AM2+/AM3 CPUs. Every major CPU variation is covered by this one heatsink, good for those of you planning an upgrade in the near future.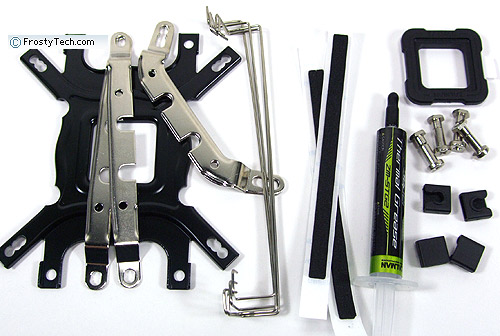 Installation is straightforward, although there are those pesky clearance issues to be aware of. Generally speaking, the CNPS10X Performa will fit any modern motherboard with 65-70mm clearance from the center of the CPU out. The AMD mounting clip makes use of the stock AMD heatsink retention frame. A stainless steel clip fits over the central hub on the heatsink's base cap and locks onto the retention tabs on AMD motherboards. The heatsink should generally be oriented with airflow exhausting towards the rear of the case if that's possible. If not, the next best position is the fan exhausting up towards the power supply.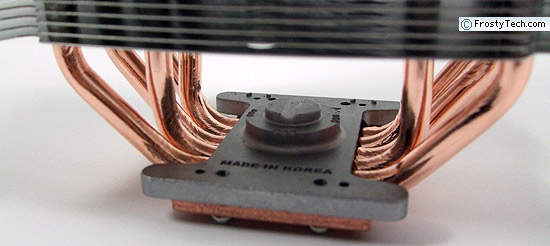 Intel socket 1366 and 775/1156 processors make use of metal clips which slot into the space between the cast aluminum base cap and copper base plate. A metal rear motherboard support plate and mounting posts are then used to hold everything in position quite firmly. Access to the back of the board is necessary to apply a rear support plate, which is always a bit of a downside with tower heatsinks.
This heatsink will be tested on FrostyTech's Intel LGA775 and AMD version of the Mk.II synthetic thermal temperature test platform, and compared against a couple hundred reference heatsinks. The whole test methodology is outlined in detail here if you'd like to know what equipment is used, and the parameters under which the tests are conducted.