360° View - Zalman CNPS10X Flex Heatsink

---

Information on Frostytech's test methodology is available here.

Zalman CNPS10X Flex heatsink ships without any fans, though two can be installed. Five 6mm copper heatpipes are packed closely at the base and extend up the full 105mm high aluminum cooling fin section. Notice how the copper heatpipes are positioned towards the outside of the cooling fins in a staggered arrangement. Mounting brackets fit over the diecast-aluminum hub on top of the base.

Each aluminum fin on the CNPS10X Flex measures 0.3mm thick, fins are spaced 1.5mm apart. There is 37mm clearance at the base of the heatsink for adjacent motherboard components. The copper base block measures 3-6mm thick, the entire base 11mm. The middle 15 aluminum fins are anodized black, while the remaining 30 fins are natural aluminum (our preferred finish).

The top-most fin is covered by a plastic fan shroud, all others fins on the CNPS10X Flex are raw aluminum or anodized black. The highly polished surface of the copper base measures 37x35mm in size, and is a minimum 3mm thick. All five 6mm diameter heatpipes are soldered in place to the form-fitting copper base plate to decrease thermal joint resistance and improve heat conduction. 120mm fans can be attached to either side of the heatsink with supplied spring wire clips.
Base Finish and Flatness
Flipping a heatsink over to inspect the business end is often a simple indicator of overall cooler quality. More practically speaking, a heatsink is in many ways only as effective as the contact it makes with the processor - the flatter and smoother the better. Base finish is one of the criteria that Frostytech measure in the course of evaluating heatsinks, and it involves two distinct aspects. Surface Finish is the first; calculated with the aid of Surface Roughness Comparator that has a cross section of common machine surface finishes and their numerical surface roughness equivalents in microinches. The second is Surface Flatness. This is tested with an engineers straight edge or proven flat surface, in two axis.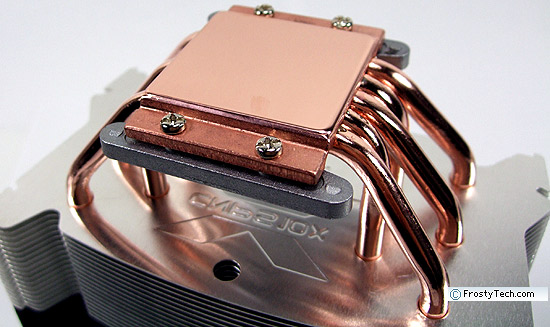 The copper base of the Zalman CNPS10X Flex heatsink is generally flat in both axis but not perfectly so. The copper has a glossy surface finish which is very smooth. Surface roughness is at or better than ~8 microinches, which is considered excellent.
Next up, sound level measurements and then AMD and Intel thermal test results!