When it comes to self-contained liquid cooling CPU heatsinks, we're of two minds. The novelty of 'watercooling' is something I'd class under "been there done that." And yet there's always a little excitement when Frostytech gets to test out a new self-contained watercooling kit. Manufacturers such as AVC, Corsair and CoolIT all have similar offerings which promise ease of installation; the kits arrive fully assembled, pre-filled with ethylene glycol based coolant, factory sealed with drop-in-place readiness.
Self-contained watercooling systems can be an effective means of quietly cooling a PC system, the premise being that watercooling allows the heat to be moved from the CPU to a centralized location, pumped through one heat exchanger that's cooled by a large quiet fan. Ideally, the CPU heat is dumped outside the PC case so internal temperatures remain low too. For PC enthusiasts and overclockers watercooling will always have its place inside the PC, but make no mistake, self-contained units are not inherently superior to a good heatpipe based tower heatsink.
In this review Frostytech is testing CoolIT's Domino ALC liquid cooling system. The unit consists of a thin 122gram nickel plated copper waterblock, a 17cm length of Fluorinated ethylene propylene (FEP) plastic tubing and pump integrated into a 115x115mm aluminum heat exchanger with a 120mm fan. The Domino ALC is ready to go out of the box, the user need only install it onto the CPU and mount the radiator near by. Most full size tower cases have mounting holes for rear 120mm exhaust fans, this is what the Domino ALC uses. A small backlit LCD display and single button control pad allow the user to set different fan/noise settings based on their particular PC environment (quiet/performance/full).
CoolIT Domino ALC Watercooling System

---

heatsink specsheet
manufacturer: coolit
model no.: domino alc
materials: nickel plated copper waterblock, fep plastic tubing, aluminum radiator
fan mfg: n/a
fan spec: 1030-2550rpm, 12v
fan dim: 25x120x120mm
heat exchanger dim: 120x157x27mm
heatsink & fan dim: n/a
weight: ~800 grams total
includes: mounting brackets, instructions

---

Compatible with Sockets:
AMD - AM2/AM2+/AM3
Intel - 775/1366
Est. Pricing: $79USD ($80CDN)
CoolIT's Domino ALC system ships pre-filed with an ethylene-glycol based coolant, loaded with anitcorrosion / antifungal additives. A 120mm fan operates at speeds of between 2550RPM and 1030RPM to move air through the aluminum heat exchanger. The fluid heat exchanger (CPUF FHE) is basically a micro-skived copper heatsink with a welded cap on it. The 12V DC pump is quite small, uses ceramic bearings and is rated for 50,000 MTBF.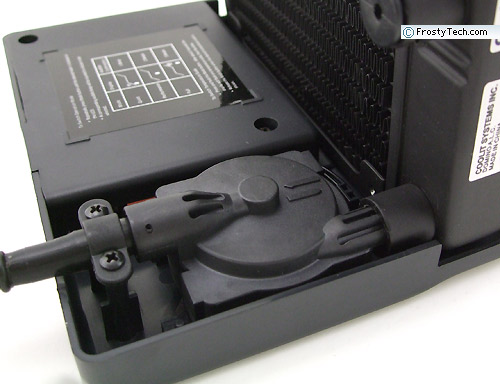 The Domino ALC system is compatible with AMD (socket AM2/AM2+/AM3) and Intel (socket 775/1366) processors. At the time of this review, LGA1156 chips are not supported, nor are older socket 754/939/940 AMD platforms. Retail price for this system is on the order of $79 USD/CDN.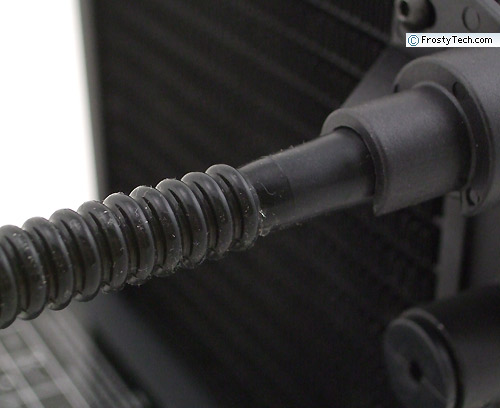 The fan is meant to attach to the side of the PC case with the little rubber vibration absorbing mounts shown here. If your PC case does not have a rear 120mm exhaust hole, mounting the Domino ALC's heat exchanger will be tricky.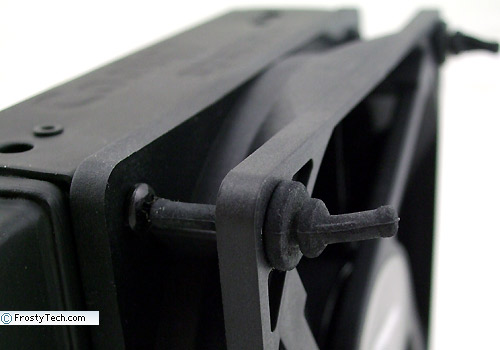 Installation Hardware
CoolIT's Domino ALC system system is compatible with Intel socket 775/1366 and AMD socket AM2/AM2+ processors. Special clips are attached to the waterblock which allow it to mesh through the rear motherboard support plate and attach with a four machine screws.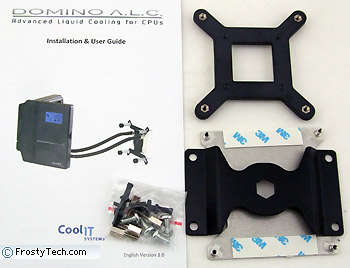 On the plus side, screws are spring tensioned so there is no way the copper CPU block/pump can be installed incorrectly. Pressure is evenly distributed over the CPU's integrated heat spreader, and the waterblock held firmly in position. Even on Frostytech's synthetic temperature test platforms, installation wasn't problematic at all.
FrostyTech's Test Methodologies are outlined in detail here if you care to know what equipment is used, and the parameters under which the tests are conducted. Now let's move forward and take a closer look at this heatsink, its acoustic characteristics, and of course its performance in the thermal tests!