360° View - CoolIT Domino ALC Watercooling System

---

Information on Frostytech's test methodology is available here.

The 120mm fan on the Domino ALC heat exchanger spins at 1030-2550RPM by default. A single 3-pin motherboard header provides power for the fan, pump and control electronics. The radiator is keyed for a 120mm fan on one side, and attaches to the rear of a computer case through 120mm fan holes with rubber posts. The effective area of the heat exchanger is 115x115mm. Overall radiator dimensions are 155x120x30mm.

The pump/control unit of the CoolIT Domino ALC can be placed about 17cm away from the CPU fluid heat exchanger.
360° View - CoolIT Domino ALC Watercooling System - Waterblock

---

Information on Frostytech's test methodology is available here.

Detailed information on the CoolIT Domino ALC is not easy to come by. We do know that the inside is covered by a micro skived surface, and that the block is made from nickel plated copper. The CPU fluid heat exchanger measures 50x50x9mm in size and ships with a pre-applied patch of grey thermal compound. There are no provisions for removing the FEP tubing for inspection, refilling or cleaning.

The FEP tubing is a Teflon based plastic which is reportedly selected due to its low permissibility for water vapor transmission loss. The tubing is pretty stiff, but fairly kink resistant. While the barbs on the CPU heat exchanger are metal, those on the pump and heat exchanger are plastic - take care when installing the unit so there is no chance of a barb being snapped off.
Base Finish and Flatness
Flipping a heatsink over to inspect the business end is often a simple indicator of overall cooler quality. More practically speaking, a heatsink is in many ways only as effective as the contact it makes with the processor - the flatter and smoother the better. Base finish is one of the criteria that Frostytech measure in the course of evaluating heatsinks, and it involves two distinct aspects. Surface Finish is the first; this is calculated with the aid of Surface Roughness Comparator that has a cross section of common machine surface finishes and their numerical surface roughness equivalents in microinches. The second is Surface Flatness. This is tested with an engineers straight edge, in two axis.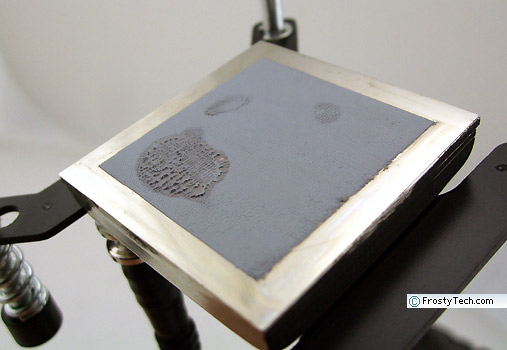 The nickel plated copper waterblock used with the Cool IT Domino ALC system has a machined and polished base with a surface roughness of approximately ~8 microinches. The manufacturer ships it with a pre-applied patch of thermal compound for ease of installation. The base is very slightly convex in both axis.
Next up Frostytech looks into the noise levels of this heatsink, then it's onto AMD and Intel thermal tests!