Thermaltake's ISGC-300 is a lower noise tower heatsink that offers a slight performance edge over the companies ISGC-400 model. The saw-toothed aluminum cooling fins on the ISGC-300 are widely spaced to allow air from the single 120mm fan to pass through easily. Four 6mm diameter copper heatpipes ensure good thermal conduction from the base to the 95mm tower above. A small fan speed controller allows fan speed to be adjusted from 800-1300RPM for situations which demand the least noise possible.
The Thermaltake ISGC-30 heatsink comes with fan that has beautiful glossy white fan blades shaped like the fins of a whale. The fan motor used Hydro Dynamic Bearings to decrease noise and improve lifespan (MTBF 50,000 hours), always a nice touch.
The 697 gram ISGC-300 heatsink stands 160mm tall, so it may not fit in all mid-tower or compact PC chassis. The heatsink installs onto Intel socket 775/1366 and AMD socket AM2/AM3 processors and should run about $32 USD/CDN online.
Thermaltake ISGC-300 Heatsink

---

heatsink specsheet
manufacturer: thermaltake
model no.: isgc-300
materials: aluminum fins, copper heatpipes, aluminum base with copper baseplate
fan mfg: thermaltake ttb122512ls
fan spec: 800-1300rpm, 12v, 0.33a
fan airflow: 58cfm
fan dim: 25x120x120mm
heatsink & fan dim: 160x126x92mm
weight: 697 grams
includes: multi-socket socket mounting hardware, thermal compound, instructions

---

Compatible with Sockets:
AMD - AM2/AM2+/AM3
Intel - LGA775/1366
Pricing: $32USD ($32CDN)
Mounting brackets for the Thermaltake ISGC-300 screw into a flat aluminum slab soldered to the opposite side of the line of heatpipes at the base. The bottom of the heatsink that makes contact with the processor is actually a 2mm thin copper plate, rather than the more complicated exposed heatpipe type.
Mounting Hardware and Brackets
Thermaltake's ISGC-300 heatsink heatsink is compatible with Intel socket 775/1366 and AMD socket AM2/AM2+/AM3 processors. Heatsink installation requires access to the rear of the motherboard to install small nuts. Intel LGA1156 processors are not supported. The ISGC-300 heatsink accomodates one 120mm fan, held in place with wire fan mounting clips.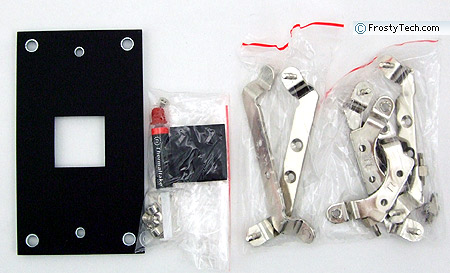 The installation hardware isn't the easiest to use, but does hold the heatsink firmly in place once installed. Getting at the CPU afterward is likely to be a bit of a pain though, I think most consumers are apt to avoid heatsinks which force the removal of the entire motherboard each time the CPU is switched out.
Base Finish and Flatness
Flipping a heatsink over to inspect the business end is often a simple indicator of overall cooler quality. More practically speaking, a heatsink is in many ways only as effective as the contact it makes with the processor - the flatter and smoother the better. Base finish is one of the criteria that Frostytech measure in the course of evaluating heatsinks, and it involves two distinct aspects. Surface Finish is the first; this is calculated with the aid of Surface Roughness Comparator that has a cross section of common machine surface finishes and their numerical surface roughness equivalents in microinches. The second is Surface Flatness. This is tested with an engineers straight edge or proven flat surface, in two axis.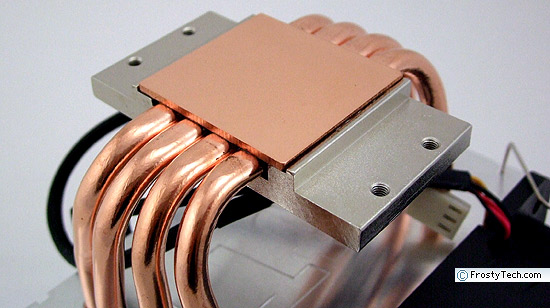 The stamped copper base plate has been machined and polished smooth, surface roughness is approximately ~8 microinches, which is considered good. The base is very slightly convex in both axis.
FrostyTech's Test Methodologies are outlined in detail here if you care to know what equipment is used, and the parameters under which the tests are conducted. Now let's move forward and take a closer look at this heatsink, its acoustic characteristics, and of course its performance in the thermal tests!