Tuniq's Tower 120 Extreme is an enthusiast grade heatsink that cools very well, pretty quietly. In fact I'll save you the suspense and tell you straight up that it tops Frostytech's Intel reference chart and that it's one of the Top 5 best-ever heatsinks tested on Frostytech's AMD reference chart to date. And that's not comparing the Tower 120 Extreme against five... or even ten recent heatsinks... Frostytech.com compares it to well over 250 different heatsinks!
What's the secret behind this Tuniq heatsink?Simple, a heck of a lot of cooling surface area (think: lots of fins), three 8mm diameter copper heatpipes and two 6mm diameter copper heatpipes. In short, this CPU cooler is made to conduct heat efficiently from the processor by way of five exposed heatpipes into a mass of aluminum cooling fins. Highly scalloped outside edges add a measure of uniqueness to the design, and a 1000-2000RPM 120mm fan at the center of it all provides the necessary airflow.
The 152mm tall Tuniq Tower 120 Extreme heatsink weighs in at about 775 grams and is compatible with Intel socket 775/1366 and AMD socket 939/940/AM2/AM3 processors. The claim to fame is of course its integrated 120mm fan which is not visible from the outside. When it's spinning at 1000RPM the heatsink is nearly silent, so provided your PC can accommodate the 131x112mm footprint of the Tower 120 Extreme heatsink, it will give any low noise heatsink a good run for the money.
Oddly though, Tuniq opted for a non-PWM on this heatsink. Instead, fan speed control is achieved by a hard wired PCI bracket fan speed controller.
Tuniq Tower 120 Extreme Heatsink

---

heatsink specsheet
manufacturer: tuniq
model no.: tower 120 extreme
materials: dark nickel plated aluminum fins, copper heatpipes and aluminum base
fan mfg: aga12025f12l
fan spec: 1000-2000rpm, 12v, 0.16a
fan dim: 25x120x120mm
heatsink & fan dim: 152x131x112mm
weight: 775 grams
includes: multi-socket mounting hardware, fan speed controller, instructions.

---

Compatible with Sockets:
AMD - 939/930/AM2/AM2+/AM3
Intel - 775/1366
Est. Pricing: $65USD ($65CDN)
The 120mm internal fan is illuminated with a couple blue LEDs, and slides out of its space in between the sculpted aluminum fins easily enough for cleaning.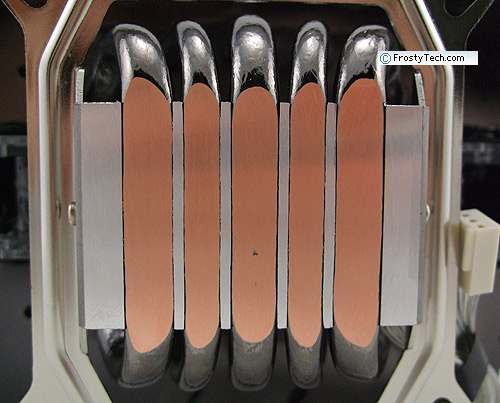 Link many current generation CPU heatsinks, the Tuniq Tower 120 Extreme relies on a collection of 6mm and 8mm diameter copper heatpipes to transfer heat from its CPU base block to the cooling fins. The heatsink makes use of the popular 'exposed heatpipe format,' so there is as little as possible thermal resistance between the heat generated by the CPU and the copper heatpipes that conduct it to the rest of the heatsink.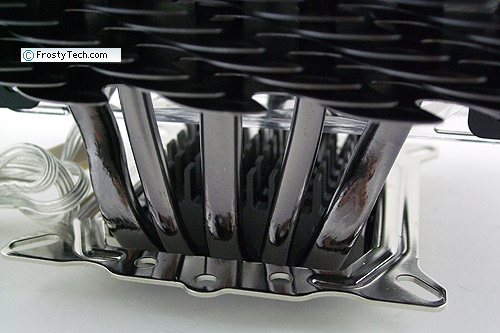 The bulk of the heatsink is elevated 47mm above the base, that's enough clearance to pass over capacitors or chipset heatsinks positioned close to the CPU socket. At the base of the Tower 120 Extreme is a small extruded aluminum heatsink. It's used to shed heat from the aluminum that supports the five copper heatpipes in place.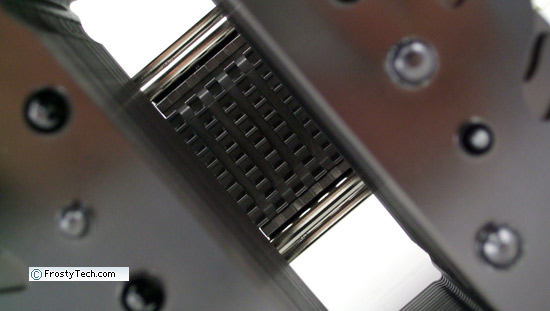 Installation Hardware
The Tower 120 Extreme is compatible with Intel socket 775/1366 and AMD socket 754/939/940/AM2/AM3 processors and ships with a pile of brackets, metal support plates and brass spring-tensioned thumbscrews to that end. The installation procedure is okay, but not the most straightforward Frostytech has come across, due mainly to the large footprint of the heatsink's boxy frame.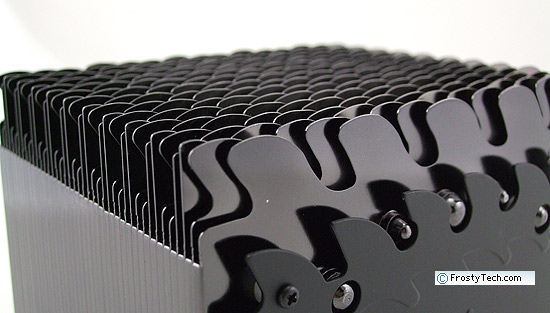 In all cases the motherboard requires a rear support plate to be added, and it is with this that mounting screws are held firmly in place. The heatsink overhangs the socket so much that tool access is not possible, so in each situation spring tensioned thumb screws are used to affix the Tower 120 Extreme in place and apply the correct mounting pressure. With large heatsinks this is most often the case, unfortunately.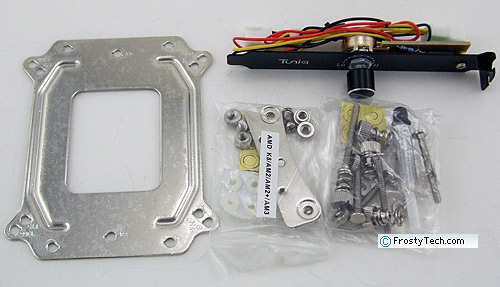 A small tube of Tuniq TX-3 thermal compound and a PCI bracket fan speed controller are also supplied. Be sure to glace at the printed instructions before attempting to install the Tower 120 Extreme heatsink.
FrostyTech's Test Methodologies are outlined in detail here if you care to know what equipment is used, and the parameters under which the tests are conducted. Now let's move forward and take a closer look at this heatsink, its acoustic characteristics, and of course its performance in the thermal tests!