Heatsinks have become a little boring lately as all manufacturers rush to reproduce minor variations on the trendy heatpipe-direct-touch theme. The industry seems to have lost its capacity for innovation, sadly this has likely been exacerbated by falling CPU thermal demands... Yet while the metallic components have evolved into a increasingly standardized format - tower cooler, heatpipes in direct contact with CPU - the fans on these heatsinks have started to come into their own.
Take for example the Coolermaster Hyper TX3 heatsink Frostytech is reviewing for you today. The heatsink itself is unremarkable apart from it's support for Intel's new family of socket 1156 processors, but the fan blades are quite special. Each blade has a positive curve along the leading edge in a style vaguely reminiscent of a submarine's prop. If anyone versed in computational fluid design elements would like to chime in on the tangible attributes of this kind of impeller, please do.
In all other regards Coolermaster's Hyper TX3 heatsink is a compact mid-level heatsink suitable for use on AMD socket 745/939/940/AM2/AM3 processors and Intel socket 775/1156 chips (not LGA1366 however). The Hyper TX3 heatsink weighs in at 470 grams, stands less than 140mm tall, and comes equipped with a low noise 92mm 800-2800RPM PWM fan that drives 17-54CFM according the manufacturer. The heatsink is built around three skinny 6mm diameter copper heatpipes that connect a small aluminum base to the 92x92mm tower of aluminum cooling fins. The Hyper TX3 is dead simple, so it's ideal for mid-tower and some compact PC cases. Manufacturer specs indicate it can accommodate processors up to a 130W TDP, so that cover's all but a few flagship chips.
Coolermaster Hyper TX3 Heatsink

---

heatsink specsheet
manufacturer: coolermaster
model no.: tx3
materials: aluminum fins, copper heatpipes
fan mfg: coolermaster a9225-28cb-4bp-c1
fan spec: 800-2800rpm, 12v, 0.26a
fan dim: 25x92x92mm
heatsink & fan dim: 138x90x78mm
weight: 470 grams
includes: mounting clips, thermal compound, instructions.

---

Compatible with Sockets:
AMD - 754/939/940/AM2/AM3
Intel - 775/1156 (but not 1366)
Est. Pricing: $20USD ($20CDN)
A single 92mm PWM fan ships with the Hyper TX3 heatsink, but Coolermaster graciously provide an extra sets of wire fan clips so you can install a second 92mm fan on the obverse side of the aluminum fins, if you so choose. It's not necessary unless you plan on using ultra-low-speed 92mm fans. There are four rubber vibration absorbing pads attached to the supplied fan that help reduce errant rattling noises between it and the metal fins. You can see them in the photo below.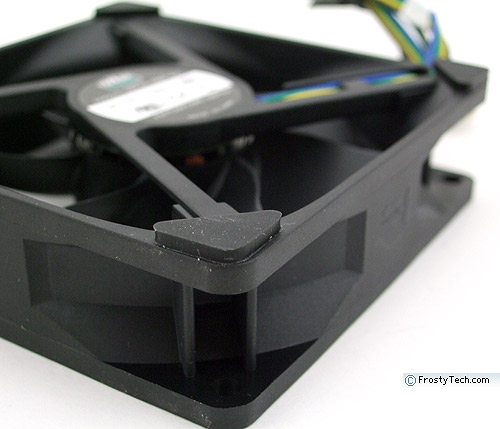 Given the option of installing a second 92mm fan, perhaps Coolermaster should supply four additional stick-on vibration pads for that second fan position? The Coolermaster fan itself is an interesting unit, but scant information is supplied by the manufacturer about the effect of the specially shaped blades.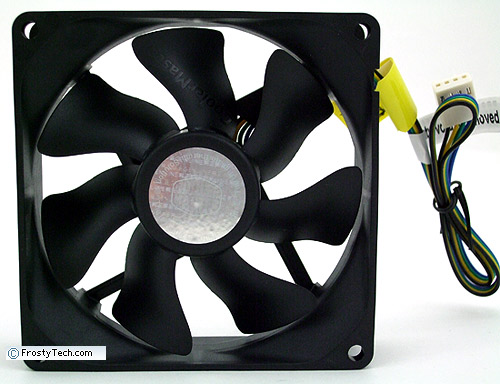 Supplied Accessories
The Coolermaster TX3 heatsink ships with separate brackets for AMD and Intel processors. The LGA775/1156 clips attach to the base of the heatsink with two machine screws each - slightly different hole positions designate a footprint for socket 775 and socket 1156 processors, since the two are not compatible (why Intel? Why!?). The AMD K8 clip just slides through a space on the aluminum baseplate and uses a cam lever to apply compressive force. A small syringe of thermal compound is supplied with the heatsink, along with instructions and the four wire fan clips we previously mentioned.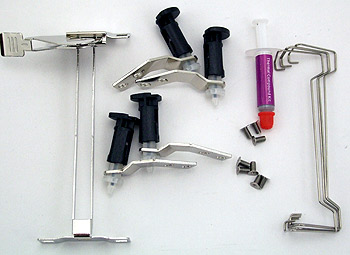 FrostyTech's Test Methodologies are outlined in detail here if you care to know what equipment is used, and the parameters under which the tests are conducted. Now let's move forward and take a closer look at this heatsink, its acoustic characteristics, and of course its performance in the thermal tests!