360° View - Coolermaster Hyper TX3 Heatsink

---

Information on Frostytech's test methodology is available here.

The 92x92x25mm Coolermaster PWM fan spins at 800-2800RPM and generates about 56 dBA noise according to Frostytech's real world sound measurements. A 4-pin PWM motherboard header provides power. The hyper TX3 stands 138mm tall, the bottom-most fins are elevated 37mm above the CPU. Three 6mm diameter copper heatpipes intersect 42 aluminum fins measuring 0.3mm thick and spaced 2mm apart.

The AMD CPU clip slides into grooves cut in the aluminum base cap and is totally tool free to operate. Rotating the cam lever applies clamping force on the processor below. The Intel brackets use the push-to-click plastic retention system. The copper heatpipes are press fit into the aluminum base cap which measures a good 7mm thick over the CPU. The aluminum fins are press fit over the heatpipes, no joints are soldered.

From the top the Coolermaster Hyper TX3 is pretty simple, just a 3.5mm plenum behind the fan. Note the indents on either side of the aluminum fins for the wire fan clips to engage with. The base has a sanded surface finish with a surface roughness of ~16 microinches, and measures about 32x42mm in area. The base is slightly convex in both axis.
Surface Finish and Flatness
Surface finish is an important factor that we all look for when holding a new heatsink. Flipping a cooler over to see how well the base has been machined is a quick way to judge the attention to detail that was put into making it. The following test involves the use of a Surface Roughness Comparator, which offers a concise cross section common machine surface finishes.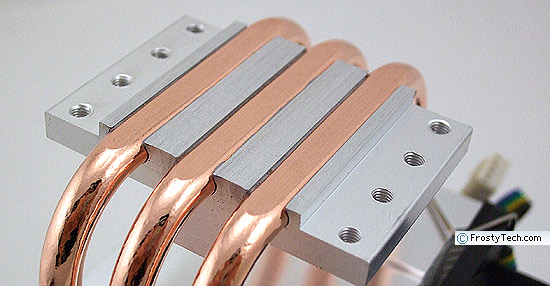 The Coolermaster TX3 heatsink has a sanded finish on its copper base, and a surface roughness of approximately ~16 microinches. The base is slightly convex in both axis. Next, let's see how this heatsink handles the heat compared to a selection of other heatsinks!