Zalman underwent some major changes in the last couple years, shifting from exclusively manufacturing heatsinks into case, audio, fan and 3D monitor products. While it may have expanded from just low noise computing products into gear that satisfies the gamer, Zalman is still introducing thermal solutions that cat get the job done quietly and effectively.
Frostytech first saw Zalman's CNPS9900 LED heatsink at Computex Taipei this past year, today we've finally got it on the test bench! The heatsink was appropriately set to release in tandem with socket 1366 Intel Core i7 processors and is thus fully socket 775/1366 compatible. Incidently, Frostytech's Socket 1366 Synthetic Temperature Test Platform will shortly begin passing judgement on heatsinks like the Zalman CNPS9900 LED, but just not yet. Check back to this review in the future for those test results.
Like most Zalman heatsinks, the CNPS9900 LED is pretty unique. It is based on a double 'fan' design, but with its 120mm PWM fan floating between the two radial copper fins arrays than in front of them. Air is drawn in through one set of cooling fins, and exhausted out the other slightly longer set. It's a good unbalanced design which purposefully conducts more heat towards the fins directly behind the fan. Most heatsink manufacturers design similar CPU coolers symmetrically, which isn't necessarily the best path. The PWM fan scales from moderately loud to essentially whisper quiet (2000-1000RPM), while curiously the impeller is protected by a translucent plastic shroud that can be removed altogether (don't miss this tip!). The CNPS9900 LED heatsink is constructed entirely from copper, utilizing three 6mm diameter copper heatpipes, and weighs about 780 grams. It is compatible with Intel socket 775/1366 and AMD socket 754/939/AM2/AM3 processors, and is priced at ~$70 at EndPCNoise.com or QuietPC.com.
Zalman CNPS9900 LED Heatsink

---

heatsink specsheet
manufacturer: zalman
model no.: cnps9900 led
materials: copper fins, heatpipes, base plate, aluminum base cap.
fan mfg: zalman zd1225btr
fan spec: 1000-2000rpm, 12v, 0.8a
fan dim: 25x120x120mm
heatsink & fan dim: 158x140x94mm
weight: 782grams
includes: multi-socket mounting hardware, zalman zm-stg1 thermal compound, instructions

---

Compatible with Sockets: 754/939/940/AM2, LGA775, LGA1366
Est. Pricing: $70USD ($70CDN)
There are a couple aspects of the Zalman CNPS9900 LED heatsink that make it stand out from the crowd. For starters, the heatsinks' copper cooling fins are split into two sections, each joined to the base with 6mm diameter copper heatpipes. In front of the 120mm fan is a 23mm wide fin section wrapped around one 6mm diameter heatpipe.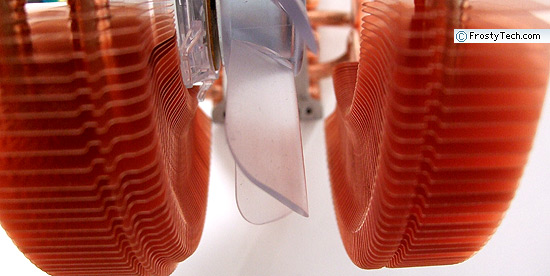 Behind the fan is a second copper fin section wrapped around two heatpipes, which is also a little wider at 31mm. The choice of a asymmetrical (ie. one side is larger than the other) fin design is unique.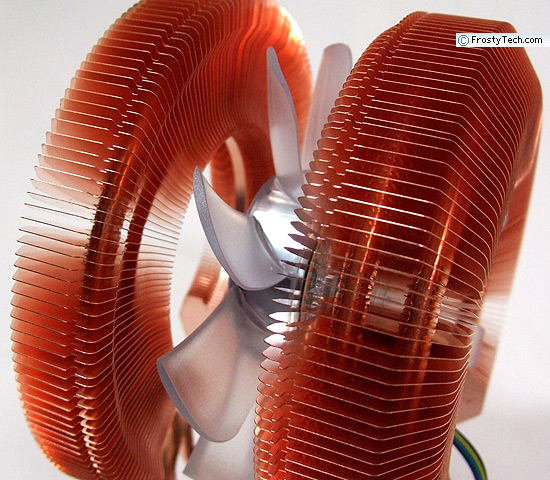 A clear plastic fan shroud wraps around the copper fins of the Zalman CNPS9900 LED heatsink and serves to protect the fan blades from getting caught on loose wires and such. Zalman note that shroud can be removed if desired, and if you do the noise signature of the heatsink is slightly reduced.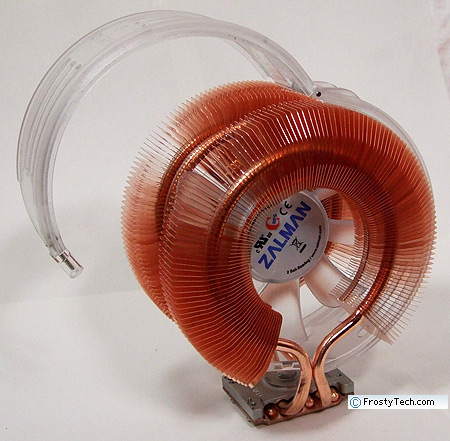 Mounting Method and Hardware
Zalman's CNPS9900 LED heatsink can be used with socket 775 & socket 1366 Intel processors, and the full range of socket 754/939/940/AM2/AM2+/AM3 AMD processors. Every major CPU variation is covered by this one heatsink, good for those planning a transition to Core i7 in the coming months.
Installation is pretty straightforward, although there are some clearance issues to be aware of. Generally speaking, the CNPS9900 LED will fit any modern motherboard. In case you're concerned about fit, be sure there is at least 75mm space from the center of the CPU up to the power supply, 50mm to the front or back from the center of the CPU, and at least 165mm space above the CPU itself.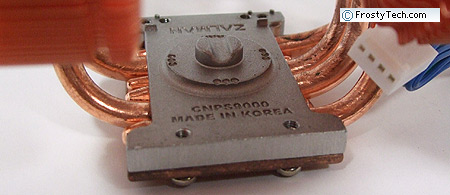 The AMD mounting clip makes use of the stock plastic AMD heatsink retention frame. A stainless steel clip fits over the central nub on the heatsink's base cap, and without tools locks into the existing retention tabs. The heatsink should always be oriented with airflow exhausting towards the rear of the PC case.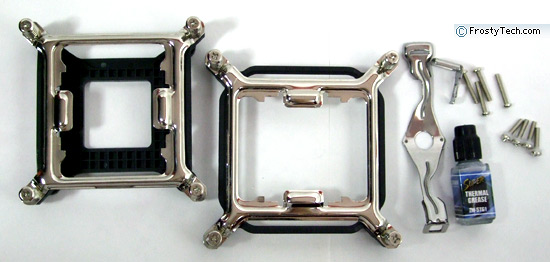 Both Intel socket 1366 and 775 processors make use of a special plastic frame which is bolted onto the motherboard prior to the CNPS9900 LED's installation. The downside is you'll need to remove the motherboard to install this bracket (and a rear support plate in the case of LGA775 boards) first, but after that the CPU can be swapped out easily. The steel bracket locks onto the base of the CNPS9900 LED, then screws into the Zalman mounting bracket with spring tensioned machine screws. This firmly holds the 780gram heatsink in place, without making it difficult to swap out processors.
This heatsink will be tested on FrostyTech's Intel LGA775 and K8 version of the Mk.II synthetic thermal temperature test platform, and compared against a hundred reference LGA775 and K8 heatsinks. The whole test methodology is outlined in detail here if you'd like to know what equipment is used, and the parameters under which the tests are conducted.