Abstract: Like most Zalman heatsinks, the CNPS9900 LED is pretty unique. It is based on a double 'fan' design, but with its 120mm PWM fan floating between the two radial copper fins.



Home > Reviews > Page:

360° View - Zalman CNPS9900 LED Heatsink
360° View - Zalman CNPS9900 LED Heatsink

---

Information on Frostytech's test methodology is available here.

The CNPS9900 LED's 120mm PWM fan spins at 1000-2000RPM depending on the temperature of the CPU and BIOS settings. Power is supplied by a 4-pin motherboard fan header that is backwards compatible with 3-pin fan headers. Standing 158mm tall, 140mm at its widest, the CNPS9900 LED is compact by Zalman standards. Three copper heatpipes are used, all 6mm in diameter. The fins leave a 59mm diameter hole at the front for air intake, 50mm at rear where the fan motor is housed.

The 120mm diameter fan is suspended 87mm above the CPU. In the 33mm space between two asymmetric donut shaped copper fin arrays (shown here with the clear plastic shroud on and removed). The space directly in front of and behind the fan motor is void. Mounting brackets fit over the nub of the cast aluminum base cap, or to either edge.

Each copper fin on the CNPS9900 LED heatsink measures 0.2mm thick. Fin spacing is 2.0mm at the outside, 0.5mm along the inside. The copper fins are soldered to the three 6mm diameter copper heatpipes.

The copper base of the Zalman CNPS9900 LED heatsink that makes contact with the processor IHS measures 32x32mm in area, and is a minimum 3mm thick. The surface is highly polished, and the three heatpipe ends are soldered in place to decrease thermal joint resistance.
Base Finish and Flatness
Flipping a heatsink over to inspect the business end is often a simple indicator of overall cooler quality. More practically speaking, a heatsink is in many ways only as effective as the contact it makes with the processor - the flatter and smoother the better. Base finish is one of the criteria that Frostytech measure in the course of evaluating heatsinks, and it involves two distinct aspects. Surface Finish is the first; this is calculated with the aid of Surface Roughness Comparator that has a cross section of common machine surface finishes and their numerical surface roughness equivalents in microinches. The second is Surface Flatness. This is tested with an engineers straight edge or proven flat surface, in two axis.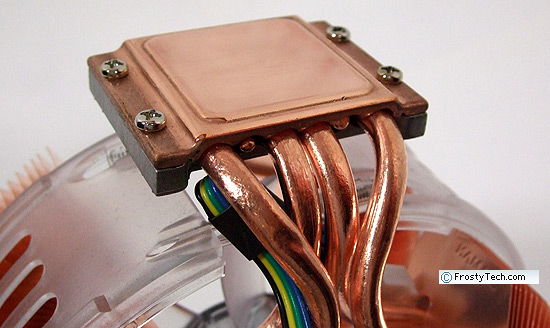 The base of the Zalman CNPS9900 LED heatsink is perfectly flat in one axis, and very slightly convex in the opposite, mostly just over the center line. The copper base itself has a glossy surface finish which is perfectly smooth. Surface roughness is at or better than ~8 microinches, which is excellent.

Websites you may also like:
PCSTATS