Xigmatek's Dark Knight S1283 heatsink is the HDT-S1283 model with a dark nickel plating over every inch of its surface. The fan has been swapped out for a smoky translucent plastic, and four white LED's illuminate the spinning blades. Otherwise you get three heatpipes in direct contact with the top of the processor, a whole lot of cooling fin, and nearly identical thermal performance.
Like any Xigmatek heatsink, if you flip the Dark Knight S1283 over you'll see three 8mm diameter heatpipes staring back at you. Acting as the base allows the heatpipes to transfer that heat directly from the processor core to the aluminum fins above. For the uninitiated, take note of Xigmatek Co., Ltd., so far almost every heatsink it has introduced has been a winner. Well, except for this.
The Xigmatek Dark Knight S1283 heatsink FrostyTech is reviewing today is equipped with vibration absorbing rubber fan posts, a 120mm internally illuminated PWM fan that scales in speed from 1000-2200RPM, and a glossy black nickel plating that case modders must love. The 600gram Dark Knight S1283 heatsink is compatible with socket 775 Intel Core 2 Duo/Quad CPUs, and all socket 754/939/940/AM2 AMD Athlon64/Phenom processors. Small formfactor owners may be out of luck as the Xigmatek S1283 heatsink stands 160mm tall... Retail price is estimated at $55CDN ($55USD).
Xigmatek Dark Knight S1283 Heatsink

---

heatsink specsheet
manufacturer: xigmatek
model no.: dark knight-s1283
materials: dark nickel plated aluminum fins, copper heatpipes, aluminum base.
fan mfg: xigmatek pla12025s12m-4
fan spec: 1000-2200rpm, 12v, 0.31a
fan dim: 25x120x120mm
heatsink & fan dim: 160x120x77mm
weight: 600 grams
includes: lga775 and k8 socket mounting hardware, spoiler fin, thermal compound, instructions

---

Compatible with Sockets: 754/939/940/AM2, LGA775
Est. Pricing: $55USD ($55CDN)
First off let's look at Xigmatek's "Heat-pipe Direct Touch". This is one of the main reasons the Dark Knight S1283 heatsink handles the way it does, and essentially it describes how the heatpipes make direct contact with the top of the processor. This arrangement minimizes thermal resistance as heat energy is conducted directly to the heatpipes, rather than through some intermediary heatspreader. The 8mm diameter heatpipes thread up through the many aluminum cooling fins of the Dark Knight S1283 heatsink, so heat energy is quickly and efficiently dissipated into the surrounding air mass.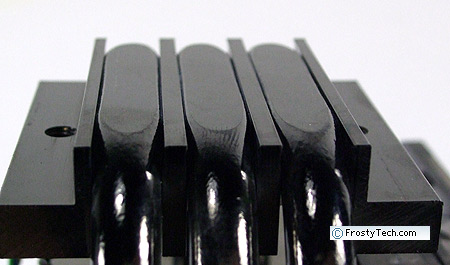 Xigmatek have built the Dark Knight S1283 heatsink with widely spaced aluminum fins so that lower velocity air can pass through the heatsink with less resistance.
The 120mm PWM fan is held in place on the aluminum fins of the Xigmatek Dark Knight S1283 heatsink with four vibration absorbing rubber mounting posts. These fit through the standard screw holes in a vaneaxial fan frame, and keep the fan elevated 2.0mm away from the metal. If the fan motor happens to develop vibrations down the road, the rubber 'shock absorbers' can reduce that from becoming noise.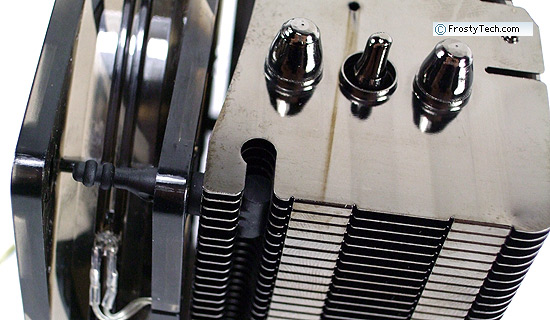 The Xigmatek Dark Knight S1283 heatsink ships with brackets for LGA775 and AMD K8 processors (754/939/940/AM2 respectively). The Intel socket 775 clips use spring tensioned machine screws that mate with a supplied metal back plate. AMD Athlon64 processors on 754/939/940/AM2/AM2+ work with a modified spring clip that attaches to the lugs on the AMD heatsink retention frame. A cam lever at one end of the clip applies pressure to the heatsink base directly. The AMD clip is tool free, but the metal is thin and tends to bend towards one side or another after clamping pressure is applied.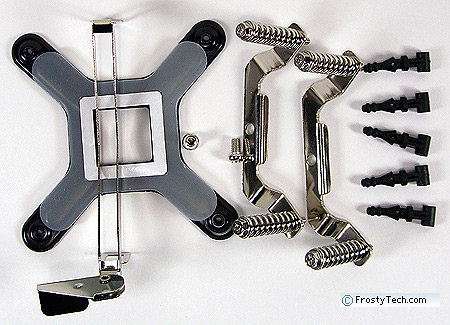 FrostyTech's Test Methodologies are outlined in detail here if you care to know what equipment is used, and the parameters under which the tests are conducted. Now let's move forward and take a closer look at this heatsink, its acoustic characteristics, and of course its performance in the thermal tests!