Just like the ASUS Triton 75 heatsink Frostytech previously tested, the ASUS Triton 85 is an example of how not to make a universal CPU cooler. The ASUS Triton 85 performs well enough with an 85W heat load (ie. energy efficient processors), suffers somewhat at 125W, and completely fails when stressed with 150W of heat. Not good if you plan on cooling an Intel Core 2 Extreme CPU.
In speaking directly with the manufacturer AMA Precision (subsidiary of ASUS) at Computex Taipei this past June about the unique limits of the Triton 85 heatsink, Frostytech learned that its design was tested with loads of up to 130W. Other heatsinks Frostytech has tested with a similar Wattage ratings will continue to work past the rated spec, though obviously with reduced performance. The ASUS Triton 75 and Triton 85 heatsinks, and Spire Fourier IV all exhibit heatpipe operational failure when stressed beyond the design envelope.
There is no denying that ASUS has a very recognizable brand in the computer world, but in this case ASUS has released a pretty disappointing product. Unless its being used with an energy efficient processor (sub-85W), the only value to the ASUS Triton 85 heatsink is it's weight in scrap metal.
Asus Triton 85 Heatsink

---

heatsink specsheet
manufacturer: asus
model no.: triton 85
materials: aluminum fins, nickel plated copper heatpipes, copper/aluminum base.
fan mfg: power logic pla12025s12l-4
fan spec: 800-1400rpm, 12v, 0.20a
fan dim: 25x120x120mm
heatsink & fan dim: 123x120x133mm
weight: 520 grams
includes: lga775 and k8 socket mounting hardware, thermal compound, instructions

---

Compatible with Sockets: 754/939/940/AM2/AM2+, LGA775
Est. Pricing: $55USD ($55CDN)
The Asus Triton 85 heatsink FrostyTech is reviewing today ships with a 120mm 800-1400RPM PWM fan, and weighs around 520 grams. The heatsink is uses four 6mm diameter copper heatpipes to support a 120x120mm aluminum fin array above the CPU block. This orientation directs fan exhaust down towards the CPU area to cool adjacent motherboard components, chipset heatsinks and VRM circuitry. The Triton 85 is compatible with Intel socket 775 and AMD socket 754/939/AM2/AM2+ processors. The retail price is around $55CDN, far too expensive for it's lackluster performance capabilities.

ASUS include a set of brackets that attach to the base plate for mounting the heatsink on Intel socket 775 CPUs. The Intel socket 775 clips use the standard push-to-lock plastic clips that insert into the four motherboard holes around the processor socket.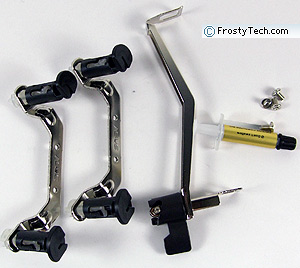 AMD socket 754/939/940/AM2 CPUs are compatible too, but in use a modified spring clip that attaches to the central lug on the AMD heatsink retention frame. A cam lever at one end of the clip applies pressure to the heatsink base directly.
FrostyTech's Test Methodologies are outlined in detail here if you care to know what equipment is used, and the parameters under which the tests are conducted. Now let's move forward and take a closer look at this heatsink, its acoustic characteristics, and of course its performance in the thermal tests!