The Thermal Transtech International Corp. (TTIC) nPowerTek NPH-775-140HC heatsink is a deceptively simple combination of copper heat column and aluminum fins, intended for mid-wattage Socket 775 Intel processors. At the heart of this heatsink is a sealed copper cylinder, the aptly named "heat column." Inside it is a vacuum, and a surface coated with a sintered metal wick. nPowertek's heat columns work on the same principle as traditional heatpipes.
The first thing you'll notice when looking at this Intel cooler is that NPowertek NPH-775-140HC looks very much like Intel's retail box thermal solution. The NPH-775-140HC is rated for heat loads up to 130W, however we'd suggested keeping things to energy efficient Intel CPUs that have a sub-95W TDP rating.
A bright cherry red 95mm PWM fan is shipped with the CPU cooler that scales from a moderate 1500RPM to 3000RPM. The 396 gram heatsink is pretty lightweight for its size, and stands just 72mm tall.
nPowertek NPH-775-140HC Heatsink

---

heatsink specsheet
manufacturer: npowertek
model no.: ttic nph-775-140hc
materials: extruded aluminum fins, copper heat column.
fan mfg: n/a
fan spec: 1500-3000rpm, 12v
fan dim: 25x95x95mm
heatsink & fan dim: 72x95x95mm
weight: 396 grams
includes: lga775 mounting hardware, thermal compound, instructions

---

Compatible with Sockets: LGA775
Est. Pricing: $30USD ($30CDN)
Most heatsinks that make it to Frostytech's test bench are innovative in one way or another. The nPowertek NPH-775-140HC heatsink has a copper heat column for starters, and it has some of the thinnest extruded aluminum fins we've seen in a long while too. The NPH-775-140HC's bifurcated fins increase the surface area of the heatsink, without creating a situation where fin density is too high at the base. The tips of each fin measure a scant 0.5mm thick.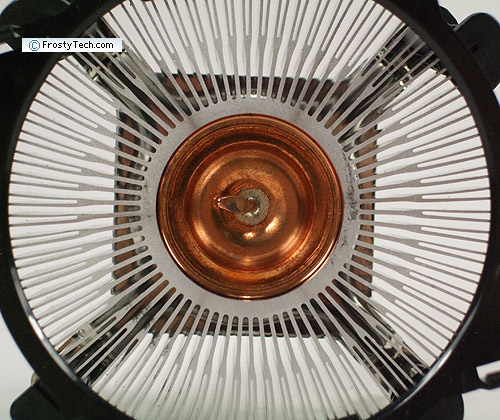 With the cherry-red fan removed, the structure of the bifurcated fins clearly visible. At the center we can see the copper heat column pressed into a ring of extruded aluminum. The copper column is 33mm in diameter and extends nearly the full height of the heatsink. Heat from the processor is conducted by the column, at least in theory, more efficiently than a solid block of extruded aluminum would. Under these conditions the aluminum fins can work more efficiently at transferring the heat outwards to the surrounding environment. This is the same basic design principle used by Intel RCBFH-3 reference thermal solution, and Intel FCLGA4-S heatsink Frostytech recently tested.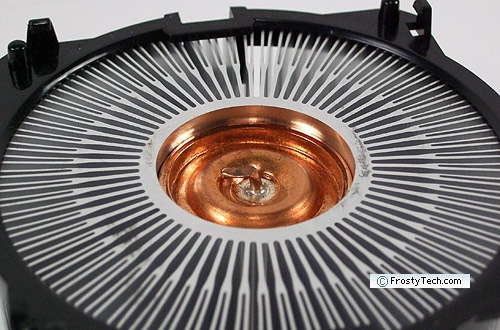 This heatsink will be tested on FrostyTech's Intel LGA775 version of the Mk.II synthetic thermal temperature test platform, and compared against a hundred reference LGA775 and K8 heatsinks. The whole test methodology is outlined in detail here if you'd like to know what equipment is used, and the parameters under which the tests are conducted.