As you probably know, Zalman continues to make a name for itself in the processor cooling industry by creating thermal solutions that get the job done quietly and effectively. Zalman's new CNPS9300AT heatsink is the companies latest CPU cooler, launched this past June at Computex Taipei where Frostytech first got a glance at it. The CNPS9300AT is constructed from many 0.2mm thin copper fins strung together around two copper heatpipes that are formed into a figure-8 shape. The upper half of the heatsink cradles the fan, the bottom mounts to the processor. It's an elegant thermal solution, and well finished.
Zalman's CNPS9300AT heatsink is equipped with a stocky 92mm PWM fan that floats in the midst of a radial array of copper fins. Like the turbine on a Boeing 777's wing, the impeller propels the air at its highest velocity over the surface of the two 6mm diameter heatpipes, and the copper fins immediately around them which they are soldered to. The fan itself scales from moderately audible to essentially whisper quiet (2400-1500RPM). The CNPS9300AT heatsink is constructed from entirely copper bits and parts, but weighs only 407 grams, making it a relatively feathery option for Intel socket 775 or AMD 939/AM2 processors.
Industry wide there has been a lot of emphasis given towards the manufacture of compact heatsinks for miniITX, HTPC and the new class of multimedia-capable computers hitting the market. In this respect the Zalman CNPS9300AT heatsink makes inroads as its total height is a modest 133mm. And let's face it, if you've gone to the trouble of building a new media computer with High Definition HDMI output capabilities and 7.1 channel audio - you'd better well be demanding near silent CPU cooling along with it! Zalman's CNPS9300AT heatsink should fulfills that role well, and for only about$40CDN ($40USD) bucks.
Curiously, with the release of Intel's Nehalem processor so close, it's surprising that Zalman hasn't included a socket LGA1366 compatible mounting bracket in the package... guess we'll have to wait a little longer on those to start appearing.
Zalman CNPS9300AT Heatsink

---

heatsink specsheet
manufacturer: zalman
model no.: cnps9300at
materials: copper fins, heatpipes, base plate, aluminum base cap.
fan mfg: zalman zd9225aur
fan spec: 1500-2400rpm, 12v, 0.3a
fan dim: 25x92x92mm
heatsink & fan dim: 133x108 x61mm
weight: 407 grams
includes: lga775 and k8 socket mounting hardware, thermal compound, instructions

---

Compatible with Sockets: 754/939/940/AM2, LGA775
Est. Pricing: $40USD ($40CDN)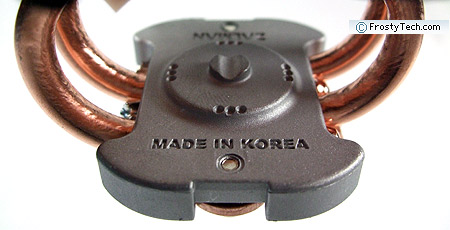 The complex shape of the Zalman CNPS9300AT heatsink requires a special LGA775 mounting harness for Intel motherboards. For this you'll need to remove the entire motherboard from the case to attach a plastic bracket to the motherboard PCB.
Instructions are detailed and the process isn't too complicated.
After that's done, the heatsink can be installed or removed with a spring clip, or another clip that uses screws, so getting back at the Core 2 Duo processor below is painless.
The Zalman CNPS9300AT heatsink installs onto AMD socket 754/939/940/AM2 processors with the same simple metal clip, and it works with AMD stock plastic retention frame. The clip fits in perpendicular to the direction of the heatpipes, or in parallel to them, depending on the orientation of the CPU socket and heatsink retention frame.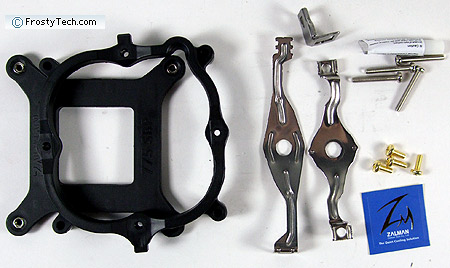 Clearance Issues?
As a general rule of thumb, there shouldn't be any interfering components within 54mm of the center of the CPU (in top to bottom directions), and nothing within 31mm of the center of the CPU towards the front or rear of the case. The Zalman CNPS9300AT heatsink stands 133mm tall, so your case should be at least 143mm wide to accommodate it.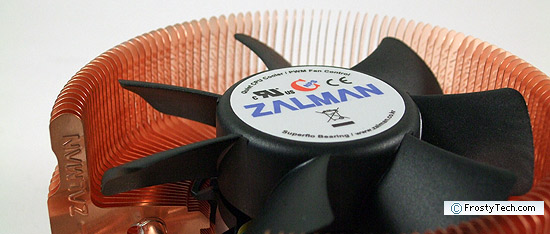 This heatsink will be tested on FrostyTech's Intel LGA775 and K8 version of the Mk.II synthetic thermal temperature test platform, and compared against a hundred reference LGA775 and K8 heatsinks. The whole test methodology is outlined in detail here if you'd like to know what equipment is used, and the parameters under which the tests are conducted.