360° View - Zalman CNPS9300 AT Heatsink

---

Information on Frostytech's test methodology is available here.

The 25x92x92mm PWM fan on the Zalman CNPS9300AT heatsink spins at 1500-2400RPM depending on the temperature of the CPU and BIOS settings. Power is supplied by a 4-pin motherboard fan header that is backwards compatible with 3-pin fan headers. The heatsink stands 133mm tall, and 108mm wide at the top. From the base to about 35mm up there is a good degree of clearance for adjacent motherboard devices. The two copper heatpipes are 6mm in diameter, extending from the base up through the many 0.2mm thick copper fins in a figure-8 pattern.

The fan is suspended 80mm above the CPU at the center of the fins, the space directly behind the motor is left empty. The Zalman CNPS9300AT heatsink installs onto AMD/Intel processors with one of two stainless steel clips that fit over the nub of the cast aluminum base cap. Clamping forces are directed at the center of the heatsink's base for even loading on the CPU's integrated heat spreader. Each copper fin extends ~30mm from the center, and measures 0.2mm thick. Fin spacing is 2.0mm at the outside, 0.5mm along the inside. The copper fins are soldered to the 6mm diameter copper heatpipes.

The copper base of the Zalman CNPS9300AT heatsink measures 31x36mm in size, and about 3mm thick on average. The surface is highly polished, and the four heatpipe ends are soldered to it for improved thermal conductivity.
Base Finish and Flatness
Flipping a heatsink over to inspect the business end is often a simple indicator of overall cooler quality. More practically speaking, a heatsink is in many ways only as effective as the contact it makes with the processor - the flatter and smoother the better. Base finish is one of the criteria that Frostytech measure in the course of evaluating heatsinks, and it involves two distinct aspects. Surface Finish is the first; this is calculated with the aid of Surface Roughness Comparator that has a cross section of common machine surface finishes and their numerical surface roughness equivalents in microinches. The second is Surface Flatness. This is tested with an engineers straight edge or proven flat surface, in two axis.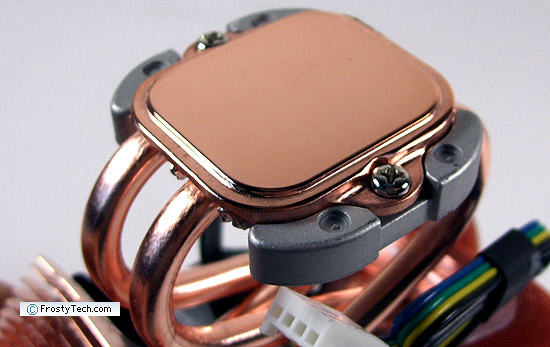 The base of the Zalman CNPS9300AT heatsink is perfectly flat in one axis, and very slightly convex in the opposite, mostly just over the dead center. The copper base itself has a glossy surface finish which is perfectly smooth. Surface roughness is at or better than ~8 microinches, which is excellent.