The Thermaltake MaxOrb heatsink is a novel design based around a half-dozen heatpipes and six individual arcs of cooling fins. I have to wonder if its design was born out of a desire not to infringe on existing patents, rather than sheer innovation... but in any event, the approach here guarantees an even fin pitch across the complete cooling surface area. In that respect the MaxOrb breaks new ground, allowing it to stand out from heatsinks of similar shape.
For users that like to micro mange their CPU cooling systems, the Thermaltake MaxOrb heatsink makes use of manual fan speed controlled 110mm diameter fan that ranges from 2000-1300RPM. Like most after market CPU coolers, the MaxOrb is compatible with both Intel socket 775 and AMD socket 754/939/940/AM2+ processors.
Standing just 95mm tall, the Thermaltake MaxOrb weighs 465 grams and is entirely nickel plated.
Thermaltake MaxOrb Heatsink

---

heatsink specsheet
manufacturer: thermaltake
model no.: maxorb
materials: dark nickel plated aluminum fins, copper heatpipes, copper base.
fan mfg: evercool t121225sh
fan spec: 1300-2000rpm, 12v, 0.32a
fan dim: 25x110x110mm
heatsink & fan dim: 95x142x128mm
weight: 465 grams
includes: lga775 and k8 socket mounting hardware, thermal compound, instructions

---

Compatible with Sockets: 754/939/940/AM2/AM2+, LGA775
Est. Pricing: $70USD ($70CDN)
There are a couple details of the MaxOrb's design that warrant mention; if you're only interested in its performance just skip ahead.
For starters this is a heatsink with manual fan speed controller permanently attached to it side. The dial changes fan speed from 1300-2000RPM, and is most likely never to be touched once the case is closed up. I think a PWM fan would have been a smarter choice here, in this day and age there is no reason to manually control a fan any more. You have better things to do, like playing games or working on the computer and not giving thought to adjusting fan speed to match the current CPU load.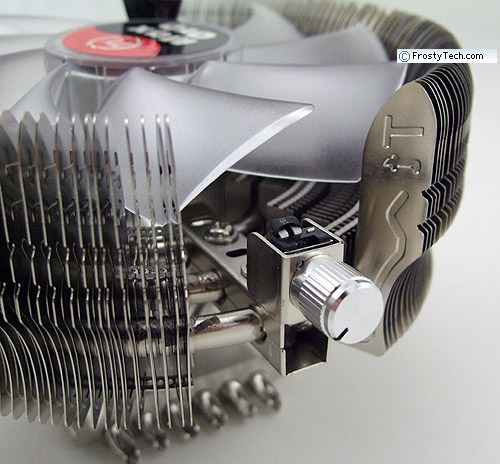 Heatpipes move heat from one location to another, they don't cool. Given that the six heatpipes on this heatsink are entirely dependent on cooling fins, it's rather odd for Thermaltake to associate the heatpipes directly above the CPU die with the smallest portion of cooling fins (the inner ring).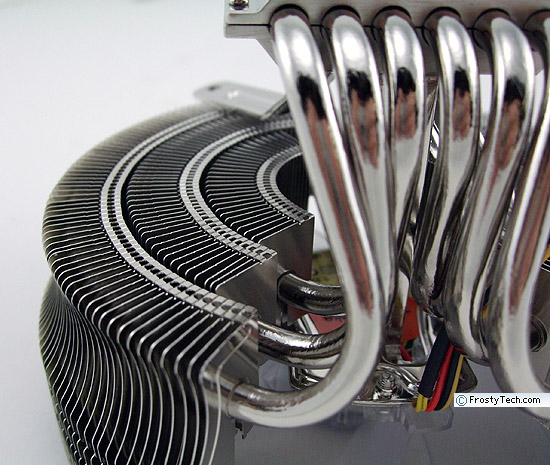 Another interesting approach to this heatsink's design are the three pairs of cooling fins, each of which is separate from the next. This technique keeps fin pitch even across the entire surface, meaning the fins closest to the center are spaced the same as the fins along the outer edge. In traditional heatsinks where a single fin extends outward, the spacing would decrease to nothing at the center of the heatsink and thereby prevent airflow from going between the fins.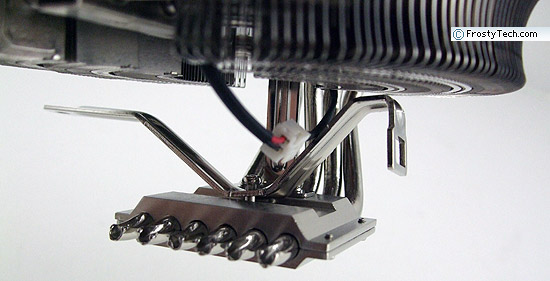 Installation Hardware
The Thermaltake MaxOrb heatsink installs on Intel and AMD processors with the same plastic mounting frame. For Intel processors, the push-to-click snaps are attached to the frame and that component installed on the motherboard. The heatsink then clips on with its fixed metal bracket, and by use of a small nut tensioned onto the CPU. The AMD mounting procedure is much the same, the black plastic frame is first screwed in place with the use of the plastic rear support plate, then the Thermaltake MaxOrb popped into place.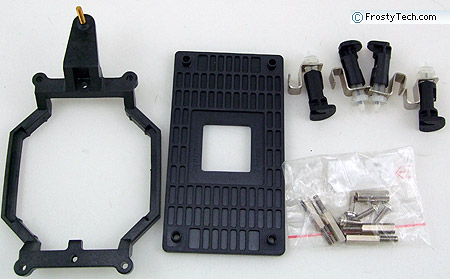 FrostyTech's Test Methodologies are outlined in detail here if you care to know what equipment is used, and the parameters under which the tests are conducted. Now let's move forward and take a closer look at this heatsink, its acoustic characteristics, and of course its performance in the thermal tests!