360° View - Thermaltake MaxOrb Heatsink

---

Information on Frostytech's test methodology is available here.

The 110mm fan in the Thermaltake MaxOrb heatsink is illuminated by a couple blue LEDs. A small manual fan speed controller allows the user to adjust speed between 1300-2000RPM. Power is supplied by a 3-pin fan header. The body is roughly 140mm wide, while the bulk of it is elevated 42mm above the base for good clearance of nearby motherboard components.

A small dial on the front of the Thermaltake MaxOrb heatsink allows the user to control fan speed. In this day and age it would have been better if the fan were PWM compliant, allowing the PC to keep a handle on speed & noise itself. The mounting bracket for this heatsink is a little metal clip permanently attached to the base, it requires manually installed brackets on the motherboard before use. Each aluminum fin is 0.3mm thick, and spaced about 2mm apart at the edge.

The 40x45mm copper base of the Thermaltake MaxOrb heatsink is nickel plated and ~2mm thick over the heatpipes. The six 6mm diameter copper heatpipes are said to be soldered to the base. The fins are comprised of three independent rings of fins 16mm wide, and of various height. Note how fin pitch remains constant across the entire surface of the heatsink.
Base Finish and Flatness
Flipping a heatsink over to inspect the business end is often a simple indicator of overall cooler quality. More practically speaking, a heatsink is in many ways only as effective as the contact it makes with the processor - the flatter and smoother the better. Base finish is one of the criteria that Frostytech measure in the course of evaluating heatsinks, and it involves two distinct aspects. Surface Finish is the first; this is calculated with the aid of Surface Roughness Comparator that has a cross section of common machine surface finishes and their numerical surface roughness equivalents in microinches. The second is Surface Flatness. This is tested with an engineers straight edge or proven flat surface, in two axis.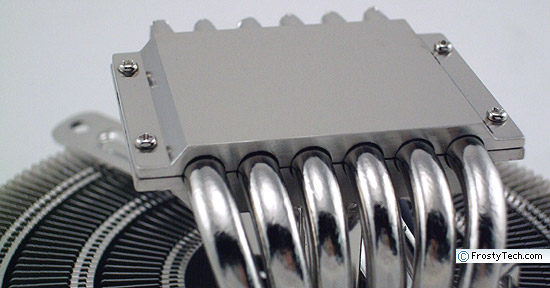 The Thermaltake MaxOrb heatsink has a nickel plated machined copper base with a surface roughness of ~8 microinches. The base is 45x40mm in size and perfectly flat in both axis. There appears to be a rather large gap between the heatpipes and base, but as far as we can discern the two are soldered together.
Let's see how this heatsink handles the heat, but first the acoustic tests!