When it comes to lower-noise heatsinks, there are dozens of models vying to replace the stock coolers tossed in with each boxed Intel/AMD processor. Competition is great, but in the course of reviewing the hundreds of heatsinks that have crossed Frostytech's test bench we've learned two important rules. 1) you can never tell how a heatsink will perform just by looking at it, 2) there is no pinnacle, each and every heatsink can be refined and improved in some way.
The real trick is to find the heatsink manufacturer that tweaks and refines its coolers with each successive generation. Zalman long ago established a reputation for continual fine tuning, and now another Korean thermal solutions manufacturer is picking up the torch; Apack Zerotherm.
Apack's new Zerotherm ZF120 heatsink is a refined version of the Zerotherm Nirvana 120, but this is no simple fan switch out - the ZF120 is rebuilt from the heatpipes up. The result is an Intel & AMD compatible heatsink which offers substantially lower temperatures at its lowest and quietest fan speed, and a slight edge at full tilt that may bring it into the Top 10 heatsink list.
The Zerotherm ZF120 heatsink stands 154mm tall and weighs around 670grams, it accomodates a single 120mm PWM fan that spins at ~1300-1800RPM. It makes use of four copper heatpipes soldered to a blocky copper base to conduct heat to the swagged aluminum fins. The fan is held on with wire clips, and thin rubber strips can be used to isolate it from the metal fins to stem potential vibration. The heatsink is compatible with socket 775 Intel Core 2 Duo/Quad CPUs, and all socket 754/939/940/AM2+ AMD Athlon64/Phenom processors.
It's rated cooling capacity is "over 150W", so there isn't a CPU out there right now it can't be used with. Apack Zerotherm's ZF120 heatsink retails for about $39CDN ($39USD) online.
Zerotherm FZ120 Heatsink

---

heatsink specsheet
manufacturer: apack zerotherm
model no.: fz120
materials: aluminum fins, copper heatpipes, copper/aluminum base.
fan mfg: silentmatic co. ltd. sfa1225mu
fan spec: 1300-1800rpm, 12v, 0.22a
fan dim: 25x120x120mm
heatsink & fan dim: 154x84x126mm
weight: 670 grams
includes: lga775 and k8 socket mounting hardware, thermal compound, fan clips, instructions

---

Compatible with Sockets: 754/939/940/AM2/AM2+, LGA775
Est. Pricing: $39USD ($39CDN)
Unlike the Nirvana 120, the Zerotherm FZ120 is thankfully not entirely plated in dark nickel... that rather thick metal coating may look great, but it can decrease the efficiency of the heatsink. Another change was an increase in fin surface area, 6827cm2 up from 6748cm2 for the Nirvana 120 model.

We should also note that the specs for the Apack Zerotherm ZF120 list a 1100-1800RPM range in speed for the 120mm Silentmatic co. Ltd. SFA1225MU PWM fan supplied. In the Frostytech labs we observed the low end of that scale to be 1300RPM, so that figure is quoted in this review.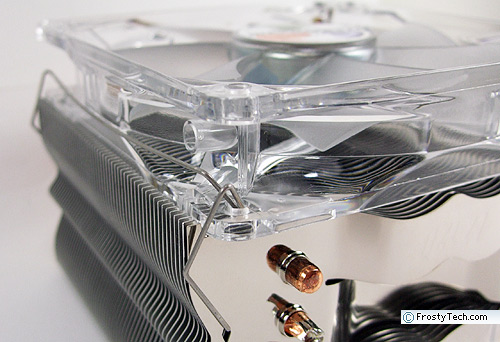 A couple thin padded strips are supplied with the fan, and these are intended to be stuck right onto the fins at either edge of the fan. If you don't hear any metal rattling, they can be left off. The heatsink works with 120mm sized fans only, which are held in position with wire clips that slide into a notch punched in each fin. It's easy to pop the fan in and out, and the clips won't fall out onto the motherboards' electrical circuits either.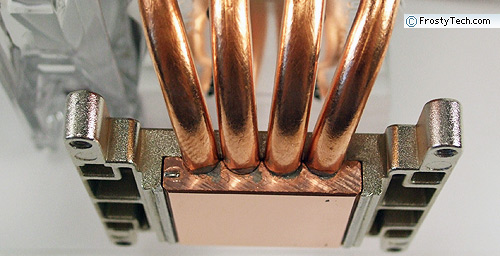 Installation Hardware
Apack Zerotherm ZF120 heatsink is compatible with Intel socket 775 and AMD socket 754/939/940/AM2+ processors. The CPU cooler has different brackets for each CPU platform, each is screwed onto the die-cast aluminum base of the ZF120 heatsink with a small machine screws. The socket 775 clip uses four spring tensioned captive screws and a metal rear-support bracket to install. Users will have to remove the motherboard from the computer for installation, but once done swapping out CPUs isn't problematic. An adhesive on the support bracket holds it in place. All that's required is a phillips screw driver.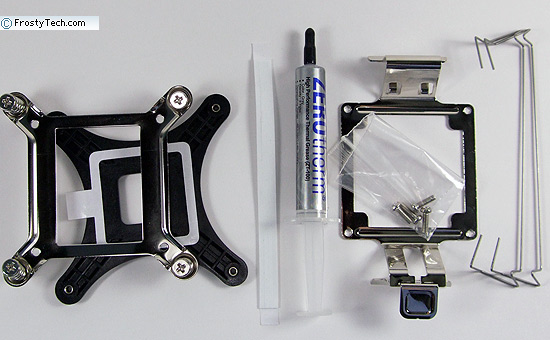 The AMD bracket works with the center lug on socket AM2 and socket 754/939/940 heatsink retention frames, so it's a little easier to work with. The only step required is to attach it to the bottom of the Zerotherm FZ120 heatsink. Regardless of the orientation of the AMD processor socket on the motherboard, the clip can be fixed to the heatsink so the FZ120 heatsink exhausts towards the back of the PC chassis.
FrostyTech's Test Methodologies are outlined in detail here if you care to know what equipment is used, and the parameters under which the tests are conducted. Now let's move forward and take a closer look at this heatsink, its acoustic characteristics, and of course its performance in the thermal tests!