360° View - Apack Zerotherm FZ120 Heatsink

---

Information on Frostytech's test methodology is available here.

The Apack Zerotherm ZF120's 120x120x25mm PWM fan at spins at 1300RPM to 1800RPM. A standard 4-pin motherboard header provides power to the seven bladed translucent fan. Padded strips can be added behind the fan to prevent rattling sounds from developing between metal fins and fan frame. With the fan removed, we can better see the unique 60mm wide fin structure that creates a honeycomb pattern at the center. The fins are split into 3rd's, and bent up/down - the overlapping creates the pattern.

The Apack Zerotherm ZF120 heatsink stands about 154mm tall. There is 40mm space below the bottom fin of the ZF120 heatsink for motherboard component clearance. At the base the four U-shaped 6mm diameter heatpipes are packed edge-to-edge to ensure good thermal transmission from the 3mm thick copper base plate below. Each aluminum fin measures 0.4mm thick and is spaced 2.0mm apart from the next. The wire fan clip is easy to disengage and lock in place, allowing better access the mounting bracket below.

The copper base of Zerotherm's ZF120 heatsink measures 30x32mm in size, and it ranges from 3mm to 6mm thick. The four 6mm diameter copper heatpipes are soldered to the copper, for good thermal conductivity. The Intel/AMD mounting bracket screws into the die cast aluminum frame around the copper base. Looking from the top down, one of the ZF120's unique design features is the three 15mm-wide fin sections directly behind the fan. These are alternatively bent up and down 10mm, creating a honeycomb pattern when viewed from the edge.
Base Finish and Flatness
Flipping a heatsink over to inspect the business end is often a simple indicator of overall cooler quality. More practically speaking, a heatsink is in many ways only as effective as the contact it makes with the processor - the flatter and smoother the better. Base finish is one of the criteria that Frostytech measure in the course of evaluating heatsinks, and it involves two distinct aspects. Surface Finish is the first; this is calculated with the aid of Surface Roughness Comparator that has a cross section of common machine surface finishes and their numerical surface roughness equivalents in microinches. The second is Surface Flatness. This is tested with an engineers straight edge or proven flat surface, in two axis.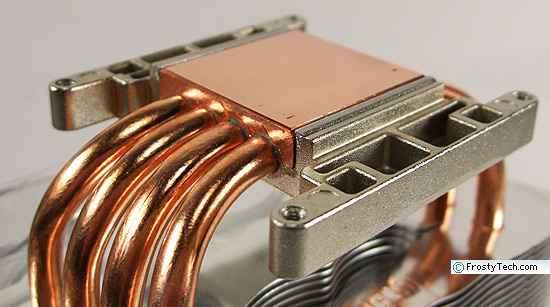 The Apack Zerotherm ZF120 heatsink has a machined copper base with a surface roughness of approximately ~16 microinches. The surface is polished smooth, and flat in both axis. The four screw holes around the outside of the base area allow Intel and AMD mounting brackets to be attached.
Next, let's see how this heatsink handles the heat compared to a selection of other heatsinks!