Ever wonder how Intel's retail heatsinks stack up against the best aftermarket CPU coolers out there?
Does Intel make a better heatsink for its processors than companies like Thermalright, Zalman, Scythe or Coolermaster produce for enthusiasts? That's a good question, so let's spend some quality time with Intel's newest 45nm Core 2 Extreme class reference cooler and find out. Meet the aptly name Intel FCLGA4-S socket 775 reference heatsink.
Judging by Frostytech's Top 5 Heatsinks chart, the popularity of tower heatsinks with exposed heatpipe bases has made competition between CPU coolers pretty cut throat this year. Almost every week for the past while Frostytech seen a new heatsink that blows away what was considered 'performance' just a short time before. Reference heatsinks on the other hand tend to change a lot less frequently, which has led many consumers to develop an 'I'd never use it" stigma around the boxed thermal solutions provided by the processor manufacturer.
In this review Frostytech will be comparing the Intel FCLGA4-S reference heatsink, which is boxed with retail 45nm Intel Core 2 Extreme QX6850 processors (and others), against one hundred Intel socket 775 heatsinks from every imaginable manufacturer. As always, tests will be conducted on the Frostytech Mk.II synthetic thermal test platform at 150W and 85W heat loads. The FCLGA4-S reference heatsink was provided by Intel in an unboxed state, the only thing it came with was a pre-applied patch of thermal compound, and this was removed prior to testing.
Intel FCLGA4-S Core 2 Extreme Reference Heatsink

---

heatsink specsheet
manufacturer: intel (oem'd by Delta)
Model No.: FCLGA4-S
Materials: nickel plated aluminum fins, large copper thermal chamber, copper base.
Fan Mfg: Delta DTC-AAS10
Fan Spec: 1000-2900RPM, 12V, 0.80A PWM
Fan Dim: 25x110x110mm
Heatsink & Fan Dim: 91x134x134mm
Weight: 413 grams
Includes: pre-applied thermal compound, mounting bracket.

---

Compatible with Sockets: LGA775
Pricing: Bundled with 45nm Core 2 Extreme processors only.
Unlike most AMD/Intel supplied thermal solutions, the Intel FCLGA4-S reference heatsink features a touch of style in the form of a blue-LED illuminated translucent 110mm diameter fan. The illumination looks nice, the underlying fan frame resembles a radiation warning sign in a frosty blue glow.
The Pulse Width Modulation (PWM) fan has been customized slightly, Delta have added a small mechanical switch the user can flick to set the fan into fixed "performance" or "quiet" modes. At full speed the Delta fan spins at 2900RPM, when set to quiet mode it drops to ~2000RPM. The full range in a PWM autonomous setting is approximately 1000-to-2900RPM. A single 4-pin cable supplies power to the heatsink.
The other notable innovation with Intel's FCLGA4-S reference heatsink is harder to see, a vapour chamber. At 413grams, the vapour chamber also makes the Intel FCLGA4-S heatsink suprisingly lightweight for its 134mm wingspan. Intel engineers apparently built the heatsink with a sub-550gram weight target in mind, and the stocky heatpipe was seen as a better option than a heavy solid copper core.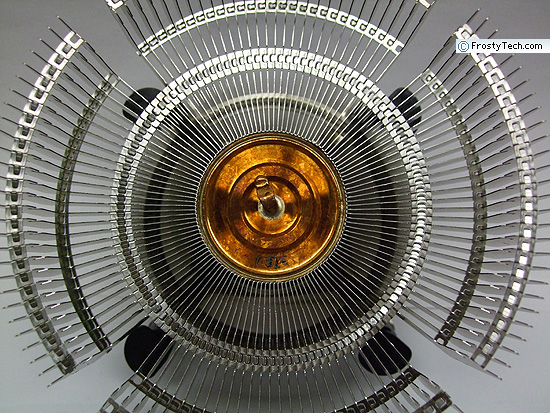 The 41mm diameter copper "thermal chamber" works along a similar principle as a heatpipe, using a working fluid under a vacuum. The low pressure causes the fluid to change states when heat is applied, allowing the vapour to rapidly conduct heat between hot and cold surfaces. A solid metal block by comparison would rely upon the metals conductive properties to move heat from the base and distribute it along the cylindrical walls to which the fins are soldered.
The Intel FCLGA4-S reference heatsink by comparison has relatively thin copper walls around the hollow chamber, as you can see in this cutaway image below. The walls are no more than 0.5-1mm thick, and a sintered metal wick is evidently used to return condensed working fluid back to the hot side. The copper base is surprisingly thin too, about 4mm. The net result is a really lightweight heatsink for its thermal performance capabilities.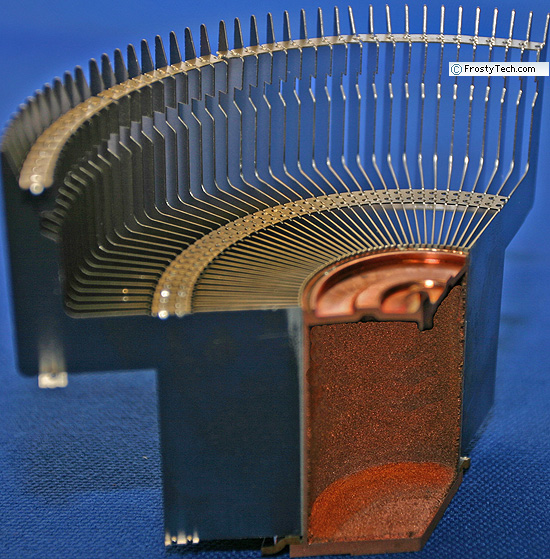 Around the copper chamber are soldered about 200 thin nickel plated stacked aluminum fins. A small fold at the base creates a tab about a millimeter wide to solder to the copper. As you can see below, the copper-to-fin interface is close, but there are small voids here and there. Comparatively, the components of the copper chamber are brazed together at a higher temperature to ensure the joints never compromise the vacuum inside.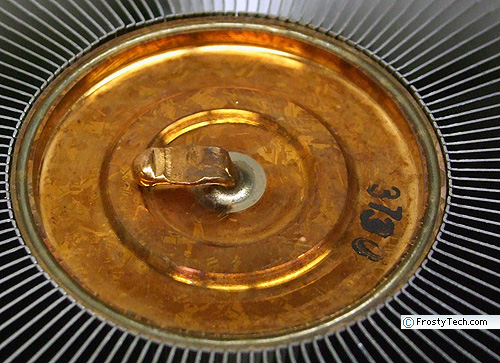 FrostyTech's Test Methodologies are outlined in detail here if you care to know what equipment is used, and the parameters under which the tests are conducted. Now let's move forward and take a closer look at this heatsink, its acoustic characteristics, and of course its performance in the thermal tests!