The Korean company, Thermolab, begin in 2005 as a thermal design company for OEM projects - in other words designing heatsinks for other companies. The company recently set forth with a pair of compact retail heatsinks for small Intel computing applications. In this review Frostytech is testing Thermolab's ultra low profile Intel socket 775 heatsink - the Nano Silencer TLI-U.
The Nano Silencer TLI-U is ideally sized for 1U server chassis, nano formfactor PCs, car PCs and media center microATX-style cases. The entire TLI-U heatsink stands no taller than 45mm, and uses the same swagged aluminum fin technique as the Micro Silencer model. Twin sintered wick copper heatpipes and a total weight of just 214 grams make the TLI-U a capable low mass cooler for weight sensitive applications. For the sake of convenience the heatsink even comes with a pre-applied patch of 8 W/mK rated gray thermal interface material on the bottom.
The Nano Silencer TLI-U heatsink accomodates Intel LGA775 processors only, and will require a phillips screwdriver to install.
Thermolab Nano Silencer TLI-U Heatsink

---

heatsink specsheet
manufacturer: thermolab
model no.: nano silencer tli-u
materials: aluminum fins & chrome-plated base, copper heatpipes
fan mfg: protechnic mgt8012hr-w15
fan spec: 3000rpm, 12v, 0.18a pwm
fan dim: 15x80x80mm
heatsink & fan dim: 45x85x96mm
weight: 214 grams
includes: mounting bracket, pre-applied thermal compound, instructions

---

Compatible with Sockets: 775
Est. Pricing: $32USD ($15CDN)
The base of the Thermolab Nano Silencer TLI-U is chrome plated aluminum, and into it are swagged about 50 stubby aluminum fins. The manufacturer call this "power clamping technology", but it's really nothing new to the industry. Swagging fins into a base block generally ensures a low thermal joint resistance, and can be more effective than a soldered joint.
Thermolab also assert that by swagging the short aluminum fins (they are just 17mm tall) directly into the base block, potential problems from stalled heatpipes can be averted. If the processor TDP exceeds the recommended figure of about 100W, the aluminum fins are still able to conduct heat away from the processor and cooling is not critically handicapped.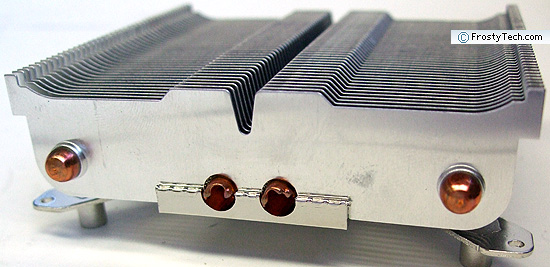 The heatsink has a fixed stainless steel mounting bracket attached to the base, and to install it the motherboard will need to be removed so screws with special nylon washers) can be installed from the opposite side. This approach does makes getting at the CPU below a rather involved process... but with microATX systems it shouldn't be too much of a hassle.
Base Finish and Flatness
Flipping a heatsink over to inspect the business end is often a simple indicator of overall cooler quality. More practically speaking, a heatsink is in many ways only as effective as the contact it makes with the processor - the flatter and smoother the better. Base finish is one of the criteria that Frostytech measure in the course of evaluating heatsinks, and it involves two distinct aspects. Surface Finish is the first; this is calculated with the aid of Surface Roughness Comparator that has a cross section of common machine surface finishes and their numerical surface roughness equivalents in microinches. The second is Surface Flatness. This is tested with an engineers straight edge or proven flat surface, in two axis.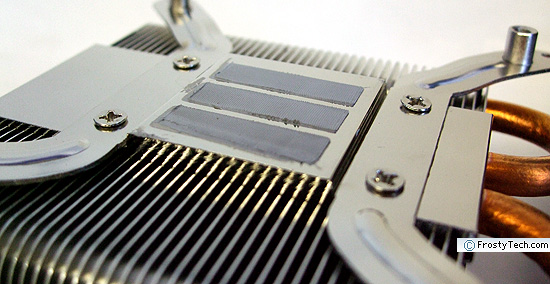 The Thermolab Nano Silencer TLI-U heatsink has a raw extruded base which has been chrome plated. The base surface is smooth, with a surface roughness of approximately ~16 microinches. Without the usual finish machining (or even sanding) steps though, the base retains its raw extruded state and is slightly convex towards the edges.
FrostyTech's Test Methodologies are outlined in detail here if you care to know what equipment is used, and the parameters under which the tests are conducted. Now let's move forward and take a closer look at this heatsink, its acoustic characteristics, and of course its performance in the thermal tests!